Editor's Note: Michelle Weber of Thursday Night Smackdown is liveblogging Top Chef with HuffPost Food tonight. To participate, leave your comments below.
02/16/2011 11:00 PM EST
Next Week: Paula Deen.
02/16/2011 10:59 PM EST
At least now he can go back to his son and his mail-order bride.
02/16/2011 10:58 PM EST
Carla, your dish was undeveloped. Angelo, it was a salt lick. Tiffany, that just wasn't jambalaya.
Angelo, pack 'em up.
Wha?!
02/16/2011 10:54 PM EST
Are they going to boot Angelo for oversalting the week after keeping Dale for the same mistake? She's nice enough, but I'm hoping for Tiffany.
02/16/2011 10:52 PM EST
THERE'S NO CRYING IN TOP CHEF.
02/16/2011 10:51 PM EST
Blaming the palate fatgiue, eh, Angelo? Who is surprised that his dish was too salty, which still baffles me.
02/16/2011 10:49 PM EST
The bottom: Carla, Tiffany and Angelo. Which means: Mike lives to torment me for another week.
02/16/2011 10:48 PM EST
Winner: Dale. $25k for a grilled cheese sandwich that you ripped off from a Michael Keaton movie. I hope you're proud.
02/16/2011 10:46 PM EST
JUDGES' TABLE: The top: Dale, Antonia and Richard.
02/16/2011 10:44 PM EST
More commercials. Ten bucks says there's already a real band called Electric Cattle.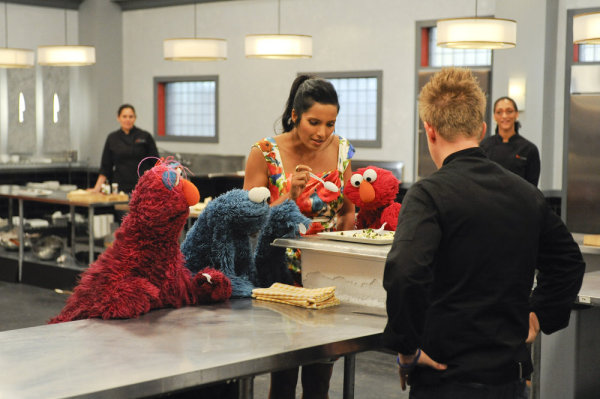 A preview of tonight's action, from Bravo:
What happens when Sesame Street invades the Top Chef Kitchen?! The All-Stars get in touch with their inner child with the help of Cookie Monster, Telly, and Elmo where they must make the perfect cookie. Then, chaos ensues when the chef'testants must take over a Target store in the middle of the night and make a winning dish with whatever they can find in the aisles - can they pull it out to impress the judges? Find out this Wednesday 2/16 @ 10/9c on Top Chef All-Stars
Its Cookie Time:
Target Challenge:
SUBSCRIBE TO & FOLLOW THE MORNING EMAIL
Start your workday the right way with the news that matters most. Learn more