I often have these fantasies of moving to a tropical island, starting a farm, growing all sorts of delicious exotic fruits that my neighborhood Gristedes charges exorbitant amounts for, and cooking delicious plates of from-the-earth goodness.
During a week-long trip to St. Croix, much to my envy and slight dismay, I found a man who has been living my dream for 10 years.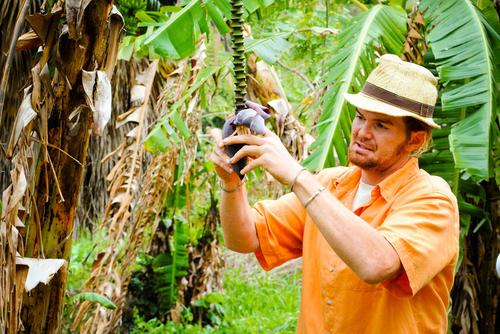 Nate Olives helps run the Ridge to Reef Virgin Islands Sustainable Farm. Getting there was worse than trying to cut through Times Square on a touristy weekend.
It took me 30 minutes on a drive to an unpaved and particularly cantankerous road. Once on said road, bump after bump, it was another 25 minutes of bopping to get to the farm. The rain intermittently pounded on us, on the roof of the open balcony and kitchen of the farm's headquarters, and set the stage for us to chat about the importance of sustainable farming on St. Croix while listening to the music of nature. Yes, I said it. As a New Yorker it sounds cheesy, but when your hair is in pigtails and you are wearing sandals and eating off of random trees, you know you're not in Central Park anymore.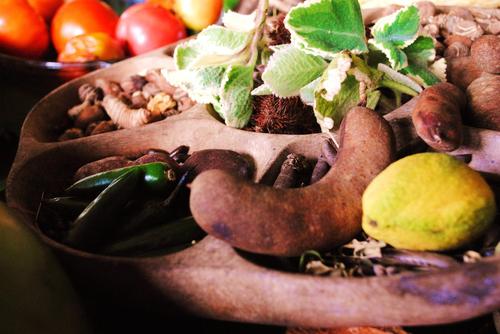 In my short time on the island, I noticed that the restaurants don't seem to use many fresh ingredients. Everything is imported in. Nate is trying to change that with his farm ... which is unlike any other I've ever set foot on.
Nate walked me and a small group of visitors through his farm, pointing out the array of different fruits that just grow amongst others. There is seemingly very little order to the farm.
"There's a pomegranate tree ... and over there is some bananas," Nate said, smiling with his red hair tied back and an orange shirt perfectly matched to his locks.
All I could think was, that sounds perfect for cocktail hour in NYC -- except they'd probably charge me $15 for the local fruits from St. Croix muddled in it.
Sporadically, we would come across yet another fruit or vegetable. Like an irrational number, it was beautiful in its randomness. I mean, who can say anything bad about pi?
"Here we grow some local arugula ... want to try some?" Without waiting for my answer he hopped over some shrubbery (which I'm sure was more edible veg that I could not identify) and bought over a handful.
Gingerly, I reached out and popped a shiny, perfectly green leaf into my mouth. As I started to chew, I realized this was the most amazing arugula I'd ever had in my life. Picked and immediately eaten, it had an earthiness that you'd expect from the vegetable, but this version finished with a spicy and rich flavor that coated the tongue. I kept imagining topping a blue cheese infused burger on panini with the leafy goodness.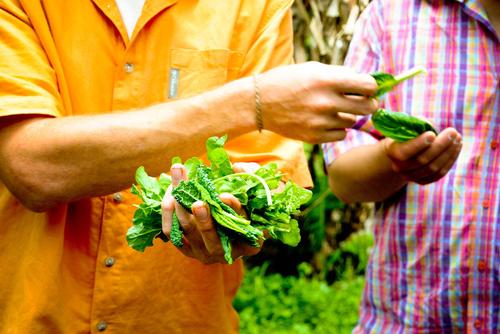 But, we were in search of something far more special. The moringa tree.
"This ... is the next superfood. You heard it here first," Nate said, with glittering eyes.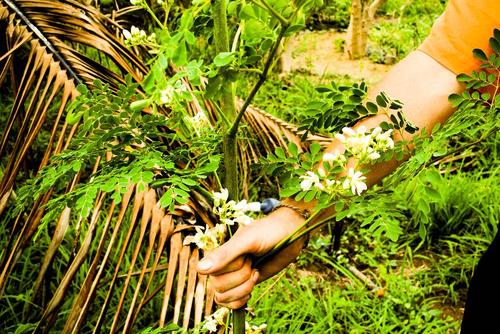 Whenever I hear the word "superfood" I want to roll my eyes, but his enthusiasm had me rapt. In a very Indiana Jones-esque moment, he pulled out his bush knife, lopped off a branch of the tree, and handed it to me. I could hear Hakuna Matata playing in my head.
The first thing I noticed were the long pods hanging off the tree, but Nate started with the leaves.
"The little baby leaves are the best to eat," he said. I looked tentatively at the tree, and reading my mind he said, "Go ahead and graze." So, I bit off the five or so leaves at the very end of the branch. They were tender, similar to microgreens, starting out with an almost sprouty flavor, but as I chewed the flavor quickly evolved with a surprising kick at the end. Nate laughed at my reaction, "Some people around here use this to make a horse radish type of food."
We then moved on to the tiny, white flowers that dot the tree. They, too, are edible. "These have more Vitamin C than an orange, and more Vitamin B than a carrot," Nate said. In that little itty flower? I found it hard to believe, but was excited to pop one into my mouth. The flavor was similar to the leaves, but much sweeter, and it still finished spicy. To bread them and fry them up would be a treat.
Finally we got to the pod. Nate explained, "In India, people just boil them and then chew the seeds like this." I tried one of the seeds raw and I was not thrilled in the least. The flavor was bitter, and unripe and the moringa pod left a coating on the inside of my mouth much like an unripe persimmon would. But once the pods are boiled down , you can use their flesh for all sorts of uses, from baking them into rolls, to working them into dessert-y bread pudding.
We headed back to the mainhouse of the farm where I proceeded to touch everything I possibly could, kind of the way a 5-year-old would likely piss off her mother. Nate, patient and kind, was willing to explain the fruits I'd never seen: noni fruit, and stinking toe among others.
My favorite of the bunch was the orange coconut, which he says is a dwarf coconut. It is smaller (obviously) and far sweeter than any coconut I've ever eaten. I found Nate's beautiful fiance in the yard drinking from one, and had to ask what it was. She then hacked away to open one up for me. Nate cut up some papaya stems so we could drink the sweet coconut water, which then tasted like it had been papaya infused.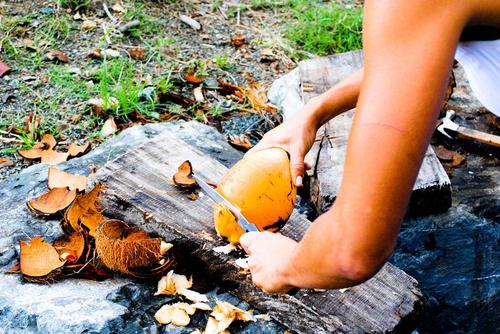 Lunch was made from ingredients grown on the farm. A cassava mofongo was genius; a delectable combination of a starchy cassava, fried up and mashed in with garlicky goodness. Moringa leaves garnished many of the plates, adding a spicy element that my Korean palate always craves.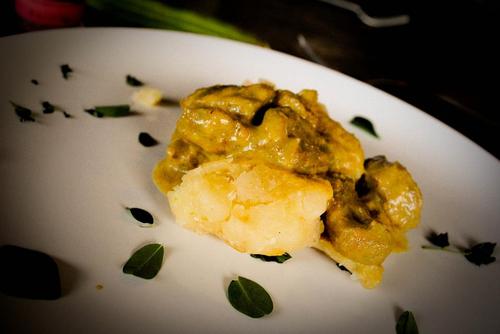 The amazing, unique and exciting thing about the farm is the effort to provide a holistic experience, from solar power to organic farming to free range animals. They host a monthly(ish) slow food dinner for the residents of the island and devote their work to regenerate the nature after the hundreds of years of sucking the land dry from the sugar cane era.
They also host farm stays where you can stay on the farm and their their sustainable farming ways.
I suppose you have to believe it to see it, but it was an experience this New Yorker will never forget. Get more information at www.visfi.org.
All photos by Michelle Won
SUBSCRIBE TO & FOLLOW THE MORNING EMAIL
The Morning Email helps you start your workday with everything you need to know: breaking news, entertainment and a dash of fun. Learn more