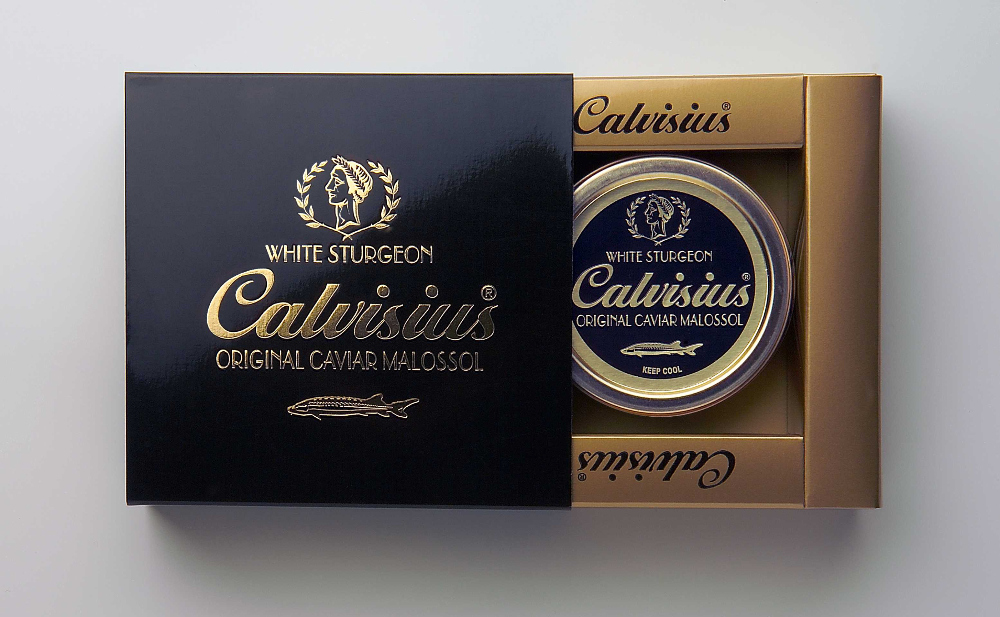 Recession? What recession? You feel transported to a time when bottles were a no-branier and investment bankers still wore bespoke suits, when you step into Calvisius Caviar's small lounge tucked inside the Four Seasons Hotel. And yet, the atmosphere isn't stuffy; it's quiet, elegant and welcoming.
I love my caviar along with the best of them, but I don't claim to be an expert. Luckily, the staff was happy to fill in the blanks for me. General Manager Tommaso Mazzarella suggested starting with the White Sturgeon first, saying, "It's a more delicate taste compared to the Oscietra, and it represents a softer impact to caviar world (and for the wallet too)."
I started with 7 grams of White Sturgeon and Oscietra. The presentation is nothing short of gorgeous. My reaction? "Czar you serious? So pretty!" The waitress forced a smile (or was it a grimace?) but I was too busy admiring the the plates and spoons made of Italian mother of pearl to notice. The caviar is presented atop a large bed of crushed iced. Calvisius caviar is less salty than others I've tried; Mazzarella says "The caviars are processed in the Malossol way; malossol is a Russian word meaning 'less salt.' We only add 3% salt in proportion on caviar weight."
They bring you a basket of fresh bread choices (french bread rounds, white toast triangles and blinis) to use as your serving platter for your caviar. I am partial to the blinis. They become a delicate, warm cushion for the velvety caviar. You can add a dab of butter of creme fraiche to bring a full flavor to your palate.
I, then, tried their caviar atop a small bed of pureed potatoes; what they call "Italian Style," (unfortunately it didn't come with a side of The Situation). The dish was presented beautifully, in a martini glass; the black caviar eggs contrasted against the light potatoes, I felt like I was eating jewels. Duh, who wouldn't want to eat jewels? This was not my favorite combo, although I can see why others would enjoy it; there is a luxurious mouthfeel from the potatoes that contrasts well with the firmness of the caviar. I still prefer a sturdier base.
They also serve caviar on quail eggs, if that is to your liking. Eggs on egg seems a little like something I'd find in the X-rated section to me, but in terms of texture profiles it's a similar experience to the pureed potatoes. (Feel free to insert unavoidable mouthfeel joke here.) Jokes aside, one of the most important elements of eating caviar is the feel of the "pop" on your palate. This is also a good way to tell if your caviar is fresh. If it's mushy or overly fishy, you've got a poorly processed product.
Moving on to how to pair your caviar with your beverage of choice. I'm partial to a bubbly, dry alcoholic accoutrement, a la champagne or franciacorta, but they also serve up a selection of vodkas and wines. In the end it's really up to your personal taste. Mazzarella says, "Both champagne and vodka are classical pairings. Usually vodka is better with Oscietra, because of the stronger taste."
(Warning: I am about to unleash the corny caviar-related words I had planned to use on my waitress but chose to spare her. And I can't see your forced smile, so I don't care!)
My experience at Calvisius made me feel transported not only to 2005 when the economy was booming, but also to times long ago when kings would dine on the luxurious eggs. And czarling,I thought I was in Caviar-cadia.
Now for some insider tips: Don't make corny jokes; no one will laugh. (This isn't an insider tip, it's a life tip.)
Calvisius' white sturgeon caviar in 125g and 250g sizes are 25% off; so if you are looking for a super luxe stocking stuffer, pick it up before the prices go back up.
Also, if you are a fan of the meat of the white sturgeon, come January they will have it on their menu, served with caviar on the side.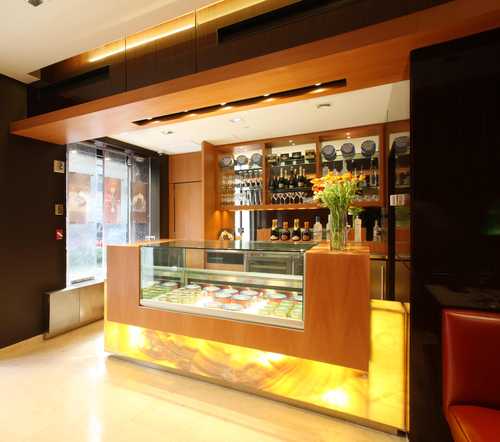 Calvisius Caviar Lounge is located at 58 East 58th Street in Manhattan, (212) 207-8222.