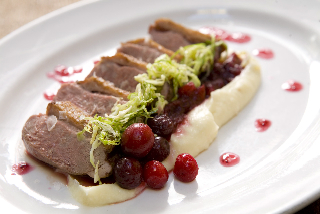 Photo courtesy of Delicatessen
All readers should know that Delicatessen holds a special part in my heart. Why? Because I was at the kick-off party when the restaurant first opened its doors. I was in the company of Padma Lakshmi and countless under-clothed, over-accessorized women as the restaurant welcomed the public into their new, swanky space. I remember thinking, "Wow, these hors d'oeuvres are terrible, even for an opening; and I'm considering pouring this champagne down the sink in the bathroom."
But since the replacement of the chef and a brand new menu, this Nolita eatery has become one of my favorites. It's a great place to head after a night out for some comfort food and conversation with interesting people.
I checked out their new winter menu with my awesomely foodie and extremely critical Korean mother this week. We started with the frisee salad, topped with an amazing shaved Midnight Moon aged goat cheese (a rare and delicious find). The salad showcased flavors of the cold weather, complete with roasted squash and served with a hearty spice pumpkin beer and cheddar soup. We also loved the sea scallops on caramelized sweet potato with a slow poached egg yolk, julienned bacon and charred apple. The scallop and bacon fulfilled our savory craving, one crispy and one tender, providing a beautiful mouthfeel. The flavors were balanced with the sugars from the sweet potato and tangy apple, and a unique richness from the egg yolk. And if you have room, go for the seared Long Island duck breast with parsnip puree. It gives you the right amount of comfort-food-esque satisfaction with an extremely refined edge. The dish both looks and tastes like the holidays with the red, pleasantly sour cranberry chutney and green shaved Brussels sprouts.
The serving staff was happy to provide wine pairing recommendations and Chef Michael Ferraro could not be more innovative while also being accommodating and sweet (as my mother and I decided to share every single entree.)
An inside tip for you: If there are any specials involving fig, their source for their fruit doesn't get more local. Their figs grow on a tree literally in the alleyway behind the restaurant.

Delicatessen is located at 54 Prince Street, www.delicatessennyc.com.
SUBSCRIBE TO & FOLLOW THE MORNING EMAIL
Start your workday the right way with the news that matters most. Learn more