I think one of the great joys of my job is learning how to make dishes straight from the chefs who create them in the best restaurants in NYC. I file those recipes away in my email and look them up whenever I have a dinner party or a special date night coming up. But this spring, I want to embrace the eating spirit and share with all.
I did a round up of some of the most delish but simple spring dishes that will be debuting around town on spring menus. You can make them before the rest.
Spring Pea Papardelle at Po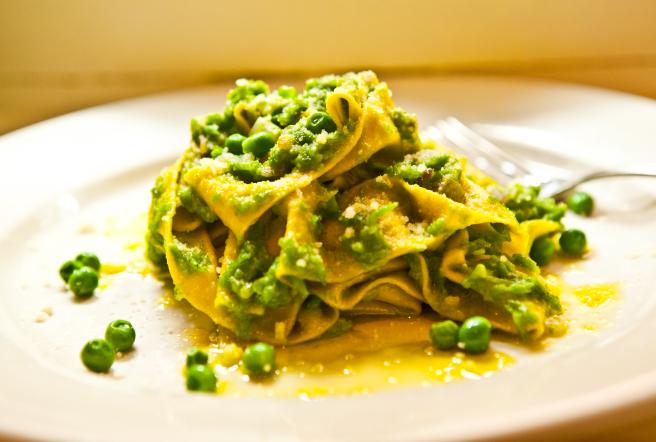 Courtesy of Chef Lee McGrath
Serves 2
Ingredients:
8 oz papardelle
2 cups green peas
1 large red onion
1 cup chicken stock
4 oz parmigiano
2 oz butter
10 mint leaves
Teaspoon olive oil
Dice onion, sauté 1 3/4 green peas with 1/2 of the red onion in olive oil season it with salt and pinch of sugar then puree in the food processor.
Bring one gallon of salted water to boil, sauté remaining onion in olive oil, add pea puree, butter and the chicken stock set aside.
Add pasta to boiling water for 4 minutes, drain it, and add to the pea puree with mint, cheese and mix well.
Spring Mussels at Wall & Water
Courtesy of Maximo Lopez May
Serves 4
Ingredients:
4 cups of cherry tomatoes
2 whole fennels
2 cup of white wine
1 tablespoon of fennel seeds
1/2 tablespoon saffron
1 cup parsley leaves
4 whole garlic cloves
2 whole jalapenos chilies
45-60 fresh mussels
Dice the fennel, tomatoes, parsley, previously toasted fennel seeds and reserve.
Mix the mussels with the white wine, lemon juice, crushed whole garlic clove, halved chilies and saffron.
Cook the mussels mix for two minutes on a hot pot with a lid.
Add the diced vegetables mix and let it cook for another 3 minutes.
Spring Ginger Smash at Employees Only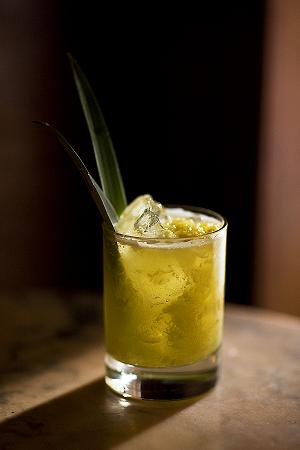 Can't go into spring without some spring-y cocktails. I hit up one of my favorite mixologists in the city, Dushan Zaric, to give me the recipe for his Ginger Smash. This is their second version of the drink. With flavors of pineapple mingling with ginger, the cocktail tropical and multidimensional. It's perfect for a spring dinner party.

Courtesy of Dushan Zaric
Ingredients:
2 thin slices of fresh ginger root
2 1-inch cubes of fresh pineapple
2 demitasse spoons of sugar
1 1/2 ounces 10 Cane rum
1/2 ounce Luxardo Maraschino liqueur
1/2 ounce Berentzen Apfel Korn (apple liqueur)
1/2 ounce freshly squeezed lime juice
1 pineapple leaf, for garnish

Directions:
Muddle ginger, pineapple and sugar in the bottom of a mixing glass. Pour rum, lime juice, maraschino and apple liqueur. Add large cold ice and shake vigorously. Pour untrained into a rocks glass. Garnish with a pineapple leaf.
Schlutzkrapfen at Edi & the Wolf
You may not know how to pronounce schlutzkrapfen, but when your mouth is full of the delish Austrian ravioli with baby beets, spring peas, and ramps, you won't care. First of all, I love Edi and the Wolf because it is some down-home Austrian food, with that refined edge from the owners who also own Michelin-starred Seasonal. The atmosphere at this new restaurant of theirs is cozy, comforting and homey. The food follows the same philosophy. Schlutzkrapfen is one of the most popular starter dishes in Austria. While traditionally filled with seasonal vegetables and goat cheese, at Edi and the Wolf they put a spin on it with ramps and ricotta to bring the delicate ramp flavor into the spotlight.
If the recipe looks too complicated for your taste, don't make the baby beets, spring peas and pickled ramps. Stick to the ravioli, and you will still be sufficiently sated.
Courtesy of Chefs Eduard Frauneder and Wolfgang Ban
Pasta Dough
250 g flour
11 egg yolks
50 g butter
1 egg, beaten
Make a well in the center of the flour and add eggs and butter into it. Incorporate until a
dough is formed and knead for 10 minutes. Let rest for 30 minutes, then flatten into two
long strips.
Filling
150 g ricotta
200 g goat cheese
½ bunch parsley, finely chopped
1 clove garlic, minced
Leaves from 18 ramps, finely chopped
Salt and pepper
Mix all ingredients in a bowl until thoroughly combined. Place a tablespoon of filling every
two inches and brush the edges with the beaten egg. Place the second strip on top and press
tightly that there is no air in the filling. Use a 2 inch rounder cutter and stamp out the ravioli.
Cook in salted boiling water until al dente.
Place five ravioli in bowl. Garnish with ramp, peas and beets. Shave fresh parmesan over
ravioli and serve.
Pickled Ramp
500ml vegetable fond
80ml white balsamic vinegar
35g sugar
15g salt
2g pickling spice
Stems from 18 ramps, sliced
Bring the first five ingredients to a boil. Remove from stove top and add sliced ramp stems.
Spring Peas
100g spring peas
Salt
Sugar
Butter
Blanch peas in salted water and cool in ice bath. When ready to plate, sauté peas in butter,
salt and sugar until hot.
Baby Beets
15 baby beets
Sea salt
Salt
Ground caraway
Butter
Spread out salt on baking dish and bake beet on sat bed at 375 degrees for 45 minutes. Let
cool and peel the beets and cut into quarters. When ready to plate, sauté beets in butter and
ground caraway until hot.
Spring Risotto at Quattro Gastronomica Italiana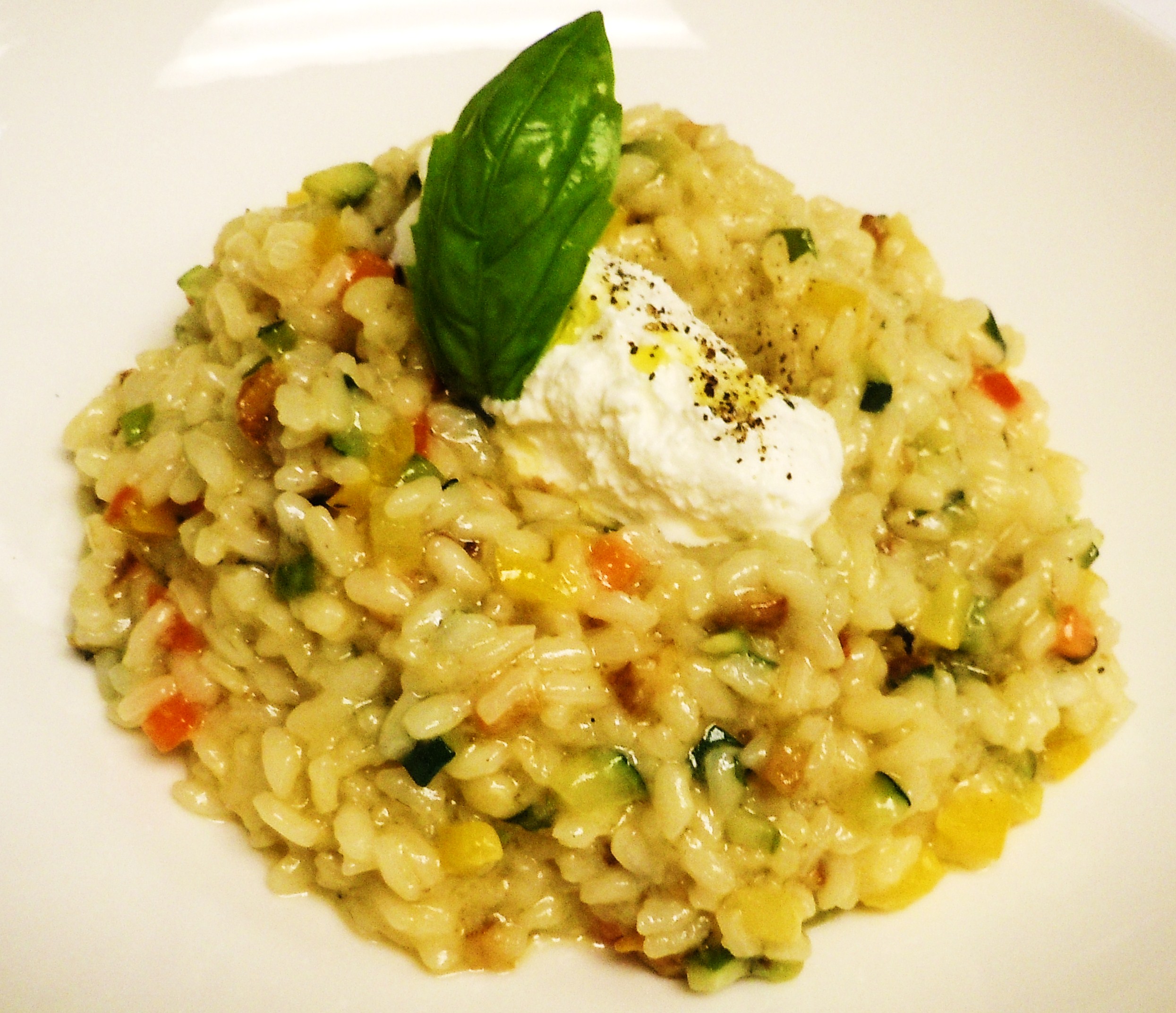 Quattro in the Trump SoHo has quickly become known as a hot spot for the celebs who frequent the eatery... but what about the food? This risotto will soon be on the spring menu; I tried it when the chef was offering it as a special and it had me wanting more. Admittedly, this isn't the simplest recipe in the world, but I loved it so much, I wanted to share. Pleasantly light and riddled with vegetables, with an edge of rich, creaminess from the ricotta, it's my perfect spring risotto. Lucky for me, I'm allowed to ask for the recipes so I can share with the world.
Courtesy of Chef Fabrizio Carro
Serves 6
Ingredients:
12 oz. par-cooked carnaroli rice
36 oz. veal brodo
1/2 cup Buffala ricotta
2 tbsp butter
1 red bell pepper
1 yellow bell pepper
1 zucchini
1 yellow squash
1 carrot
1 white onion
1 eggplant
2 qts canola oil for frying eggplant
1 tbsp extra virgin olive oil
1 peppercini
2 tbsp parsley
Salt and pepper to taste
For the eggplant: Lightly season diced eggplant with salt and let sit for at least 30 minutes. Rinse the eggplant under after the salt has absorbed the excess water. Pat the eggplant dry and fry in 350 degree canola oil till golden brown. Remove and reserve.
For the risotto: In a large sauté pan, combine the risotto and 12 oz. of veal brodo and cook over medium heat. Continue to add brodo as the previous addition is absorbed by the rice. Add all the small diced vegetables (except the eggplant) in with the second addition of brodo. Cook two minutes more, stirring constantly with a wooden spoon. Add a third addition of brodo and cook about two minutes more.
At this point, the risotto should have a creamy consistency. Finish the risotto by tossing in the eggplant, butter, and parsley. Season to taste.
Spoon the risotto into bowls and make an indentation in the middle of the mound with your spoon. Spoon in a couple tablespoons of the whipped ricotta de Buffala into the indentation.
Finish with salt, pepper and olive oil.
Follow Michelle Won on Twitter: www.twitter.com/michellewpark