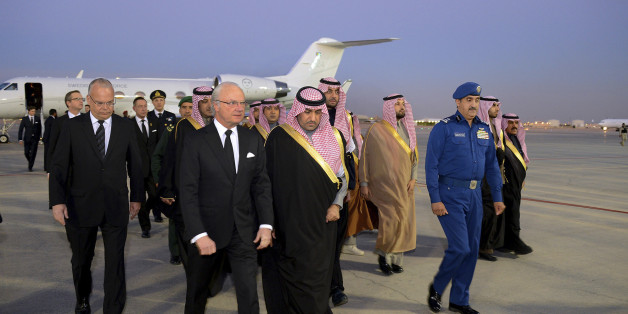 Earlier this year, Swedish Foreign Minister Margot Wallstrom raised the sensitive issue of human rights violations in Saudi Arabia, but her comments did not reveal anything the world was not already aware of. Instead of launching a larger debate about the importance of human rights, this incident has provided another example of the West shrinking away from acting against human rights violations when alternative gains are at stake.
Giving human rights the "ignorance treatment" is far from a new approach for policymakers when it comes to taking a position against the perpetrating regimes. It actually follows a pattern that has occurred in relations with Qatar, Saudi Arabia, Iran and Russia, just to name a few examples.
The oil-rich Arab monarchies in the Gulf have gained a visible place in the reports documenting human rights violations around the globe. The news about Qatar hosting the 2022 FIFA World Cup has generated massive controversy, especially from human rights organizations who have constantly criticized Doha's violations of labor rights at the construction sites. In one Amnesty International report, the abusive treatment of migrant workers was compared to the conditions to which cattle herds are subjected. Moreover, delays in implementing reforms caused numerous deaths of Nepalese migrant workers, dying at a rate of one every two days, according to The Guardian. Meanwhile, despite authorities' promises to improve working conditions, the infrastructure projects continue and the soccer teams are putting together their World Cup winning strategies.
Criticizing the unfair trials and arbitrary detention of political dissidents and human rights activists and discrimination against women and foreign workers in Saudi Arabia has become part of international human rights organizations' routine. But when the Swedish official publicly criticized the oil-rich Gulf kingdom' human rights records and called the Saudi authorities' decision to flog the blogger Raif Badawi a "cruel attempt to silence modern forms of expression", as Wallstrom posted in January on her Twitter account, there was potential for a more positive outcome. True to its promotion of feminism and human rights in foreign policy, the government in Stockholm did not stop there and announced the termination of a 10-year-old military cooperation agreement with Saudi Arabia -- a moral accomplishment, as many observers have enthusiastically commented.
But it was just a short-lived moral victory. The heavy criticism from both the Arab countries and the Swedish politicians and business communities, whose main concern was the negative impact on Sweden's international reputation in the trade arena, convinced Stockholm to reconsider its actions and push for a damage-limitation strategy. Now that the Swedish-Saudi relations are slowly being restored, with Riyadh sending back its ambassador to Stockholm and the Swedish Prime Minister apologizing for any interpretation that may have offended Saudi Arabia and Islam, the original cause of this discontent -- human rights -- is turning quickly into a matter "to be dealt with later."
Drawing attention and spurring action against human rights violations in Iran seemed to be a more successful process if one considers the sanctions adopted by the EU and the U.S. against Tehran. However, so far it seems that the concerns of Shirin Ebadi, the Iranian Noble Peace Prize laureate, are legitimate: that governments are sacrificing human rights "at the altar of political expedience", both internally and internationally. Take, for example, the nuclear negotiations, during which the issue of human rights abuses in Iran was set aside. As the State Department spokesperson, Jen Psaki, stated last November: "Our focus is on the nuclear negotiations [...], we do feel that preventing Iran from acquiring a nuclear weapon [...] is a vital objective and foreign policy goal and one that it certainly makes sense as it relates to trying to achieve it." Even opponents of Obama's policy of rapprochement with Iran saw the human rights abuses in Iran as a secondary topic. In Washington DC, while major opponents of the deal hardly mentioned the issue, it was the Log Cabin Republicans, the national LGBT Republicans' organization, who drew attention to the abuses experienced by the LGBT community Iran. Needless to say that their efforts were ignored by both the supporters and the opponents of the deal.
Probably the best recent example of how short-lived focus on human rights can be was the Western outrage regarding human rights abuses in Russia. The 2014 Winter Olympics in Sochi shone a spotlight on that country's glaring human rights abuses of its LGBT population. The outcry faded quickly, and nothing has improved for the LGBT community in the country. Instead, the international community's reactions have switched from indignation to resignation while the crackdown on the LGBT groups in Russia continues.
So far, concerns for respect of human rights seem to be more part of public statements than substantive interest in implementing real changes. Reality demonstrates that indignation at human rights violations is a short-term affair, while the actual abuses are a long-term struggle. There is no doubt about the imperative of a larger debate about the role of respect for human rights in achieving foreign policy goals, but who is willing to not only open Pandora's Box, but also defend the principles of human rights over cash or security?
SUBSCRIBE AND FOLLOW
Get top stories and blog posts emailed to me each day. Newsletters may offer personalized content or advertisements.
Learn more