THE BLOG
Diane Von Furstenberg Celebrates Me ... I Mean Women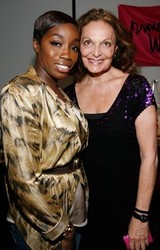 Last night I was invited to an event thrown at the Diane von Furstenberg studio in the Meatpacking District. The event was the Proud to Be Woman CD Release Party -- hosted by DVF herself -- spotlighting singer (and aspiring DJ) Estelle, and Brazilian grafiti artist Panmela Castro-Anarkia. My girl DJ Kiss was also on the one's and two's -- it was a celebratory night all around.
In celebration of International Women's Day, DVF was launching a compilation CD to benefit NGO Vital Voices, an organization dedicated to empowering women worldwide. The CD features songs from top female recording artists such as Joss Stone, Mary J. Blige, Estelle and more. The CD is available for purchase in all DVF boutiques worldwide, DVF.com, and itunes.com/dvf.
VITAL VOICES GLOBAL PARTNERSHIP is a leading non-governmental organization (NGO) that identifies, trains, and empowers emerging women leaders and social entrepreneurs around the globe, enabling them through their networks to create a better world for us all. Vital Voices provides these women with the capacity, connections, and credibility they need to unlock their potential. Vital Voices international staff and team of over 1,000 partners, pro bono experts and leaders have trained and mentored more than 5,000 emerging women leaders from over 150 countries since 1997.
For more info on Vital Voices you can visit their website at http://vitalvoices.org. Photo courtesy of Getty Images.