This is the place where James Bond went north beyond the Arctic Circle and skied off the 6,000-foot granite monolith of Mt. Asgard with a Union Jack parachute in the 'The Spy Who Loved Me.' Or at least Hollywood stuntman Rick Sylvester did in the film's opening sequence, sparing Roger Moore the death-defying leap.
On its web site Parks Canada tells you that 11,861-square-mile Auyuittuq National Park on southern Baffin Island in the Inuit Arctic territory of Nunavut is where sweeping glaciers and polar sea ice meet jagged granite mountains in glacier-scoured terrain.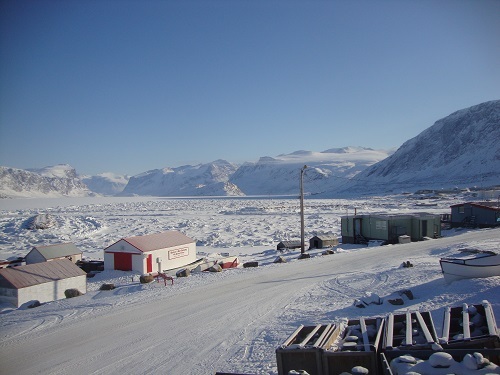 Towards the park from Pangnirtung
Not for nothing does Auyuittuq mean 'land that never melts' in Inuktitut. The park includes Akshayuk Pass, a traditional travel corridor used by the Inuit for thousands of years. 'Whether you wish to climb Auyuittuq's rugged peaks, ski on its pristine icefields, or hike the scenic Akshayuk Pass, this park offers unique opportunities to experience the beauty and majesty of the Arctic,' the site says.
And not for nothing did the film's makers pounce on this remote setting for the dramatic opening.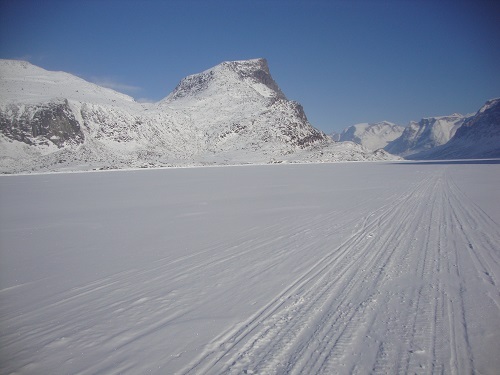 Adventure-seeking Mr. Cheltenham may have spent seven days hiking it with skis and spiked boots this frigid early spring, braving the midnight call on the door of his hut by a dirty great polar bear as noted in the previous blog, but Yours Truly is proceeding in decidedly more sedate style.
It's splendid golden weather, the sky's a glorious pale blue, and Joavee turns up to take me in on a snowmobile. He's brought along a pair of extra-large wind- and waterproof trousers and rubber boots that are bigger than I am, into which I now swim. Outside, a long sled is tied to his Yamaha, into which I load myself as comfortably as I can.
Bring me my chariot of fire
He guns the engine, the exhaust billows right into my face, and at this rate I'll asphyxiate before we leave the hamlet. A few turns round town, down a hill, onto the frozen sea, and we're off.
Wow, this is fun. Sun, sun, glorious sun! What sun? What fun? It's -25 Celsius (-13 Fahrenheit), and we're whipping up a storm of self-generated wind chill as we zip over the ice, pushing the temperature into an even greater deficit than the U.S., Greek, Irish and Portuguese budgets combined. As if that's not bad enough, the mountains have now cast a vast shadow over the ice, depressing it even further.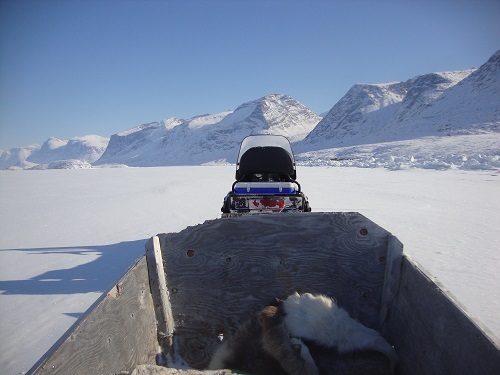 There's a huge thick eiderdown on the sled and I burrow down under it, with only my head emerging, like a curious ninja turtle. But my feet are still freezing, my hands are frozen, my balaclava-ed face is stinging like old buggery, and my eyes - yes, my lashes have frozen over again.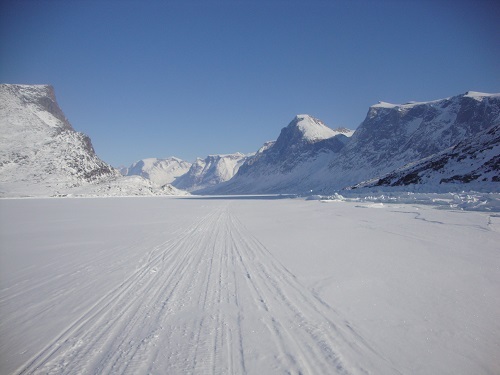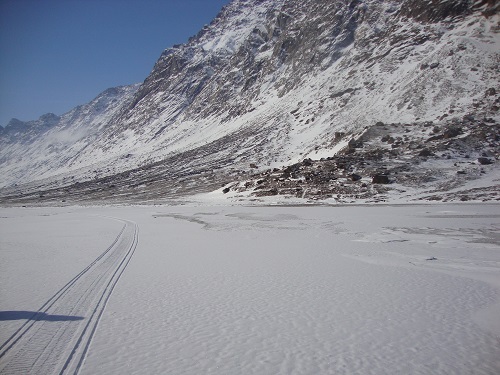 Of all the necessary equipment I forgot to bring, goggles now stand uppermost. We stop for photos. Our self-generated wind tunnel stilled, it feels positively toasty, and a nice jumping-up-and-down fit combined with a walk-about brings a trickle of circulation back to my extremities. But it's soon back into the sled again.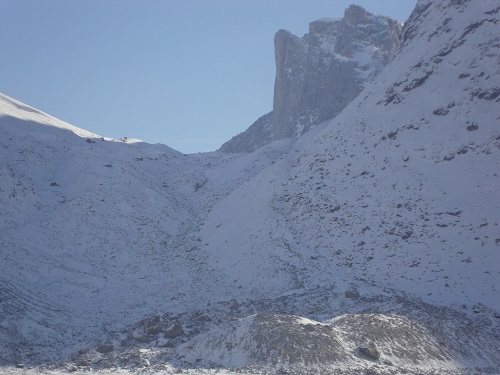 We appear to have left the fjord's frozen sea behind and are now climbing between boulders over the ice- and snow-covered boulder bed of a river. The towering stepped and tiered rock face presses in on either side, yellowing grey and silver where it is not white with snow. Joavee leaves a large orange diesel tank in mid-frozen stream to lighten the weight as we climb more steeply.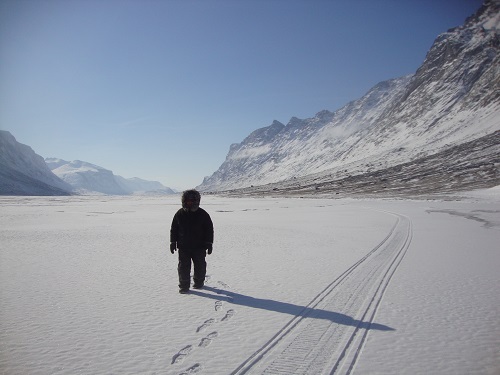 Boulders proliferate, pebble protrusions push upwards in ever greater profusion, and Yours Truly is ordered out to walk a few hundred yards so that Joavee can manoeuvre the climb without totally wrecking snowmobile, sled and all.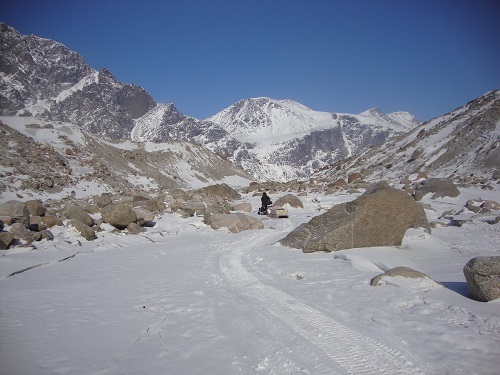 This is paradise; it's so much warmer walking than riding, a welcoming sauna by contrast. But when I finally catch up, Mother Nature does a nasty and I'm about to find out how long it takes for a willy to freeze over and a yellow stream to congeal in full flow. Eureka! Longer than I thought, evidently, since I'm still whole and back in the sled.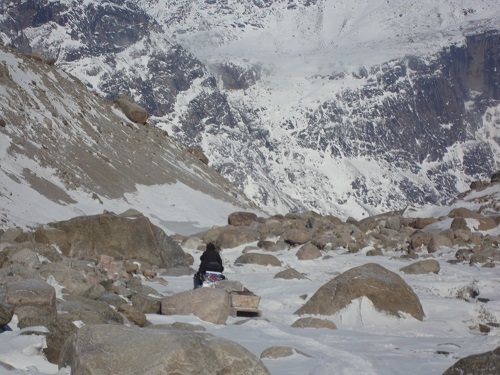 A low pillar of stones stands in the middle of the base of a putative isosceles triangle with towering snow and glacier-topped mountains forming its sides and apex - the Arctic Circle marker. OK, photo time - and I'm being an arsehole, standing with one foot in the Arctic and the other in the tropics or whatever you call the other side of the line.
The frozen river broadens by the marker but narrows sharply as it approaches the apex. Now Mother Nature has turned her urges on Joavee. I wonder whether an Inuit's wee-wee is more wind- and frost-proof than mine, in conformity with Darwin's law of evolution and survival of the fittest imprinting itself on the genes.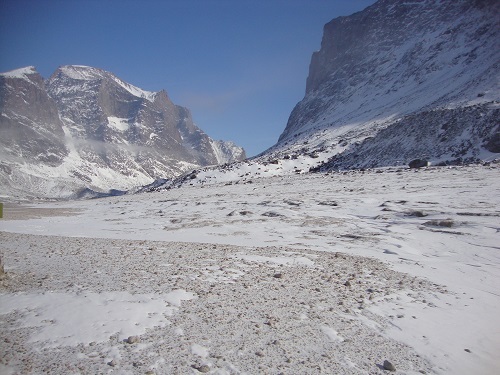 Back into the sled - and we're off.
We go as far as snowmobiles are allowed and continue on foot, climbing round boulders, crunching on the snow and playing a full scale of hollow musical notes as we resonate on the ice, each presumably determined by its varying depth.
My outer trousers keep falling down, and my feet need an internal taxi as they slide from the heel to the toe of my Gulliver boots, but I only slip and fall down a dozen times.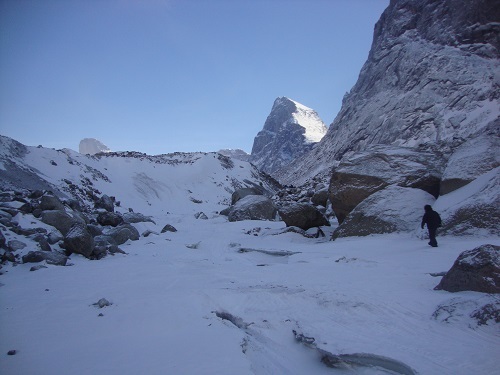 We gently climb some more, and there it is before us - no, not my feared polar bear, but 5,495-foot Mount Thor with the Earth's greatest purely vertical drop at 4,101 feet. It's concave with an average angle of 105 degrees, dominating Akshayuk Valley near Overlord Peak.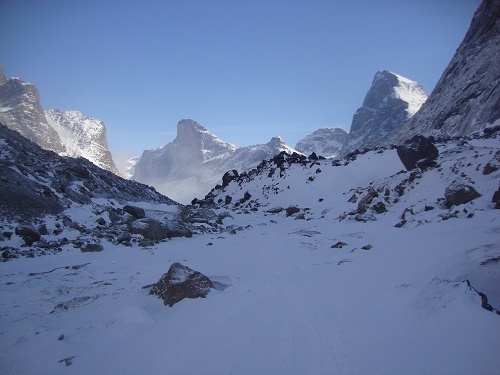 The views are fantastic, not only with concave Thor looking like one of Harry Potter's Dementors in full flight, but of Matterhorn-type peaks, huge tiered rock faces, and vast glaciers atop the mountain plateaux.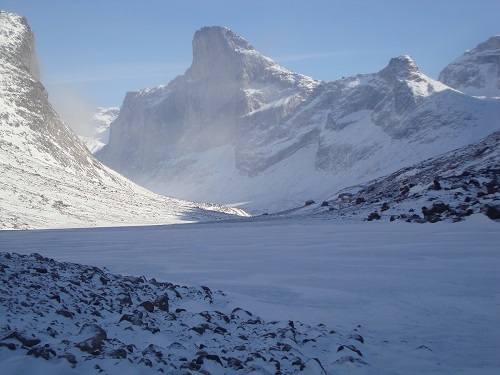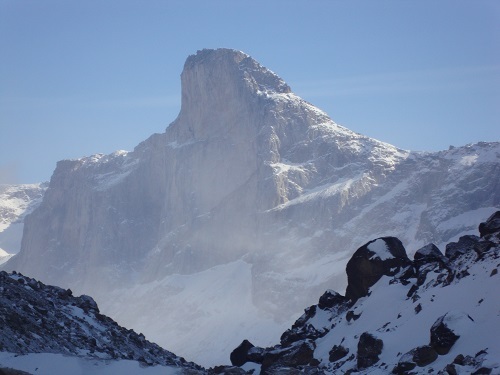 As for my polar bear? Of course I'd follow park instructions, stand my ground and not run away. With Gulliver's boots I could hardly do otherwise. But there's no bear to tango with. We retrace our steps - with a few more falls of course.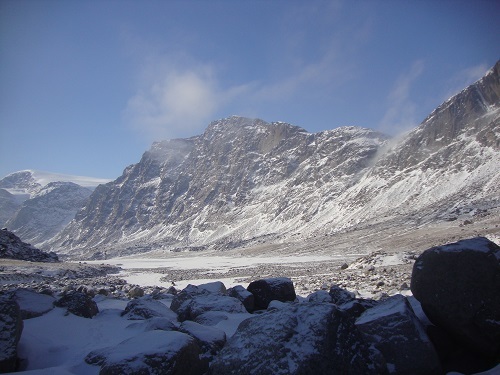 If anything, our self-produced wind chill feels even worse on the way back - I pull enough ice blocks from my eye lashes to build an igloo. We have another pee stop, I hobble out of the sled, and find myself limping on the ice. I look down and see I have no boot on my right foot - it's already so cold and unfeeling that only the limp alerts me. Joavee retrieves the boot from under the eiderdown.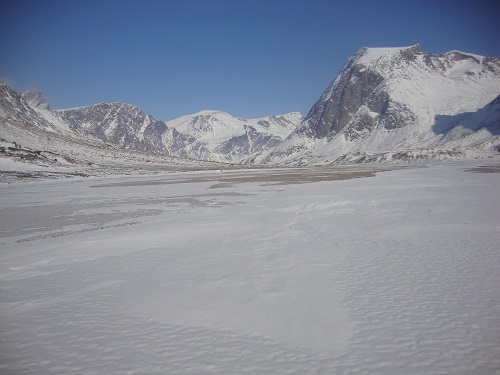 Will we ever make it back to Pangnirtung? The river leads into the fjord, the fjord widens, the frozen sea expands on the horizon, and we're back - after five hours in the open.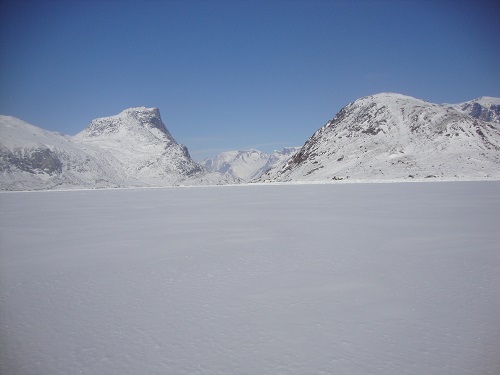 Now to press the defrost button and begin the big thaw. I'm buzzing, several cups of steaming tea help make me stabilise, and a hot shower is most definitely edenic. But it's seven hours later now, and the fingertips of my camera-snapping right hand are still tingling. Could it be frostbite?
And now for the factoid learned from the trip: you can pee for quite some time in the Arctic freeze without it freezing over into an instant icicle, but you might get a frost-bitten willy.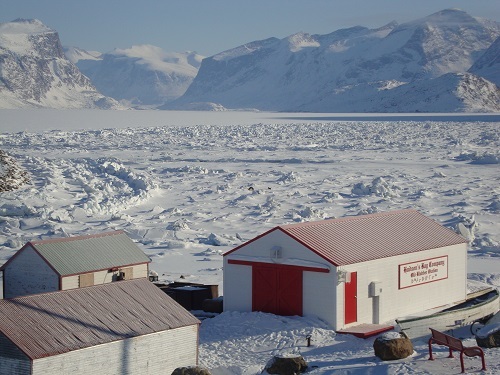 Willy nilly, back in Pangnirtung
By the same author: Bussing The Amazon: On The Road With The Accidental Journalist, available with free excerpts on Kindle and in print version on Amazon.
Swimming With Fidel: The Toils Of An Accidental Journalist, available on Kindle, with free excerpts here, and in print version on Amazon in the U.S here.
SUBSCRIBE AND FOLLOW
Get top stories and blog posts emailed to me each day. Newsletters may offer personalized content or advertisements.
Learn more