In search of reasonable digs in Aruba - relatively speaking, that is, at about $85 a night - I've found an establishment that is clean but near waste ground, about 15 minutes walk from the nearest beach. Nearly all the inmates are obese Colombians and Venezuelans, plenty of occasions to use that Papiamento phrase I picked up in Curaçao - hopi sanka (big bum)
Aruba, a country within the Dutch kingdom with 120,000 people and its own currency of florins, is much flatter and, at 70 square miles a good bit smaller than its sister, or is that brother, islands in the ABC, Bonaire and Curaçao. But it is much more developed, with tourists at the top of the list thanks to its great sand beaches.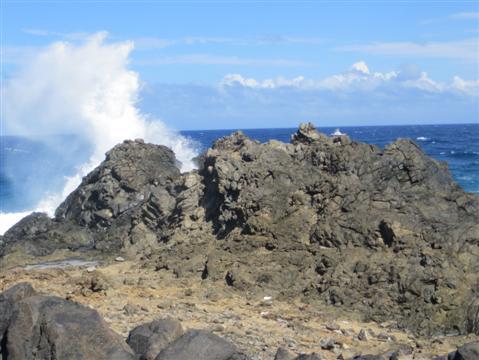 Aruba's wild north-east coast
It's highest point is Mt. Jamanota, a 620-foot-high hill that looks like a volcanic cone and is visible from everywhere on the island.

Once you get from my wasteland to the beach at Noord, north of Oranjestad the capital, the sand is beautifully white and powdery, the sea is a lovely turquoise, and the backdrop is a long line of massive hotel-casinos, a dozen or so of them, nine to 16 storeys high, albeit with a modest curtain of palm trees in front of them.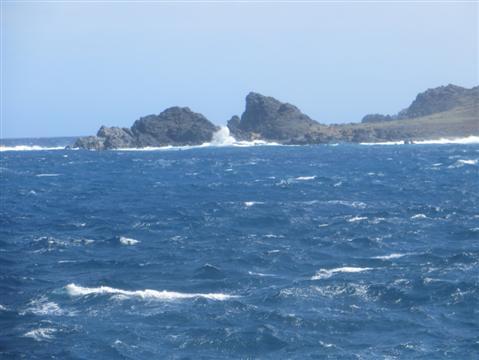 The queen of the beach is the Riu Palace Aruba, a dazzlingly white affair resembling a fortress topped by cupolas worthy of Napoleon III-style European railway station architecture. It's a three-winged square affair with the fourth side looking onto the beach from an ornate swimming pool. At a minimum of $300 a night all inclusive, you can see why I chose the wastelands. The Westin, an ugly block house, dominates it to the south, rising to 16 floors.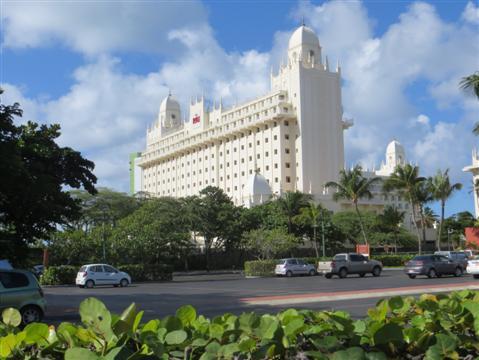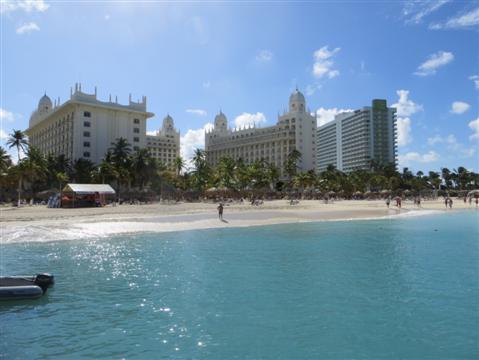 Rio Palace view from beach
But the beach does present a selection of better proportioned bodies strolling up and down than noted elsewhere, even if fatties also abound. Those who like beaches à la Miami Beach or Cancún will doubtless like this one too.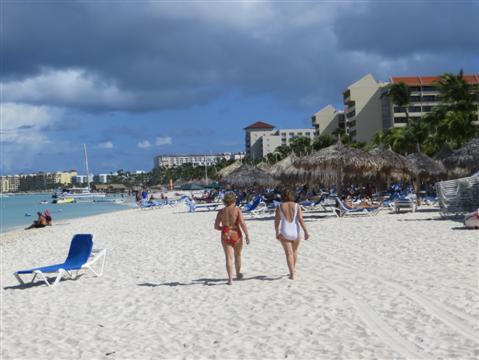 Yours Truly is ensconced at a table in the open air cafe at the end of the short De Palm pier in front of the Riu Palace, fanned by a cooling breeze, sipping mint tea, surveying the scene - and trying to feel superior.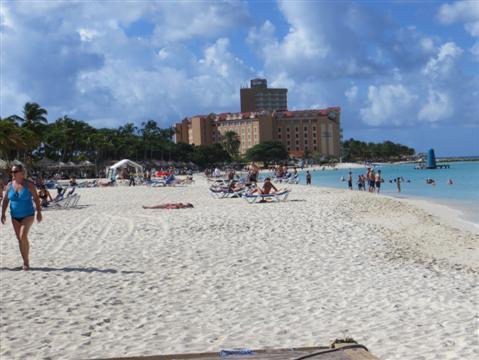 But I can't just sit here trying to feel superior for three days solid, so I take an island tour. This gets off to a fine start. The bus won't pick me up in the wasteland boondocks, so I have to walk to the more upscale Caribbean Palm resort - and now the idiot driver is telling two antique Argentine ladies on board that he thought Argentines spoke Dutch. He must be taking the piss out of them.
We trawl along the sea front to pick up more passengers at their luxury abodes, starting with the humongous newly opened Ritz Carlton, which charges $449 a night for one person with a limited view (the room, that is), and $2,900 a night for a '1 Bedroom Presidential Suite, 1 King, Bathrooms: 1.5, Oceanfront.'
View towards Mt. Jamanota
Its huge bulk now blocks the wind somewhat for kite and wind surfers. Just beyond is the area called the local Beverley Hills, where U.S. expats build their homes. Property sells for $4 million.
Tourism is the island's only economy and there are two major beach areas - the high-rise hotels along Noord, and the low-rise complexes nearer Oranjestad, no higher than five floors, one of them with its own manicured golf course and lakes. By the time we've trawled all of them we are 45 people, median age 127.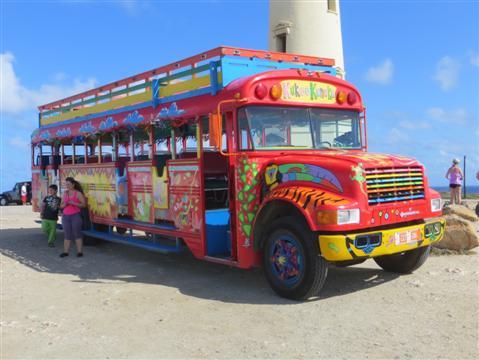 We pass a red buoy marking the wreck of a German battleship sunk in 1942 while seeking to destroy Aruba's oil refinery, at that time the largest in the world - it's now a major scuba site, the wreck, that is, not the refinery which is still above water, but at the other end of the island.
At the island's northern tip is the California lighthouse, with strange looking tourist buses and splendid panoramas over the cactus-studded flatlands towards low hills to the south and beaches to the west.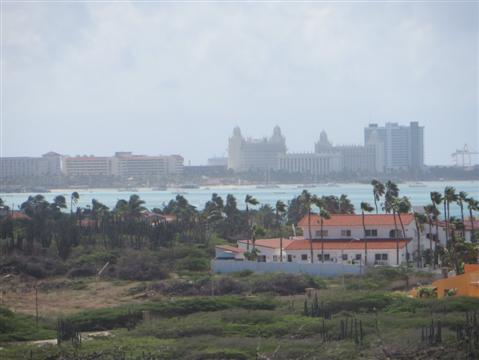 Noord beach from the lighhouse
The driver-guide fills us in on the passing sites - the green flags of the governing party which, he says, illegally uses public funds to get people to fly them from their houses at $300 a pop. The politicians are totally corrupt, doing business under the table, quoths he.
And did you know that iguana soup is Aruba's answer to viagra? There's no end to his knowledge. By the way those little chocolatey things on the ground are not M&Ms, he warns. They're goat droppings.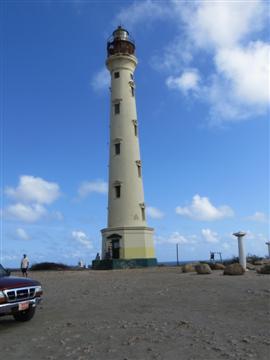 The north-east coast is a stoney desert of cacti, with Arikok national park a wilderness of low bushes and shrubs. We stop at a small natural bridge by the rocky coast, with a clear warning not to stand on it since its larger neighbour recently collapsed.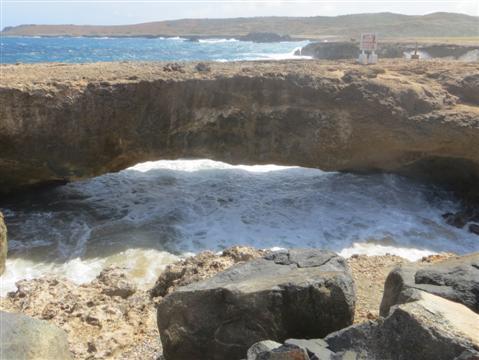 Then it's on to lunch by the park where the conversation goes from the sublime to the ridiculous along the lines of 'I'm from Argentina,' 'Oh, I'm from New Jersey.'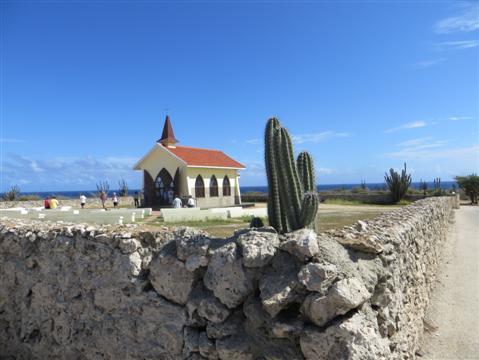 Chapel near the lighhouse
There are a couple of antique Norwegian couples but most are American, Dutch and Argentine with a couple of Brazilians thrown in. Nearly everybody is wearing those coloured plastic bracelets of the all-inclusive resorts.
Further south the local Lourdes Grotto presents a kitschy statue of the virgin surrounded by artificial pink flowers stuck half way up a rock by the roadside, set up in 1959.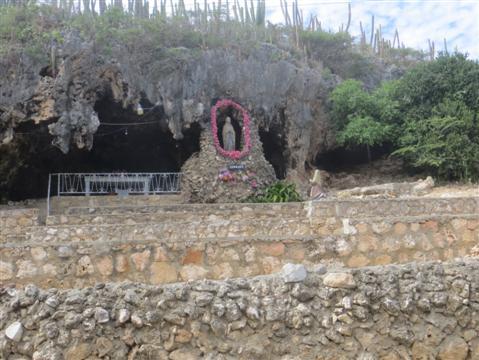 Our final stop is Baby Beach at Aruba's southern end, full of tropical fish, fine for snorkelling, but with the dirty great hulking bulk of the oil refinery overwhelming it - hence no hotels here. Valero closed the refinery in 2012, putting 3,000 people out of work.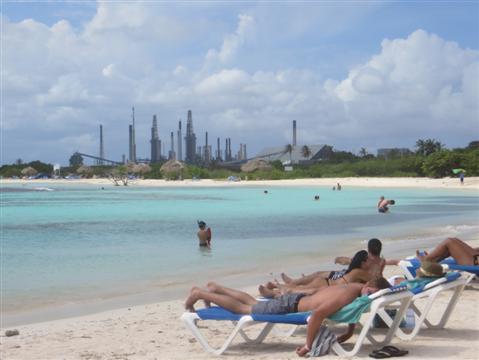 Miracle of miracles, on the return the driver agrees to take me right back to my cheapie hostel, one of 34 hotels on the island with a grand total of 15,000 rooms.
Time for the flight back to New York. At Queen Beatrix International Airport I call out a woman who's just jumped the queue. That's my wife, growls the enervated man in front of me. Oops, sorreeeee! I don't think this is the moment to regale him with the 'that's no pregnant elephant, that's my wife' line.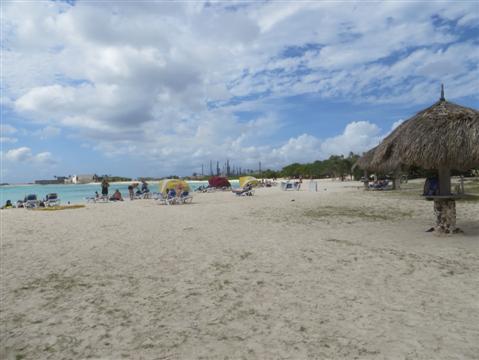 You go through U.S. customs and immigration here at the airport and not in Miami. You check in your baggage, go through Aruban immigration and enter the duty-free area. Here I buy a few tons of chocolates - the family has mutinied against my taste in other souvenirs like T-shirts or kitschy jewellery.
Now you pick up the luggage you've just checked in and go through U.S. immigration and customs. It is in this latter pick-up-your-luggage process that buzzers start buzzing by a conveyor belt and a two-man SWAT team comes bearing down upon Yours Truly, shouting 'Look at the notice. Freeze!' OK, they don't actually say 'freeze' in words, their demeanour is enough.
'Don't open your bag,' they shout. I didn't seen the notice to that effect and have been presumptuous enough to think of putting my tons of chocolates in my case to avoid hauling them on board.
'Why can't I,' I whimper.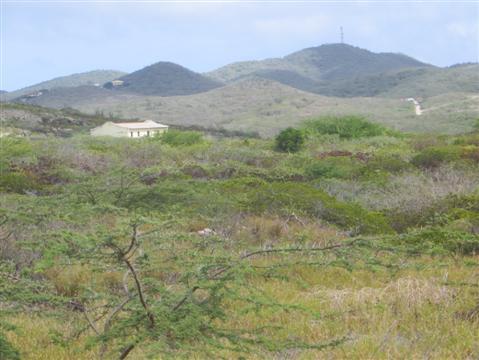 Evidently the bags have already gone through their bomb and radioactive tests. What do they think - that I'm gonna put the two dirty bombs I just purchased in the duty free shop in my case? Once through this little hurdle, I pass U.S. immigration and customs with flying colours.
Now we all gather in the drop-off-your-bags-again-and-go-through-U.S.-security-this-time line. The young couple in front is having a right royal row. The lady says they should drop the bags on conveyor belt one, which says Air Tran. The guy says no, let's go through the check here first.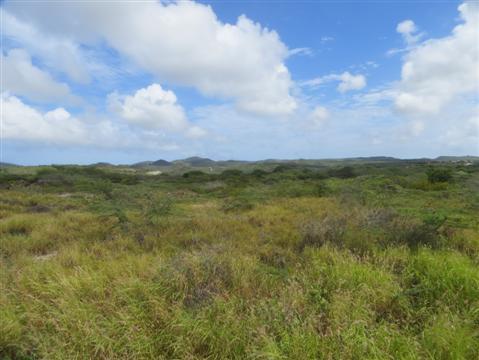 The check-in guard tells them to go and drop off their bags on conveyor belt one, which says Air Tran. Back in line, the lady is most irate, shouting sweet everythings such as 'Say you're sorry, Mr. Know-All.' The guy's gone bright puce, muttering Lord-alone-knows-what vile threats in a bass counter-chant. Gawd, it sounds - and looks - just like me and my wife travelling together.
I hope this is not their honeymoon. They've gone into separate security lines for the U.S. take-off-your-shoes check. They're no longer sharing their quickly unshod feet, mouthing curses at each other across the lines.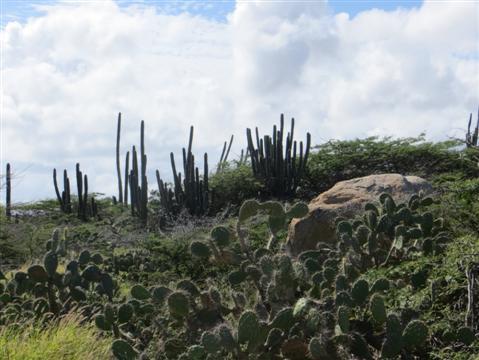 On the American Airlines flight from Miami to New York Yours Truly nearly becomes a news item. Pat, the antique chief hostess, decides to move my junk (no, not that junk) in the bin above my seat and sends my tons of chocolates flying all over the bin.
She says she needs to make room for the portmanteau of some anus further back and shoves one of my bags of chocolates onto my lap with orders to put it under my seat. I stand and almost deck her. Wow, that might get almost as much coverage as that Jet Blue steward garnered when he swore at his passengers, then exited via the emergency slide.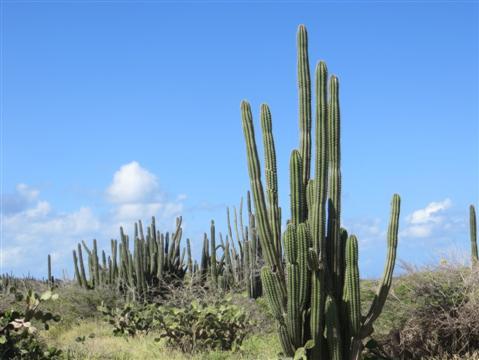 It doesn't end there. We arrive at JFK at midnight and spend aeons waiting at the conveyor belt. Nearly every one else has their luggage. At one a.m. I hear my name on the loudspeaker, with orders to go to the desk behind belt 8.
Here an American Airlines employee points to my bag. They put it on an earlier flight and it has been sitting there all the time. A little tantrum is in order.
'You mean to tell me you've had it here the whole time and just left me waiting for an hour,' I scream. He looks like a post-expressionist art work - that is, no expression at all. Some choice four-letter words make no dent on Mr. Sphynx-face but do draw glances from security.
Not wishing to appear on the front page of the New York Post - Punch-up at the JFK Corral - I exit the airport just as I started out 10 days earlier - on the non-physically violent wings of a tantrum.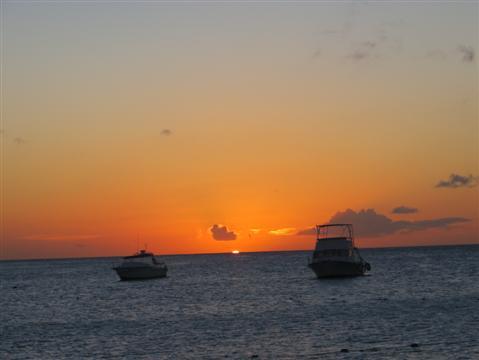 The next series, fully illustrated, will cover the most recent trek - to Greenland in the depths of winter.
By the same author: Bussing The Amazon: On The Road With The Accidental Journalist, available with free excerpts on Kindle and in print version on Amazon.
Swimming With Fidel: The Toils Of An Accidental Journalist, available on Kindle, with free excerpts here, and in print version on Amazon in the U.S here.
SUBSCRIBE AND FOLLOW
Get top stories and blog posts emailed to me each day. Newsletters may offer personalized content or advertisements.
Learn more