Hundreds of years before this speck of a town on a speck of an island became the famed Bar Harbor of the Gilded Age, indigenous Wabanaki people hunted, fished, gathered berries, and doubtless otherwise cavorted on the pink granite cliffs, verdant slopes and deep blue sea inlets that they called Man-es-ayd'ik, Clam-Gathering Place, or Ah-bays'auk, Clambake Place, bequeathing mountains of shells to prove their existence for later archaeologists.
Then one fine September morning in 1604, French navigator Samuel de Champlain passed by what is now the U.S. state of Maine, ran aground on the pink granite ledges -- history does not say if he was literally or metaphorically three sheets to the wind -- and landed to repair his ship. He named the island Isle des Monts Deserts, island of desert mountains, although the generally bare peaks are more like hills, the highest reaching only 1,530 feet.
Frenchman Bay with islands and boats
Thus did Clambake Place gain a new name, now anglicized as Mount Desert Island, and thus was the writing on the wall for the poor Wabanaki, who greeted Champlain. Bar Harbor did not spring up immediately to seal their displacement, and when it did it was not initially called Bar Harbor.
The first Europeans settled here in 1763. Before the turn of that century the township of Eden was born, named not after the Bible's paradisiacal garden, though many would claim it is just as worthy, but after a now obscure British politician, Sir Richard Eden.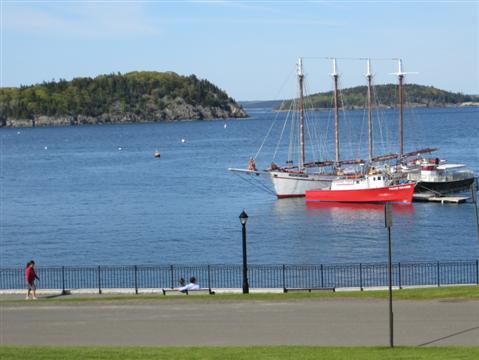 Bar Harbor waterfront from Agamont Park
In the 1840s such Hudson River school painters as Thomas Cole and Frederic Edwin Church were seduced by the magnificent seascapes, their output serving as a major propaganda boost. The rich and famous poured in to build 'cottages,' as they called their palatial mansions with scores, even 100 rooms, and the Gilded Age resort rivalled Newport, Rhode Island, and Saratoga Springs, New York.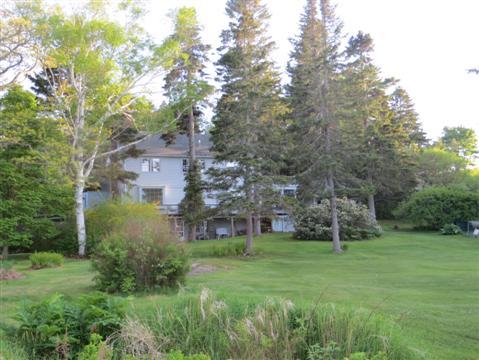 A Bar Harbor 'cottage'
It was not until March 3, 1918, that Eden was renamed Bar Harbor, after the sand and gravel bar that at low tide joins it to wooded Bar Island, a name that now symbolizes affluence and influence even though the Gilded Age was approaching its death throes by the time of the rechristening.
Even so, the Rockefellers, the Vanderbilts, the J.P. Morgans and their ilk continued to grace Clam-Gathering Place with their own ostentatious gatherings, and it was not until October 1947, after suffering the indignities of serving as a base for naval firing practice during World War II and the attendant 'riffraff' sailors that brought along, that the final curtain came down on the final epilogue of the now distant Gilded Age.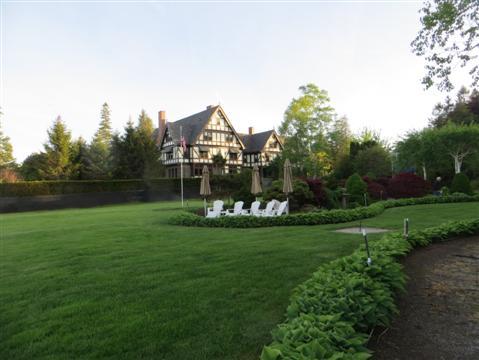 Another Bar Harbor 'cottage'
A massive two-week forest fire destroyed 67 magnificent 'cottage' mansions on so-called millionaires' row, five historic grand hotels and 170 homes, and turned to cinders a large segment of adjacent Acadia National Park.
Now Bar Harbor is the haunt of more, let's just say down-market tourists, even though prices may be sky high, plus a few better known personalities who have been seen prancing around town, such as Martha Stewart and John Travolta.
OK, now that we've got the the introductions over with, let's cut to the chase and go on a tour. The fire spared the town's historic Main Street, which is still pleasant and genteel, and the harbourfront views over Frenchman Bay and the many little hillock isles soaring out of the blue sea covered in deep green firs and lighter emerald trees are a living kaleidoscope.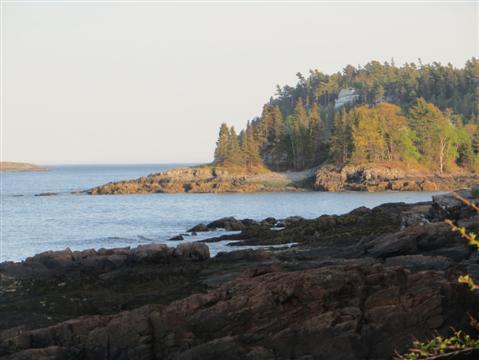 Coastline and 'cottage'
The whole indented coastline with its layered pink granite cliffs and isles is the result of Mother Nature's efforts as a sculptress when she tempered the region with the onslaughts and retreats, the grindings and tearings of the last ice age.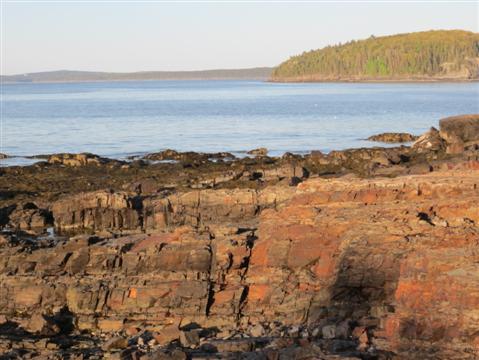 Mother Nature's sculpting
Some of this can be enjoyed without really leaving town by taking a stroll along a shoreline path past Agamont Park and the Bar Harbor Inn.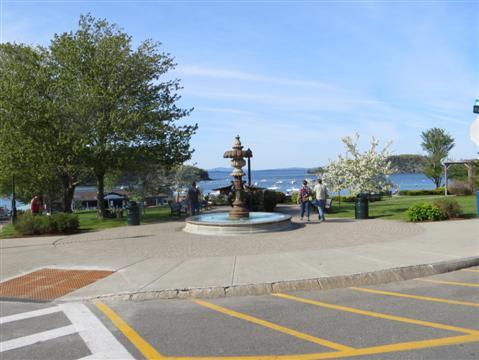 Agamont Park view
Bar Harbor Inn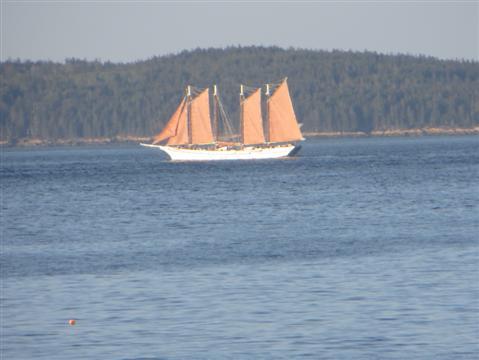 Sunset cruise
But it is adjacent Acadia National Park with its enchanting pine and deciduous forest glades, stoney granite peaks and layered pink granite cliffs up to 120 feet high, where Atlantic waves barrel in direct from France, that is Bar harbor's major 'nature' draw.
You don't need your own car to enjoy this. There are park bus tours, including Oly's Trolley, one of those motorised vehicles made to look like an old tram. On this blessed day it's under the command of the delightful Paula and her very informative, almost non-stop commentary. Talk about data overload for Yours Truly. My brain cells are already flashing 'denial of service.'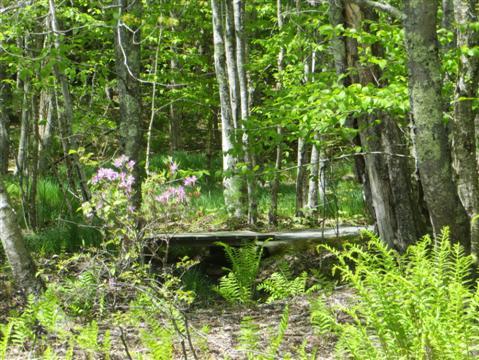 Acadia forest glade
But the other nine on board, including apparent matrons of the American Revolution, are lapping it up, with 'wow' after 'wow' issuing forth from the likes of Buffy and Bertha and the rest of the clutch.
The 'cottages' of the Rockefellers and Vanderbilts were Tudor mansions, albeit wooden, with almost 100 rooms, quoths Paula. Wow!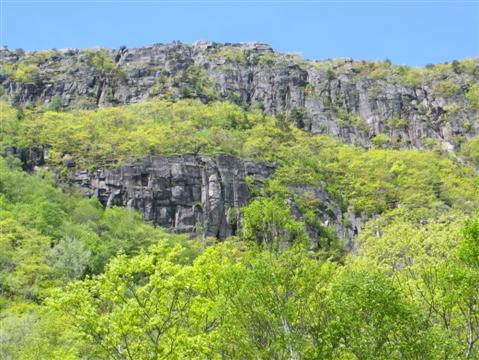 Park view
And what about the yacht wars of the Gilded Age, when financier J.P. Morgan and newspaper magnate Joseph Pulitzer kept on building new yachts in an 'anything-you-can-build-I-can-build-bigger' Olympics? Wow! Wow! Even Elmer now joins in -- qow!
And did you know that the island golf course is the eighth best in the country, and President William Howard Taft played here in 1910? 'Oohs' and 'aahs' join the 'wows.'
Acadia Park coastline
And you think 400 at a party is a lot? Some of the Gilded Age parties had 3,000 guests. 'Ow,' quoths I, joining in to summarise the others' views.
Despite my overload, Paula's patter is anything but dull. Now did you know that Acadia National Park was not always Acadia National Park? It was called Lafayette National Park on its creation in 1919, even though the French Marquess who aided the formerly happy British colonists in their scatterbrained and self-destructive plot to jettison the wondrous halo of the British crown, had nothing to do with the region.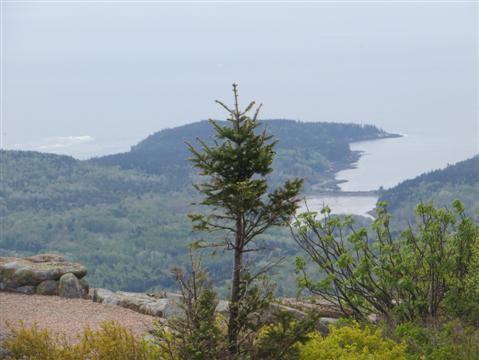 View from top of Mt. Cadillac
But in 1929 administrators wanted an American landowner to donate a large new section. Now it so happened that the inconsiderate Yank had already died and the desired plot lay in the talons of his British widow. No way was she going to grant land to a French Marquess who aided traitors.
So a compromise was reached in which Her Grace agreed to the park being named Acadia after the former French colony here, which itself came from the name the Wabanaki gave to the local river, meaning Place of Plenty.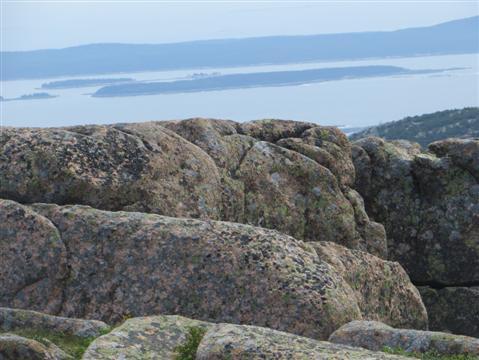 Island panorama from Mt. Cadillac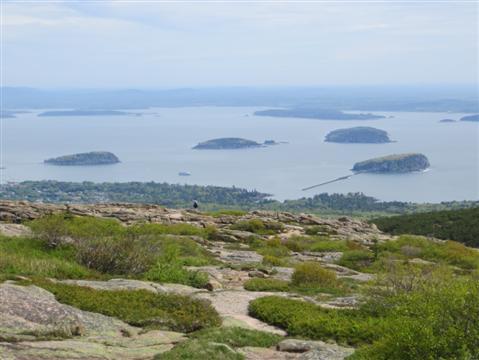 And another
But let's get on with the tour. We drive to the top of Mt. Cadillac, the park's highest peak, in fact the highest on the whole U.S. Atlantic seaboard at 1,530 foot -- and no, it's not named after the car, but after Antoine Laumet de La Mothe, sieur de Cadillac, a French gent who colonised part of the land here and then went on to help found Detroit -- which explains his eponymous car.
View over Bar Harbor from on high
The panoramic views across other peaks and down the ravines to the sea are splendid. We pass a beaver lodge with its branches rising out of the waters of a lake, a cleverly constructed beaver dam, and an 'authentic' wigwam built out of birch bark in a hollow by the the Sieur de Monts spring, which is no longer springing.
We drive beneath Precipice Trail. Here the ascent is by ladders and crampons stuck into the rock face. It's out of bounds at the moment because breeding peregrine falcons are in session in their nests and they can dive-bomb you at 200 miles per hour if you piss them off.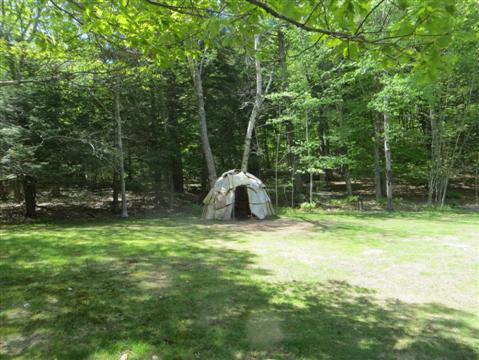 Wigwam built of birch bark
And now over to Paula again: it was only by studying and copying the build of peregrine falcons that engineers managed to prevent jet engines from stalling. At such high speeds breathing becomes difficult and high wind pressure can damage the lungs, so the falcon has cone-shaped bones near its nostrils called baffles to deflect air shock waves, allowing controlled air intake.
To prevent supersonic jets from 'choking' by hitting a wall of resistance and stalling, the engineers put a metallic cone in the opening of the engine to mimic the baffles, allowing the air to flow through the engine instead of round it.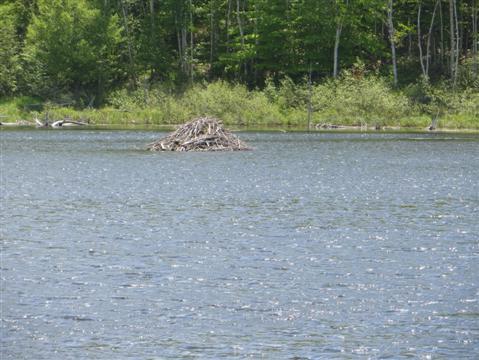 Beaver lodge
We come to Thunder Hole -- and no, this is not the name of the world's loudest farter. It's a narrow inlet in the low cliffs where an underwater cavern emits a thunder-like noise when assailed by the right-size waves from France.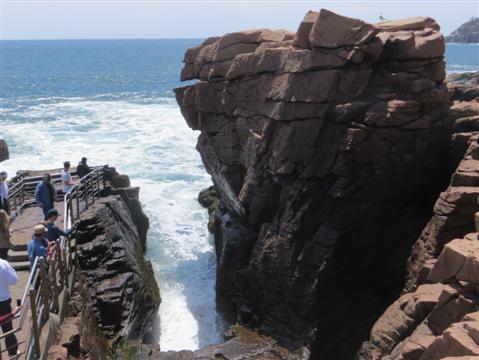 Thunder Hole
On our return we pass the Jackson Laboratory, known as the Mouse House for the millions of mice on which it carries out genetic research to combat cancer and other diseases as well as the ravages of aging. Wow, my own gilded age for the latter. I'll check in there. Thanks, Paula.
Left to my own devices, there's a nice two-hour walking circuit from town round the great meadow and through the woods to the Sieur de Monts spring. Part of it passes over a board walk through a forest of silver birches with woodpeckers pecking away at tree trunks and speckled yellow butterflies flitting about.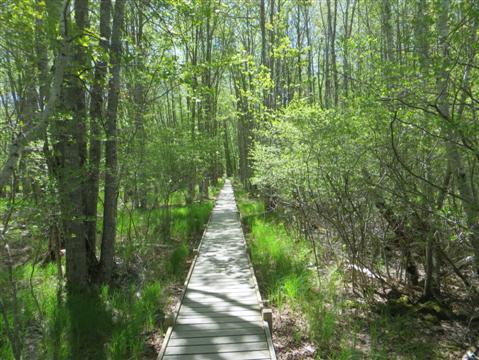 Boardwalk through the birch forest
And what better way to pass the early evening than a stroll over to Bar Island where the low tide is conveniently draining the last continuous water flow from the sand and gravel bar -- a beautiful sunset walk up the forested hump. A white-tailed deer and her fawn cautiously gambol and nibble across a glade, then bolt away as soon as they espy my ugly mug.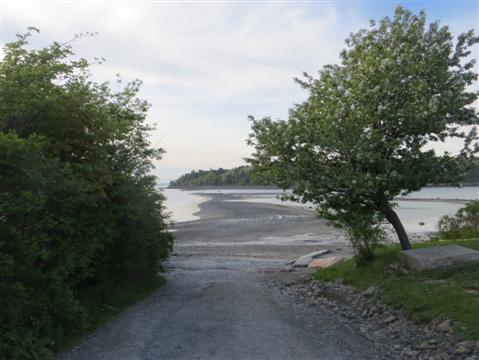 Tidal sand and gravel bar to Bar Island draining out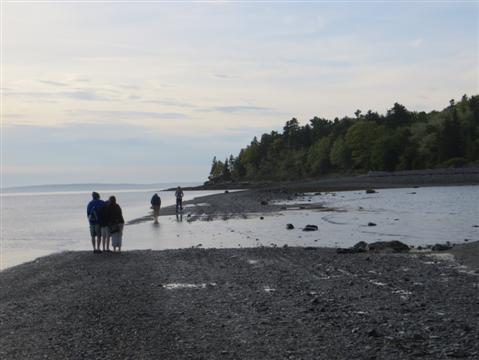 Almost dry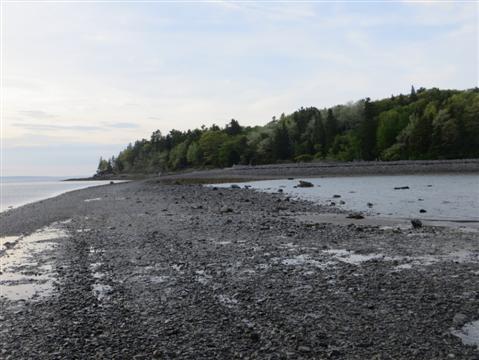 Dry
What's more, I actually manage to return to town before the tide returns and cuts me off for 12 hours.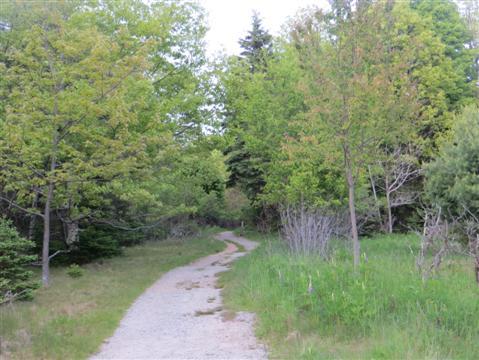 Path on Bar Island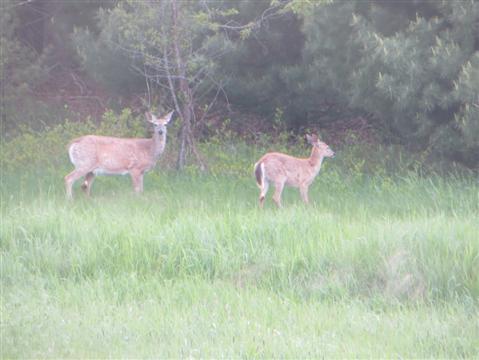 Bar Island white-tailed deer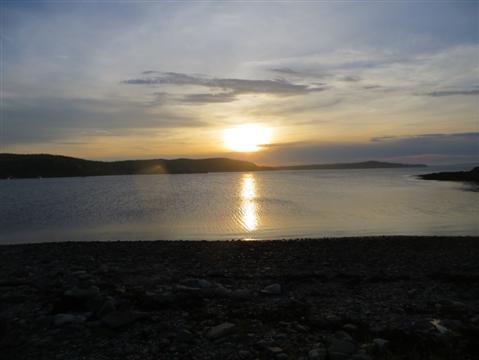 Sunset from Bar Island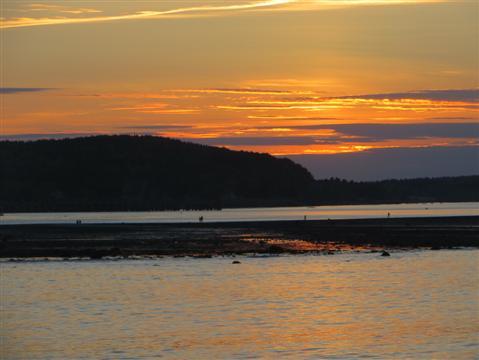 Sunset passage from Bar Island
______________
By the same author: Bussing The Amazon: On The Road With The Accidental Journalist, available on Kindle, with free excerpts at and in print version on Amazon.
And Swimming With Fidel: The Toils Of An Accidental Journalist, available on Kindle, with free excerpts here, and in print version on Amazon in the U.S here.
CORRECTION: A previous version of this post incorrectly described the Bar Harbor cliffs as comprised of schist instead of granite.