Some 415 miles into the southern Pacific off the coast of Chile, accessible in 2½ hours by small plane -- if the wind isn't blowing too hard -- or in 2½ days by monthly supply ship, lies the island generally recognized as the source of Daniel Defoe's famous novel, even if he transposed it to the Caribbean and mightily changed its topography.
For it was here in the Juan Fernandez Islands, on previously uninhabited Masatierra -- now renamed Robinson Crusoe Island -- that Scottish sailor Alexander Selkirk, the model for Defoe's Crusoe, asked to be put ashore in September 1704 following a row with the captain of his ship because he doubted its seaworthiness. What was poor Alexander thinking?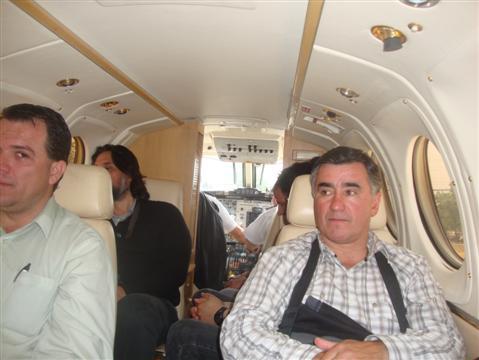 Plane to Robinson Crusoe Island
His doubts proved well founded, alright: the ship foundered off Colombia, many of its crew drowned and the rest were taken prisoner by the Spanish. But if he expected a busy shipping lane and quick rescue, he was sorely mistaken. Sustained by goats left by Spanish passers-by, he had to wait four years and four months until February 1709 -- and alone, unlike his literary alter ego who had Man Friday, as well as hostile natives.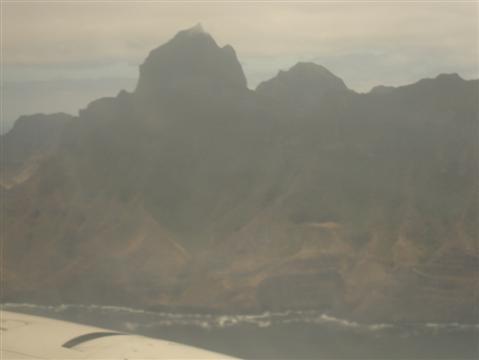 Robinson Crusoe Island from the air
Lonely Planet warns that the flight from Santiago and the boat ride from the airstrip to the island's only town, San Juan Bautista, can be rough 'so travellers prone to motion sickness may want to consider taking pills.' Yours Truly already has his Dramamine ready to take at Santiago's Tobalaba aerodrome.

But I already have a head start. To avoid Santiago's downtown rush-hour gridlock, I take the metro to the suburbs. But it's so incredibly crowded and speeds and slows with such jerks that I'm already gagging, my incipient retching exacerbated by an extremely unattractive young couple smooching right in my face and noisily exchanging oral fluids.
Plane on airstrip
What with the jerks and jolts of the onward taxi, I arrive at the aerodrome just in time to gasp 'where's the barf room' -- where, kneeling before the lavatory bowl altar, I sacrifice up my heart. Good humour eventually restored I swallow the two Dramamine and pay eight kilos excess baggage, bringing the return air fare to over $1,000.
The plane is a tiny 7-seater Beechcraft Super King Air B200 with two pilots, and a cutting-edge high-tech cooling system -- a black rubber tampon stuck in a brass tube: remove tampon and, hey presto, cool air. The pilot is studying a book that looks suspiciously like either the Bible or a user's manual. Either way, that doesn't inspire confidence. Now the cutting-edge high-tech black rubber tampon falls out of the brass pipe and smites me in the crotch.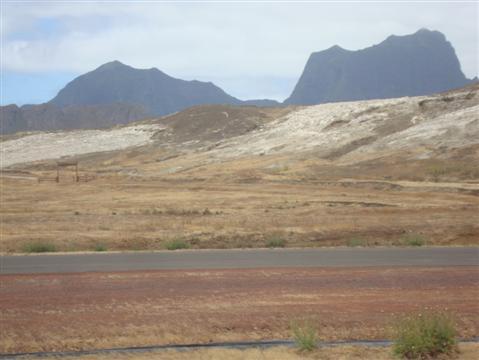 View from airstrip
But the flight could not be smoother (memo to self: tip off LP about Santiago metro, not Crusoe flight). As we gently drop through the cloud ceiling a scene of stark barrenness unfolds -- jagged mountains with precipitous cliff faces soaring in the fashion of South Seas islands, but with not the slightest hint of vegetation other than dull yellow straw clumps here and there.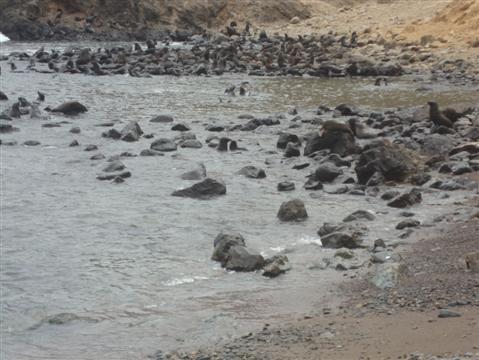 Seals on rocks
From a volcanic cove below the airport where hundreds of fur seals bask on the rocks or sport in the water, barking and yelping and arcing, a boat takes us the hour and a half to San Juan Bautista past tormented, contorted, angry volcanic cliffs -- sheer, twisted, convex, concave, thrust heavenwards with all the ferocity that Mother Earth's magma can muster.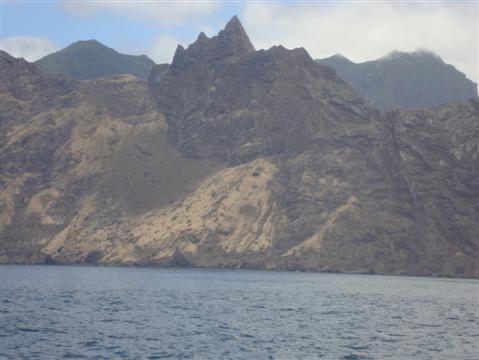 Robinson Crusoe Island, barren side from sea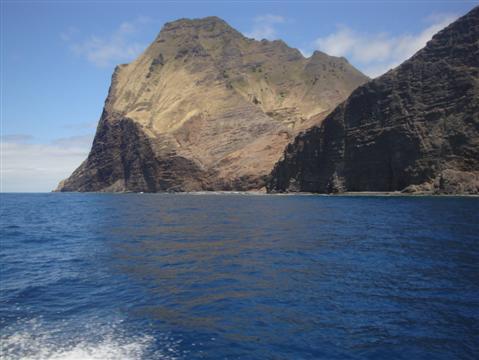 Another view of barren side
Rounding the south west point, the landscape changes dramatically with a suddenness that is breathtaking in its stunning contrast. The mountains still have the jagged precipitous cliff faces of the South Seas, but a Mediterranean lushness now carpets them from top to bottom -- deep green fir trees, an emerald mantle of vegetation, thick rain forests. Nearer the shore, bright orange, yellow and red flowers contrast with the ocean's deep blue.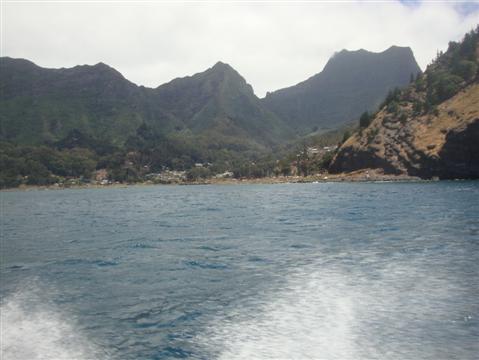 Approach to San Juan Bautista
The island is less than 15 miles long and five miles wide, but the 3,000-foot high central mountain spine traps the rainfall and moisture in the north, producing what must be one of the greatest climato-vegeto-geo-topographical or whatever contrasts ever in such a small place -- or as LP puts it, a difference as great as that between the Amazon jungle and the Atacama desert, the world's driest. No wonder it's a UNESCO World Biosphere Reserve.
View towards El Yunque
San Juan Bautista nestles in a verdant cradle, home to nearly all the island's 600 or so inhabitants. A couple of lanes, neatly bordered by bungalows and flowery gardens, meander up the lower slopes. Much of its coastal area was damaged by a tsunami in 2010 when eight people were killed, but it has been restored and the little guesthouses receive a trickle of visitors. Local fishermen pack big boxes with live lobsters to trade with the mainland.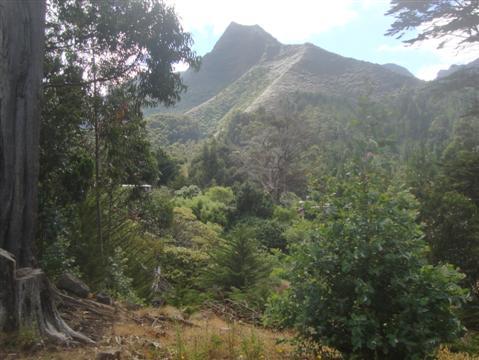 View inland from San Juan Bautista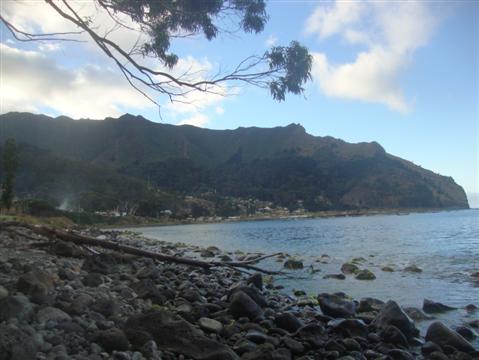 View along shoreline to San Juan Bautista
A two-mile cliff-top walk leads to Pangal cove, climbing through a lofty cathedral of huge fir trees, with splendid views inland to the knobbly table top of El Yunque (the anvil), at 3,000 feet the island's highest mountain, other rocky spires, and back across the sparkling blue waters to San Juan Bautista.
View from Pangal
A track inland ends at the Plazoleta del Yunque, a lovely forest clearing where a self-guided nature trail shows off endemic plants -- red fern-like spikes, yellow and pink flowers, trees with thick trunks that slither along the ground like snakes, then rise into a profusion of huge leaves.
Snaking tree branches
On a saddle ridge between two humongous rock phalluses, 1,863 feet above the sea is Selkirk's lookout, which he scaled almost daily, scanning the ocean on both sides in the hope of spying a rescue ship.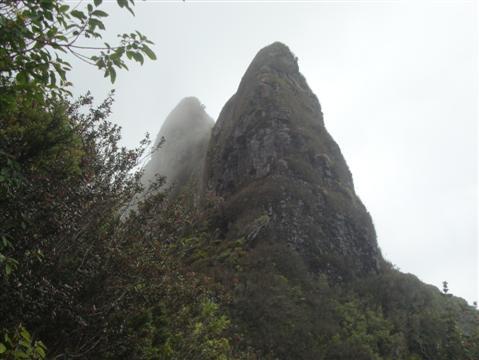 Twin 'phalluses'
'No need for a guide,' says the Chilean nature conservation official, 'impossible to get lost.'
'Aha,' quoths I, 'you've clearly had no experience of Yours Truly.'
But, despite an early attempt to miss a signpost, this is the first time I've been on a trail where they say you can't get lost, and I don't prove them wrong. It's a steep climb in parts, with tiny hummingbirds flitting through the leaves.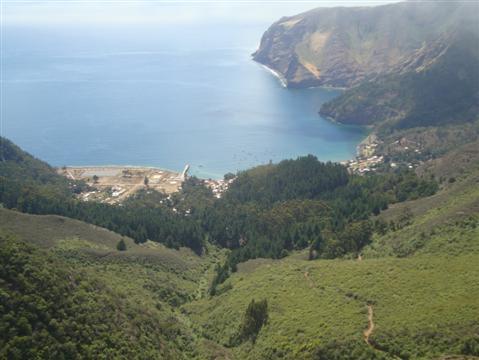 View down to San Juan Bautista from Selkirk lookout
I crest the saddle just as clouds and mists come blowing in, giving the two rock phalluses foreskins and obscuring the south side. So much for looking for a rescue ship! But the views over the forested north are spectacular. There's a plaque on a rock, put up by the Royal Navy in 1868, to commemorate Selkirk.
Commemorative plaque to Selkirk
The veil lifts. The south side is bathed in light beneath saw-toothed peaks, drier but with still forested upper slopes, totally absent in the desert to the far south-west.
View down to dry side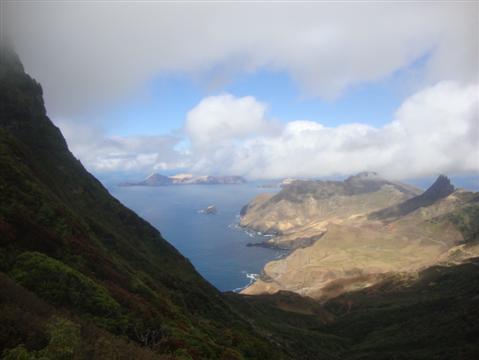 Another dry side view
Back in town I meet one other tourist -- a Chilean who's lived in Los Angeles for the past 32 years.
'Come and see my yellow tail,' quoths he.
'I beg your pardon, quoths I.'
But it's not a dirty proposition -- he's here for a week's fishing and proudly shows off a yellow tail tuna from today's outing.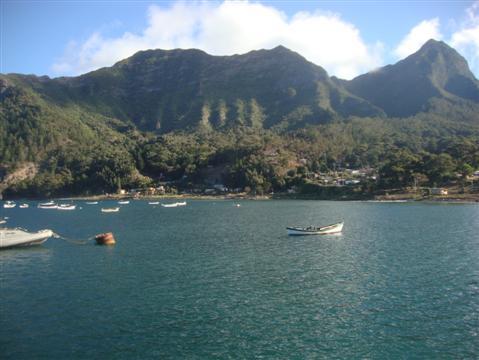 San Juan Bautista bay
There's free internet at the little library. and a bingo game tonight in a tented shack with beer bottles on the tables, drawing a far larger audience than Sunday service did at the square little church this morning.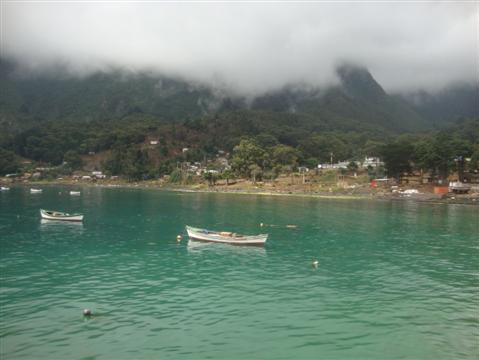 The bay with low cloud
Corny as it is, I'm now reading Robinson Crusoe at ground zero to see what jibes. I'm such a snail-pace reader that I'd still be reading it if I stayed here for Selkirk's four years and four months, let alone my own four days and four hours.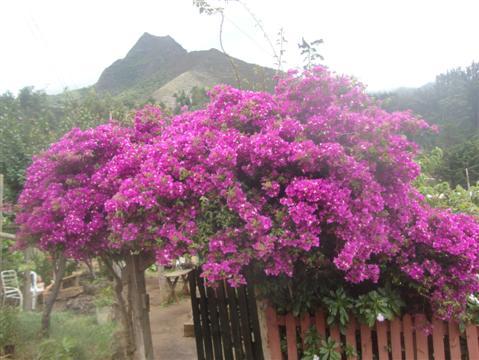 Flower time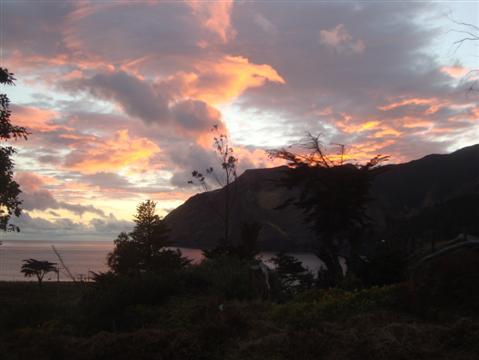 Sunset over Robinson Crusoe Island
But I'm paying special attention to it. After all, in his treatise-novel Emile, Jean-Jacques Rousseau, that great philosopher of the enlightenment, wants the protagonist to read only Robinson Crusoe in his formative years as it will 'guide his development to a state of reason' and teach him to judge everything by its usefulness.
Wow, Robinson Rousseau!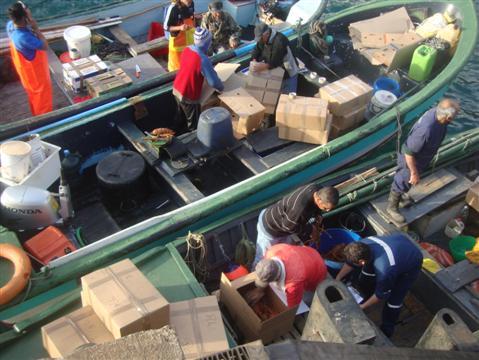 Loading up lobsters
For more travel experiences see www.looneyfront.blogspot.com
Also by the same author, Shakespearean spoofs on modern politics at www.shakespeareredux.blogspot.com