At over 3.6 million square miles, the Sahara is the world's largest desert if you exclude the icy wastes of the Arctic and Antarctica. Unfortunately Islamic militant groups have recently turned huge swathes of it into no-go zones for those travellers who don't wish to be killed, kidnapped or otherwise used for target practice in a shooting gallery.
World famous Timbuktu, the very essence of inaccessibility and remoteness, was seized by Islamists in 2012, and though since liberated by French-led forces, the U.S., British and many other governments advise their nationals against any travel to Mali at all.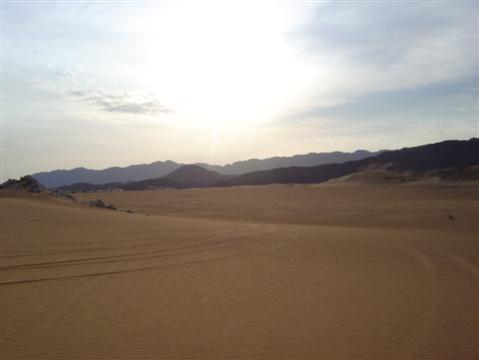 Tracks across the Sahara
Likewise in Niger, the Aïr Mountains and Ténéré desert region have fallen prey to Islamist attacks, leading to similar warnings and the government closure of roads and cross-desert tracks to travellers.
Previously safe areas for Sahara travel such as the area around Tamanrasset in southern Algeria bring serious warnings of potential Islamist attacks and kidnappings, although more accessible swathes in Morocco and Tunisia are apparently less dangerous.
Governments also advise against travel to the Tibesti and Ennedi regions of Chad with their oases, twisted mountains and wild ravines, but the French travel company Point-Afrique Voyages is offering tours there.
In the meantime, pending its re-opening to safer travel, here's an account of a trip I took into the the Aïr Mountains a few years ago: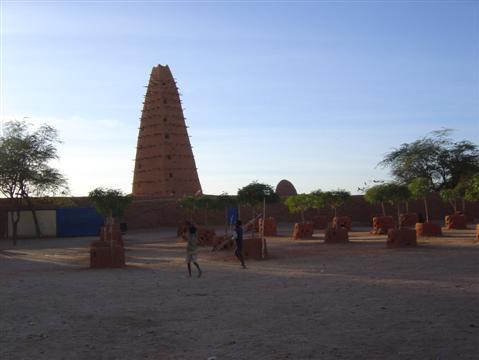 Mud brick tower in Agadez, gateway to the the Aïr Mountains
The trip can be pretty expensive at several hundred dollars a day for 4X4, driver and guide, tents and cooking.
But if you can afford it, these are four or five days well spent with incredible scenery of stone plateaux, massive crazily shaped rocky mountains, vast rolling orange sand dunes, emerald green oases, arid plains with dry vegetation and stunted trees, and white crags of pure marble.
My son Danny is joining me for a couple of weeks and I pick him up at the airport in Niamey, Niger's capital. Wonder Boy is in fine form -- he immediately turns his nose up at the cheapie hostelry I've found in town, a part-time whorehouse with a condom machine (two condoms for about 10 cents) in the unwholesome entry area -- no way could you call it a reception.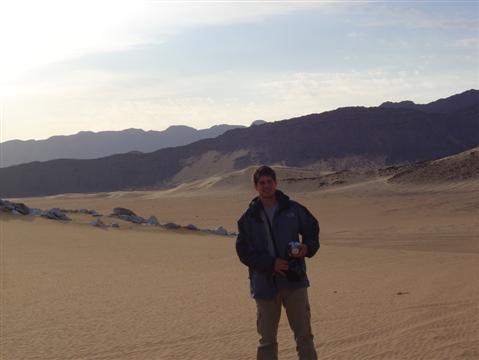 Wonder Boy against desert backdrop
The room with two rickety beds is not exactly dirty nor exactly clean. There's a ceiling fan, and the little bathroom has a seat-less toilet with non-functioning cistern, a shower that barely sprinkles, and two metal bars for a basin stand with no basin.
But hotels here are expensive for what they are, and this one costs only $15 a night compared to two or three times that amount for something certainly not two or three times better.
Agadez street
Anyway, Wonder Boy doesn't have to put up with it for long. The bloody bus for Agadez, gateway town for the Sahara, leaves at 4 in the morning and we have to be at the bus station at 3. Before he can even stretch out his sleeping bag, a luscious scantily clad local lass bangs on the door, insisting I ordered her services.
'I did no such thing, Ermintrude, so skedaddle,' quoths I, slamming the door on her provocatively pouting face before Wonder Boy can start slavering like a St. Bernard in heat.
The 12-hour bus journey rolls past savannah for much of the way with plenty of trees, but it becomes more arid, a sand and grit plain with scraggly bushes, as we approach Agadez, a mud brick town with a Sahelian-style mud mosque and tower, and the sultan's palace.
Sultan's mud brick palace in Agadez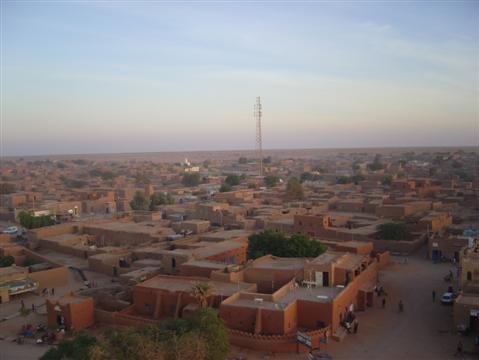 Agadez overview
We're up bright and early next day, loaded into our 4X4 with driver and guide, the land becoming yet more arid the further we penetrate into the desert. Starkly barren mountains etch their craggy silhouettes on the horizon. We stop for the night in the little hamlet of Timia and pitch our tents in a beautiful oasis not far from a trickling waterfall, a couple of miles out of the hillside town.
Timia oasis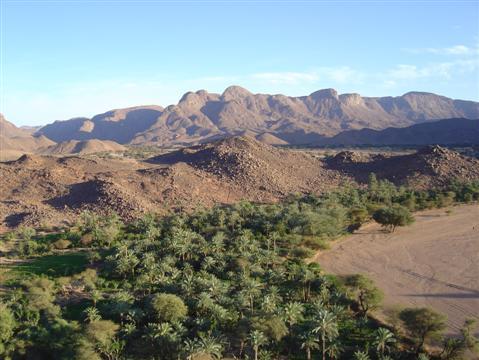 Part of Timia oasis
It may sound like a stupid cliché but the oasis really is like a garden of Eden with its more than 70 orchards, so green and full of fruit against the sand and stark rocky background of mountains. Oranges, grapefruit, tangerines, clementines, mangoes shine bright in a full panoply of yellows and orange against the brilliant emerald leaves.
Inside Timia oasis
As for sleeping, the tent is OK, but I have my usual problem with the sleeping bag. I get caught up in a 15-bout wrestling match throughout the night and end up in Houdini-worthy knots without having the Houdini-worthy skills to disentangle myself. Wonder Boy on the other hand sleeps like a baby.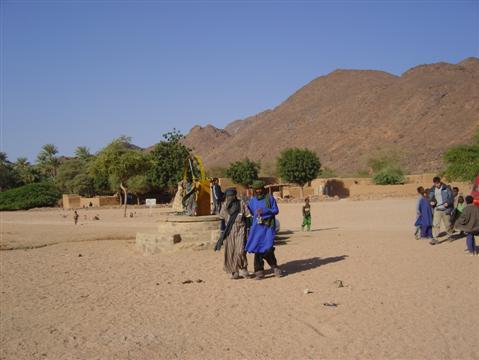 Water wheel on edge of oasis
The following day we pass the odd small village embracing the odd small oasis across the rocky plateau, camels and donkeys neatly ranged. Green metallic pumps donated by Germany mark an underground aquifier, bringing fresh water to the villagers above.
Deeper into the wilds, petroglyphs and stone carvings of camels, cows, giraffes, ostriches, elephants, rhinoceroses, humans, horses and chariots on rocky outcrops attest to civilisation here from 4,000 to 8,000 years ago, before climate change began transforming the then-pastoral countryside into desert.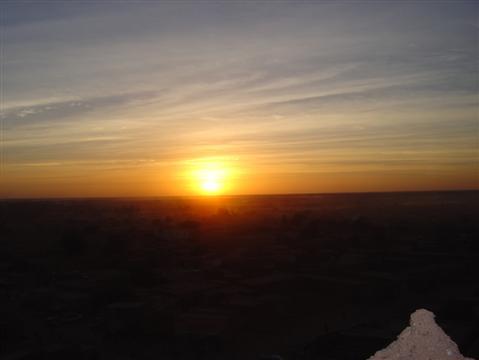 Desert sunset
Rivers once flowed through grasslands here. The oldest carving dates back to 6,000 B.C. Narrow veins of vegetation show where the water table has now settled.
Desert view - scattered vegetation above water table
Even deeper into the desert we come to our halt for the night - the Marble Mountain, blindingly white slabs of marble sticking out of mountains of sand in an arena bordered by towering peaks. Beyond, the orange dunes of Ténéré stretch out into eternity.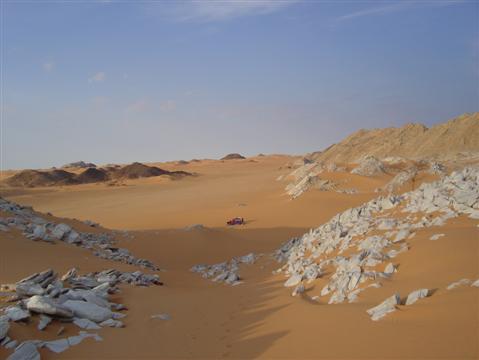 Marble Mountain with 4X4 far below
The next day is the day of the dunes, hundreds of them cresting and trough-ing, unending waves in an ocean of sand. This is Wonder Boy's highlight. He spends a whole afternoon charging 100 feet, 200 feet, who knows how high, up and down the moving surfaces, skilfully navigating the ever-cratering sandy veneer.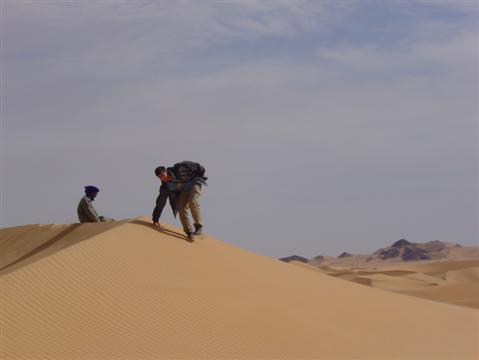 Wonder Boy does an Everest on the sand dunes
Yours Truly, markedly less skillful, spends the afternoon picking himself up out of the cratering chasms that continually open up beneath my sand-churning feet.
Sand dunes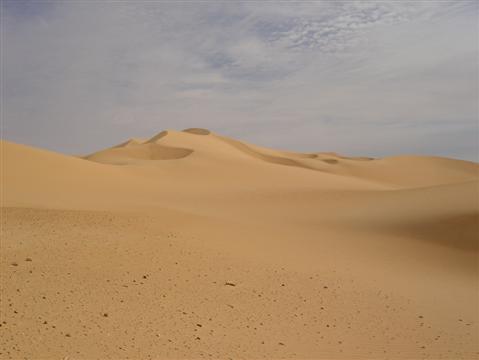 More sand dunes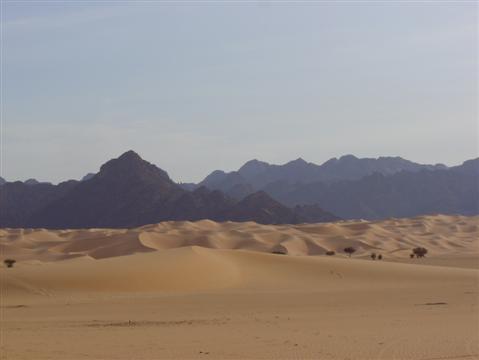 And yet more sand dunes
The following day brings us to the oasis town of Iferouane - a street of mud brick buildings, a museum, shops and modest administrative headquarters. There's also an outpost here of the World Wide Fund for Nature (WWF), formerly the World Wildlife Fund.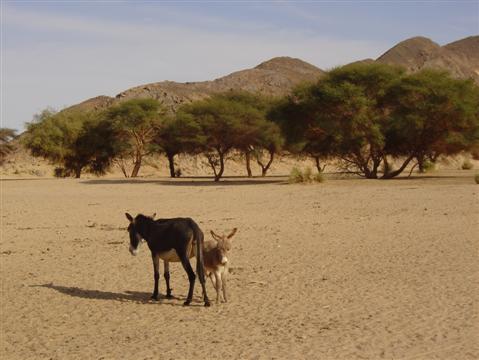 View near Iferouane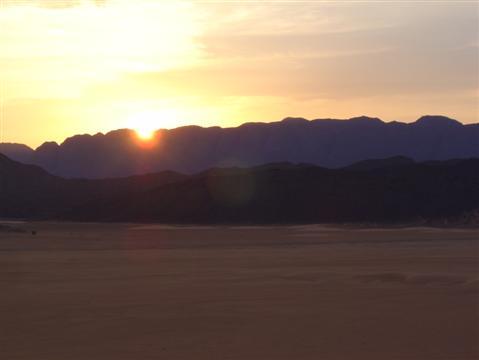 Sunset near Iferouane
But the strangest fauna you're likely to see here are tourists, mainly French, wearing the turbans and face scarves of the native Touareg, and looking pallidly stupid for their pains.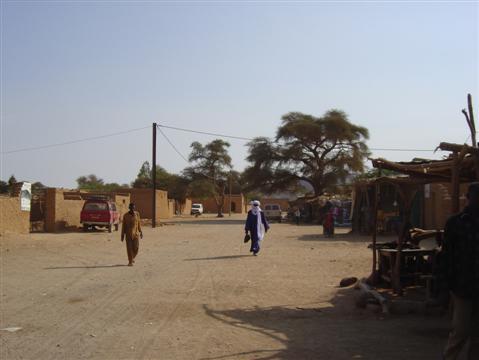 Street scene in Iferouane
A track leads west across the stoney plain to the road from Agadez to Arlit, site of the uranium mines where President Bush falsely accused Uncle Saddam of trying to buy uranium concentrate powder called yellow cake to make his non-existent nuclear bombs.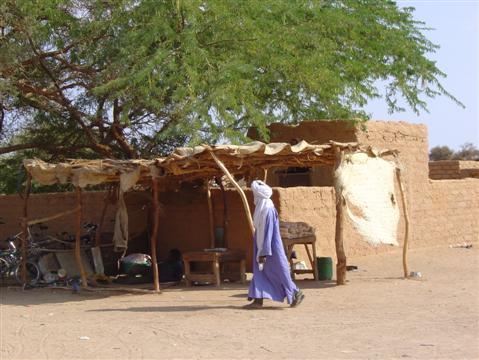 Another street scene in Iferouane
We spend the night on the stoney plain, then shun Arlit since we don't need any yellow cake, and make our way back to Agadez.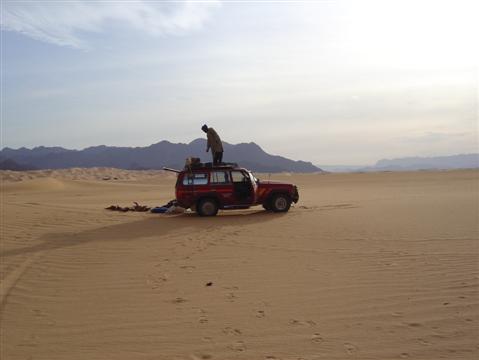 Time to pack up
View from the Arlit-Agadez road