In a town hall meeting this past Tuesday in New Hampshire, McCain repeated a problematic gaffe, referring to the Czech Republic again as "Czechoslovakia." The frustration McCain is beginning to feel with misspeaking the name of the country came across in New Hampshire, the candidate veering from his talking points to remind the audience, if any of them needed reminding, that Czechoslovakia no longer exists. In fact, the name is a relic of the cold war era, and McCain was essentially speaking to himself in front of an audience, making certain that any YouTubers in attendance were aware that he was aware that Czechoslovakia is now two countries. Blue Hampshire blogger Tim C. taped the routine:
I'm very concerned about Russia. I'm very concerned that just recently because the Czechs agreed with us on a missile defense system that they cut the gas supplies, the oil supplies to the Republics of Czechoslovakia -- excuse me, the Czech Republic. I used to call it and -- the Czech Republic, as you know, has been a very staunch ally and friend.

And as you know, the Czech Republic and Slovakia split years ago, and from time to time some of us misstate and Czechoslovakia, when the fact is, it's the Czech Republic.
The name confusion is particularly surprising given the attention the same gaffes received last week when he used the term "Czechoslovakia" in the exact same talking point:
Critics have charged the name confusion is emblematic of a campaign they claim is out of touch with current geopolitical realities.
You can see more of blogger Tim C's coverage of the event here.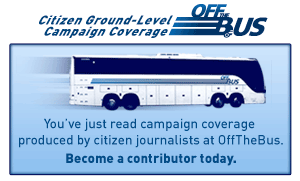 SUBSCRIBE AND FOLLOW
Get top stories and blog posts emailed to me each day. Newsletters may offer personalized content or advertisements.
Learn more