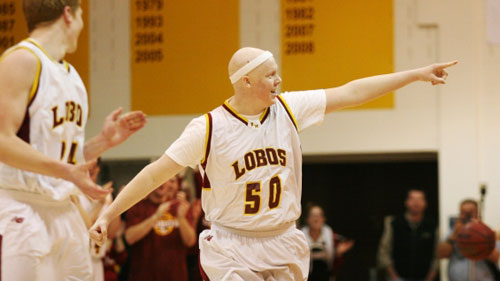 Garrett Karp points to the crowd after drilling a three-point shot in a game last week. Karp returned to the Rocky Mountain basketball team after a battle with cancer. (Photo by Mike Laughlin, Mile High Hoops)
FORT COLLINS--For Rocky Mountain senior Garrett Karp, high school was going pretty much the way he had planned.
His main focus outside of his classes was as an athlete--he was an offensive lineman on the football team, threw discus with the track team, and most recently, played as a forward on the basketball team.
Last July, Karp heard some news he hadn't planned for.
He was diagnosed with stage two Hodgkin's Lymphoma, a cancer of the lymph nodes. It was obviously bad news at the time. Although, no one knew then, that eight months later, he would be back.
A Grim Diagnosis
"All summer, I was doing fine," Karp said. "I was doing football and basketball camps. Then, near the end of June, these little bumps on my neck started getting noticeable."
The doctors took a look, performed a biopsy and delivered the bad news to the family.
A bit of silver lining was that the cancer was slow growing, and the treatments would allow Karp to continue exercising and carrying on a somewhat normal life for the immediate future. "That helped me out a lot- being able to stay active, stay strong," he said.
The treatment, however, did not come and go without setbacks.
After two rounds of chemotherapy, the cancer came back in December. This resulted in more aggressive treatments, and all but ended his hopes of playing his senior season on the basketball team.
An Emotional Return
Nearly three months later, when Garrett Karp woke up on Tuesday, Feb. 16, he had no idea he was in for the most memorable day of his life.
He had a doctor's visit that day, and during that visit, he and his family finally would finally hear the good news they had been waiting for.
"It was shocking," Karp said. "My parents and I were sitting in the conference room with the doctors. We're always hoping for the best, but when we heard that the tests came back negative, it definitely brought our spirits up."
The doctors told him that the cancer he had been battling for almost eight months had gone into remission.
The timing could not have been better, because that night, Karp's basketball team had one of its biggest games of the year--a matchup against cross-town rival Fort Collins.
What many people did not know, was that because of an upcoming surgery for Karp, Rocky Mountain head coach Bruce Dick had decided he was going to bring Karp into the game for a few minutes, since it would be his last opportunity in his high school career.
"Since he was having surgery that Thursday, I made the decision that he was going into the (Fort Collins) game Tuesday, no matter what."
Karp decided that before the game, he would surprise coach Dick, and the rest of his teammates, with the good news. "We were all circled around, and as soon as I told them, everyone went wild," he said.
Everyone, including Karp's younger brother, Ethan, who is also a member of the basketball team, and according to Garrett, had been 100 percent supportive the entire way.
"He had me in tears," Dick said about the surprise announcement. "To know that the cancer was in remission- that was the best news anyone at this school could have heard that day."
An Incredible Shot
Although Fort Collins turned out to play the better basketball game that night and was comfortably ahead, Dick kept his end of the bargain, and with just over a minute remaining, he sent Karp to the scorer's table to check in to the game.
The sellout crowd that had packed the gym, fans from both schools, rose to their feet with the loudest applause of the night as Karp stepped onto the floor.
"I usually get nervous before games," Karp said. "But since I didn't suit up all year, and since everybody was cheering for me and chanting my name, it just gave me one huge adrenaline rush. It was an emotional time--the support from both the Fort Collins people and the Rocky people meant a lot."
But the most emotional moment of the night was just beginning.
On the Lobos' second possession with Karp in the game, he brought the ball across mid-court, and even though Karp is a 6-foot-5 post player, he squared up a three-point shot and lofted it towards the basket. It banked off the glass and went straight into the hoop nothing but net and sent the crowd into a frenzy.
"When he shot that, I was just as astonished as anyone else in the gym," Dick said. "And I was just as excited as everyone else when he made it."
Karp said he just thought back to his early basketball-playing days, when he always talked about making threes. "Now I know what it feels like to make one and hear the crowd go wild," he said. "That was a great day."
Fellow senior and Rocky Mountain team captain Chris Feller said he has enjoyed witnessing Karp's comeback as much as anyone.
"It's certainly fun to be a part of--to be so close to someone who has had so much to overcome," Feller said. "It was special for the whole school, the whole community... to get together and celebrate that moment."
Playoff Hopefuls
After finishing the year 14-9 and earning a 10-seed in this week's state basketball playoff, the Rocky team is now focused on their opening round game at Mullen High School Tuesday night.
"It will be a fair match-up," Dick said. "They are the complete opposite of us- a zone defense, post-it-inside, power team. We like to get it up and down the floor, shoot threes. It will be an interesting contrast in styles."
And after the emotion of the season- the past week in particular- the players are focused on trying to bring home at least one more win.
"This season has had its ups and downs, but it's playoff time. We want to try and end it on a good note," Feller said.
Due to his recent surgery, Karp will not be able to play again this season. But he will be cheering on his team Tuesday, just as he has been all year.
"They just have to work together, play as one team, play with heart," Karp said about his team's playoff chances. "If they can do that, they can pull off a win against Mullen."