Over the next couple of months, Slash will be touring the U.S. in support of his self-titled solo album and new single/video "Back From Cali." The clip is based mainly on his European performances, and Slash discusses that tour as well as his U.S. concert schedule, his solo album, and more in this HuffPost interview.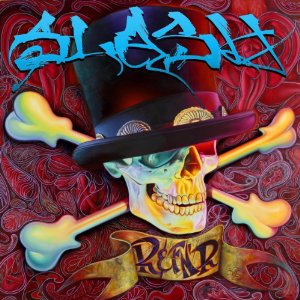 A Conversation With Slash
Mike Ragogna: Your "Back From Cali" video/single with Myles Kennedy is pretty hot right now.
Slash: Yeah, it's out there. I don't know how hot it is, I never really pay much attention to that stuff. It's a cool video.
MR: It's performance footage assembled from your European tour?
MR: While in Europe, you played the Rock Am Ring and the Download festivals?
MR: Can you describe them a little?
S: Well, the Download Festival is this pretty famous festival in Donnington, England, and it's been going for a long time. It's actually one of the most famous rock festivals in the U.K., and I think I hold the record for having played there four times with four different bands--my new band, Snakepit, Velvet Revolver, and Guns N' Roses. So, it's a pretty prestigious festival, and Rock Am Ring is sort of the German equivalent. It's been going for a long time, and it's a massive festival that has been probably the most famous of the German festivals.
MR: Is any of the footage from those concerts in the "Back From Cali" video?
S: Yeah, yeah. None of the Download festival, but Rock Am Ring is in there, and the Pinkpop Festival, and also a show that we did for MTV Classic in Australia, which is actually the second gig we ever played.
MR: It was directed by Daniel Catullo?
MR: Do you go back with him? Has he done other work with you?
S: I don't have really what you would call a history with him. He happened to be at Rock Am Ring when we were there, and he was filming something else. He is acquaintances with my manager, so we just had him film footage of that particular show. Then, he put together some of the other footage we got from MTV and from video cameras at the Pinkpop Festival. So, he edited that stuff together, along with the stuff that he actually shot.
MR: Nice. What does your set list consist of?
S: It's basically a handful of songs off my new record, a handful of Guns N' Roses songs, a handful of Velvet Revolver songs, and a few Snakepit songs.
MR: This is still in support of your solo album, right?
MR: So your solo album is alive and well.
S: Yeah, it's still cruising along. We're just now touring the States, which has made it sort of shoot up a little bit.
MR: Where are you playing in the States?
S: Well, I'm in Chicago right now. We just left Iowa, and we played Milwaukee, and we played Colorado, and we played Michigan. We did the Sunset Strip Music Festival, and then we played San Francisco for our first date.
MR: The Sunset Strip Festival was August 28th, and did Fergie join you after all?
S: Yeah, she got up and did a couple of songs, she was fantastic.
MR: Now, I reviewed your solo album for The Huffington Post, and I think I raved about it.
S: You raved about it? Alright (laughs).
MR: I was especially knocked out by the guests you had on there--Chris Cornell, Ian Astbury, Fergie, Iggy Pop, Kid Rock, Dave Grohl... What went into assembling this cast of characters?
S: Well, the actual choices for vocalists on the record were completely dictated by the music I wrote. So, in other words, I'd listen to a certain composition that I put together and think, "You know, this would be perfect for so and so." Then, once I established who I thought would be the appropriate vocalist for each piece of music, I would just get on the phone and pitch to them. A lot of these people I knew very well, especially the old school guys like Lemmy, Ozzy, Iggy, Alice Cooper, and stuff. Chris Cornell, Fergie, and Kid Rock are people that I've met and known for a few years, but they are more acquaintances than anything. Then, there's a handful of people that I think are great singers but had never met before. So, I really did have to go and call them up and go, "Hey, I'm doing this record and I've got this song." Then, I'd send them the demo, and I think one of the things I did right in the process of making this record was pick the right singer to match with the music.
MR: Yeah, I think I mentioned that in my review. Your guest roster was really strong and self-defined.
S: And I think that's what really sort of gave them the inspiration to actually follow through. Everybody goes, "Oh, well, you're Slash." That's bullsh**t. All these people are prestigious and well known, and all have enough to not have to waste their time recording for me, you know what I mean? So, it was really that they actually did dig the music, and that's how it worked.
MR: Well, you know you're revered in the artist community.
S: I appreciate that, but going in and recording a song is a big pain in the ass if you don't want to do it.
MR: You took Myles with you when you did your European tour?
S: He's with me for the duration.
MR: Are any of your other pals joining you?
S: Well, we've had Fergie. Obviously, and we have Alice Cooper. We did some stuff with Lemmy in England. So, it just sort of depends what city I happen to be in at the same time any of those guys who performed on the record are. That's how that works, it's very spontaneous.
MR: I guess this is a silly question, but was anybody "unavailable" for the Slash solo album when you reached out to them?
S: There were a couple of people, schedule-wise, that didn't work out, and there was a contractual issue with one artist. But we're talking about three people. It was really just inconvenient timing, you know? And the contractual issue had to do with the record company, not the artist.
MR: Right. Now, you're going to be receiving a star on the Hollywood Walk of Fame next year.
S: I guess so. That's one of those sort of surreal kind of accolades. I'll be able to digest it when it actually happens, but I have heard the Hollywood Walk of Fame and my name in the same sentence recently.
MR: Slash, do you have any advice for new artists?
S: Do I have any advice for new artist? Wow, it's such a crazy business right now. There was a really great band that we were just playing with on tour who were scared to death because the record company is putting all sorts of pressure on them to be able to produce this, that, and the other or they're going to drop them. It's not like it used to be, where you go out and sign a record deal based on the band's merit, and then you grow with the record company and you all work together to try and be successful. Now, it's about putting out the big, massive hit, and you get kind of a one shot deal. The actual growth and creative element seems to be gone, and it's really financially and commercially focused.
So, for a new artist, you have to have your integrity, and at the same time, you're jumping into the most cut-throat f**kin' industry, where your future is so speculative, it's not even funny. You could be completely committed and very talented and have made all the sacrifices necessary to try and persevere in this industry, and still lose. The odds are a lot worse now than they used to be back in the day. So, you've just got to stick to your guns, and really be very disciplined, and intelligent, and hopefully, musically prolific. Just hang in there and hope for the best.
Tracks:
1. Ghost - with Ian Astbury
2. Crucify The Dead - with Ozzy Osbourne
3. Beautiful Dangerous - with Fergie
4. Back From Cali - with Myles Kennedy
5. Promise - with Chris Cornell
6. By The Sword with Andrew Stockdale
7. Gotten - with Adam Levine
8. Doctor Alibi - with Lemmy Kilmeister
9. Watch This - with Dave Grohl & Duff McKagan
10. I Hold On - with Kid Rock
11. Nothing To Say - with M Shadows
12. Starlight - with Myles Kennedy
13. Saint Is A Sinner Too - Rocco DeLuca
14. We're All Gonna Die - with Iggy Pop
TOUR DATES
Saturday, Aug. 28 Los Angeles, CA Sunset Strip Music Festival
Sunday, Aug. 29 San Francisco, CA The Warfield Theater
Tuesday, Aug. 31 Aspen, CO Belly Up
Wednesday, Sept. 1 Denver, CO Ogden
Thursday, Sept. 2 Kansas City, MO Voodoo Lounge
Saturday, Sept. 4 Mount Pleasant, MI Soaring Eagle Casino & Resort
Sunday, Sept. 5 Milwaukee, WI Pabst Theater
Monday, Sept. 6 Clear Lake, IA Surf Ballroom
Wednesday, Sept. 8 Chicago, IL Riviera Theater
Thursday, Sept. 9 Windsor, ON Caesars Windsor - The Colosseum
Friday, Sept. 10 Toronto, ON Kool Haus
Saturday, Sept. 11 Belleville, ON Empire Theater
Tuesday, Sept. 14 New York, NY Terminal 5
Wednesday, Sept. 15 Boston, MA House of Blues
Saturday, Sept. 18 Norfolk, VA The Norva
Monday, Sept. 20 Atlanta, GA Center Stage
Wednesday, Sept. 22 Council Bluffs, IA Harrah's - Stir Cove
Thursday, Sept. 23 Medina, MN Medina Entertainment Center
Friday, Sept. 24 Winnipeg, MB Burton Cummings Theatre
Saturday, Sept. 25 Saskatoon, SK Odeon Events Centre
Monday, Sept. 27 Calgary, AB Calgary Stampeded Corral
Tuesday, Sept. 28 Edmonton, AB Edmonton Expo Centre
Thursday, Sept. 30 Vancouver, BC Commodore Ballroom
Saturday, Oct. 2 Seattle, WA Showbox at the Market
(transcribed by Ryan Gaffney)
This Blogger's Books and Other Items from...
SUBSCRIBE TO & FOLLOW ENTERTAINMENT
HuffPost Entertainment is your one-stop shop for celebrity news, hilarious late-night bits, industry and awards coverage and more — sent right to your inbox six days a week. Learn more