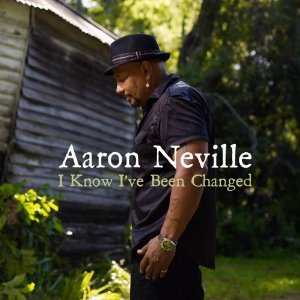 A Conversation with Aaron Neville
Mike Ragogna: Hi Aaron, thanks for giving us your time today. Let's just dive right into your new album, I Know I've Been Changed. Joe Henry produced it?
MR: And you feature Allen Toussaint on piano--Toussaint, of course, being another New Orleans legend.
AN: Well, not just that, but he's also my first producer, and we had like a fifty year anniversary. He recorded my first record back in '60.
MR: Right. How far back do you go with Allen?
AN: Well, Allen and I went to school together and we lived not far from each other.
MR: Do you remember which songs you recorded during those original sessions?
AN: I did a song called "Over You," and I did a split session with a group called The Del-Royals. I did "Over You" and the other side was "Every Day."
MR: So, fifty years goes by, but over the years, you've worked together occasionally. What are some of those other projects?
AN: We've done stuff in between. I recorded many records from '60 to '64, then I went to another label where I did "Tell It Like It Is" in '65, released in '66. Allen and I hooked back up in the early '70s and did "Hercules" and a bunch of other stuff.
MR: Would you describe I Know I've Been Changed as, basically, a stripped down gospel album?
AN: I think I would. It's like old time gospel stuff. There are a couple of things that I heard a long time ago, and some of it was new to me.
MR: How did you decide which songs to record?
AN: Well, it was picked between me, Joe Henry, and Ken Pennell from EMI. We had a lot of stuff to pick from, and this was like the cream of the crop, I guess, that we came out with.
MR: Were there songs recorded for this project that didn't make the cut?
AN: Just one. I did a Sam Cooke thing, "Touch The Hem Of His Garment."
MR: Beautiful. A couple of my favorite songs on I Know I've Been Changed are the title track and "I Done Made Up My Mind." Are there a couple of songs presented here that you associate with specific stories in your life?
AN: One of the Sam Cooke things I did was "I'm So Glad," and that was one of the songs my boys and I would do walking down the streets in New Orleans as teenagers. We might have been going to get into mischief or whatever, but we'd be singing "I'm So Glad (Trouble Don't Last)" trying to sound like Sam and The Soul Stirrers. "I Am A Pilgrim"--I think Sam and them did that too back in the day, but I like the version that I'm doing on this record.
MR: You are, of course, part of the famed Neville Brothers.
MR: Just for the history lesson, can you tell us the back story of The Neville Brothers? Like, before you recorded, you obviously played together.
AN: Yeah, we played together. Two or three of us performed from the '50s on into the '60s, then Cyril came into the picture, my younger brother, but it was either two or three of us, it was never all four of us until we got together in '76 and did The Wild Tchoupitoulas with my uncle, Big Chief Jolly, for Mardi Gras. Then, in '77, we got together as The Neville Brothers and recorded the first all-Neville Brothers album in '78, and that's called The Neville Brothers.
MR: Between your solo material and The Neville Brothers albums, you've amassed a body of work that is considered essential for many record collections.
AN: Yeah, no doubt. My brother Art is the founder of the group The Meters, which a lot of rappers liked to sample, and Cyril has sung on a lot of stuff with them too.
MR: As Aaron Neville, you've had memorable hits in addition to "Tell It Like It Is." There were the duets "Don't Know Much" and "All My Life" with Linda Ronstadt, and "Something Is Wrong With My Baby" among others. How did your association with Linda Ronstadt begin?
AN: '84 was the World's Fair in New Orleans and Linda was playing the amphitheater. My brothers and I were playing at Pete Fountain's club on the grounds of the World's Fair, and she came to see us one night. Somebody told me she was in the audience, so I dedicated a song to her, called her up on stage, and she came up and we sang some doo-wop together. She told the press that that was the highlight of her tour, and she felt like Cinderella at the ball--she got to sing with her favorite band and favorite singers.
At that time, Allen Toussaint and I had come up with the idea of an organization we co-founded called New Orleans Artists Against Hunger And Homelessness because I'd been seeing those ads on the TV where you see the kids crying with flies and their big stomachs and all that. I'd sit up sometimes at night and cry my eyes out. I was sending money and my wife said, "Well, how do you know they're getting the money?" She reminded me, "You know, we've got hungry people here in New Orleans." At the same time, Allen Toussaint was doing the same thing, so we collaborated and came up with that. I asked Linda to come and do a benefit with us and she agreed. She came down and we got a chance to sing together, and started talking about doing a record--that was '85. We talked about it, but we didn't get together until '89 or something like that. And the rest is history.
MR: And a classic album with many hits resulted. But your solo album also was well respected.
AN: My first solo thing that I did on A&M records was the Warm Your Heart album, and she produced that.
MR: It was a great re-introduction of Aaron Neville.
AN: Yeah, it definitely was.
MR: Let's talk about the New Orleans connection some more. Your home was devastated in '05 by Hurricane Katrina. How long did it take to get everything back in relative order?
AN: Well, I had to move to Nashville because my wife at the time had been diagnosed with lung cancer in '04, so we left in '05 because she needed doctor care, but there weren't doctors. So, we just took a residence right out of Nashville, where she could be cared for at a hospital. We did a good job of keeping it together until she passed in '07. I couldn't go back because I have asthma, so I didn't get back until '08 to do the Jazz Fest with the brothers. We had to miss '06 and '07. I finally got a house in Covington, Louisiana, because I just got tired of running from the water, you know? Me and my family have been running since before Katrina. If I was on the road, I'd call them and say, "Get out." Because I knew they were surrounded by water, sitting in a bowl, you know?
MR: Obviously, at the time Katrina happened, you must have been out of your mind about it.
AN: I couldn't even begin to explain. It was like a loss I'd never felt before. The New Orleans people usually can bounce back from anything, but this thing hit us for a loop. I run across musicians from New Orleans, and they all have the same look--the same look I had--"Wow, man. It really done it this time. It took our city." It was heavy.
MR: I imagine one of the things that got you through was your faith.
MR: On I Know I've Been Changed, you cover songs by Brother Joe May, Sister Rosetta Tharpe, Blind Boys Of Alabama, and many major artists in the gospel field. Are there any songs on the project that were especially inspiring to you?
AN: The Sam Cooke song "I'm So Glad" and definitely "I Am A Pilgrim"-- that's one of my favorites on the album. I like the track "Meeting At The Building" too.
MR: And "Oh Freedom," to me, is one of the more touching tracks on the album.
AN: I meant to say that too. "Oh Freedom" is definitely special, yeah.
MR: And it has that amazing background vocal section.
AN: They really added to it, you know? We did this whole album in five days. I don't know if we told you that.
MR: No, tell me about the process.
AN: Well, we did it in Joe Henry's basement studio. Everybody came, and we'd be locked in there from one o'clock to seven at night. I sang the songs so many times with the band to get the band together, but because they were great musicians, it didn't really take much, and that's why it only took five days.
MR: It's pretty stripped down, and that approach really allows the performances to shine.
MR: Since fifty years have passed since your first recordings, what do you think are the major changes that have happened to Aaron Neville?
AN: Well, I've gone through a lot of changes at different times in my life. I couldn't pinpoint any specific one. I've been religious all my life--since I was a little boy--and obviously, I've been through ups and downs, you know? And I've come out on the other side.
MR: Are you planning on singing any more national anthems anytime soon?
AN: Yeah, that's cool. I did one for the opening of the Giants game this year, at the new stadium in New Jersey. I also sang it for the Bruins in Boston.
MR: Cool, so in addition to being the official voice of "Ave Maria," you've become the national anthem king.
AN: (laughs) Well, for one thing, I just do it a capella. A lot of people need a lot of production around it, but I just go in there and do it a capella, you know?
MR: I also admire a few of your more recent albums such as Nature Boy and Bring It On Home. After all these years, how do you keep up the inspiration?
AN: Well, it was God that gave me my voice, and it's His voice. I'm just thankful to be singing because singing to me is like medicine--it makes everything alright, and I wanted to make it alright for the people that are listening, you know?
AN: I want them to feel what I'm feeling.
MR: Beautiful. Aaron, what's in the future? Are you going to be going on tour to support this album?
AN: I have a Christmas tour starting right after Thanksgiving. I've been doing this Christmas tour for three years, now that I've recorded this great Christmas album. We have long shows because I've got so much material I want to do and I can't do it in a short show.
MR: Aaron, might you have any advice for new artists?
AN: Yeah, it's called the music business, so make sure you're mind is on the business, and make sure it's what you want to do because it's not an easy business to get into. The record business is so different from how it was a long time ago. In this line of business, make sure you've got a backup plan.
Tracks:
1. Stand By Me
2. I Know I've Been Changed
3. I Done Made Up My Mind
4. I Am A Pilgrim
5. Don't Let Him Ride
6. You've Got To Move
7. Oh Freedom
8. Tell Me What Kind Of Man Jesus Is
9. Live So God Can Use You
10. Meetin At The Building
11. I'm So Glad (Trouble Don't Last)
12. There's A God Somewhere
(transcribed by Ryan Gaffney)
A Conversation with DJ Qbert
MR: So, you were a part of FM 20 with Mix Master Mike and DJ Apollo at one point, right?
Q: Yeah, we were the DJs of that rap group at the time. We went to the DMC's and became Rock Steady DJ's, and then Invisible Scratch.
MR: Then Crazy Legs invited you to join Rock Steady Crew?
Q: Yeah, Rock Steady Crew became Rock Steady DJs. I think it was '92, I believe.
MR: And that's when you won the Disco Mix Club World DJ Championships award, right?
Q: After being Rock Steady Crew, we became the world champions.
MR: You have been described as scratching "hamster style," can you describe what that is?
Q: That's putting the fader in reverse. There was a crew here called Bullet Proof Scratch Hamsters, and they were known for having their fader in reverse, and we also had our fader in reverse because we had mixers back in the days called Radio Shack mixers that didn't have a fader on it, so we would have to practice with the up and down lines. So, when a fader finally came on the mixers, we had to use the same motions by going in reverse on the fader. Since that group was called Bullet Proof Scratch Hamsters, everyone called that the "hamster" style.
MR: You also had some music featured, as DJ Qbert, in Tony Hawk's Underground?
Q: Yeah, that was from my first album, Wave Twisters, which was a Graffiti animated movie. They pulled the song from the movie and put it in the Tony Hawk video game. Tony Hawk's Underground, it's called.
MR: And then there was also something called Demolition Pumkin Squeeze Musik?
Q: That's just a mix of music that was old school--the roots of hip-hop. It was funk music, James Brown, and all that type of '70s and '60s analog type music.
MR: Who are your influences?
Q: It depends on what type of influences.
MR: As far as your music appreciation.
Q: Well, I definitely like raw funk from the '60s and the '70s because music back then wasn't digital. Music is very perfect now, and I don't really like the perfection, I like the imperfection. Back then, everything was recorded in analog, and it made it all have slight distortions here and there, and it sounded very raw and gritty. That's the type of music that break dancers liked to dance to--the roots of hip-hop type of music--it had the old school drums, with the crunchy sounds of the drums being recorded on reel-to-reel tape back then.
MR: Yeah, like the drum loop of James Brown's "Funky Drummer" that seemed like it was on every record for a while.
Q: Absolutely, that's classic right there.
MR: What are some of the samples that you favored in your mixes?
Q: It always had to do with the drums. If the drums were nice and dirty and raw, you could fart on top of that and it would sound good. It would always be the root. A good foundation of a house is the foundation, so the foundation of good music is the drums. I always look for that first. Of course, you always have your normal samples like "Fresh" and all the grunts from James Brown, "Uh, ha, come on! Get up!" I love scratching the James Brown sound effects.
MR: Okay, let's talk about DJ Hero 2 by Activision. Can you go into the game?
Q: Yeah. They had some guys come over to my house, and I scratched on top of their music, and then they took all those scratches and threw them in the game. They called me down to L.A., put those reflective Christmas light balls on me, and had me do motion capture, then they threw my movements into the game. That's pretty much what happened.
MR: By now, I imagine everybody has seen footage of the process in "behind the scenes" segments, but can you give a little more of a description of how it worked?
Q: Yeah, I just put on like this ninja outfit, and all the reflective lights were attached to the black suit or whatever. So, as you're moving around they don't really see the suit, they just see the lights on you on a computer screen. And then they take pictures of me and stick that onto the motion capture "frame" guy, and then it becomes an animated character of me in the game.
MR: How did you feel when you saw the end result for the first time.
MR: (laughs) How about how it related to the game as a whole?
Q: I guess it was cool. I kind of represent the underground, hip-hop vibe in there, so I fit the part, I guess.
MR: There were other DJs spotlighted with you, right?
Q: Sure, Deadmau5 is in there, I know Z-Trip did a little remix in there, and I heard Crave and A-Trak did as well. Tiesto is in there, along with Wu Tang Clan and a lot of famous people that are in different genres of music that I'm not too familiar with--house DJs and stuff. I guess I don't know because I'm more into the underground hip-hop world, I guess.
MR: What's on the horizon?
Q: We have a school, Qbert Skratch University, at qbertskratchuniversity.com. I'm doing that like full time, teaching students from around the world, and we're always making new things in there like trying to get a video chat so DJs can scratch with each other all over the world. Also, I'm trying to do another movie like Wave Twisters, which was like ten years ago. I'd like to do another one of those animated Graffiti movies or something like that, where every song is a chapter in the movie. A lot of scratch sound effect records you can find on DJQbert.com. There's this new one that just came out called The Boss Record: Best Of Super Seal, which is a record that for ten years now. All the scratch DJ's use to scratch sounds effects. There's a company called Traktor, which is digital scratching, and we're doing vinyl with them. One side is digital scratching and you flip the record over for analog sounds too, so you have the best of both worlds. A lot of things going on.
MR: Quite a list. It sounds wonderful. DJ Hero, the original, was a smash wasn't it?
Q: Yeah, it was incredible. A lot of people went out and got that.
MR: How does it feel to be associated with such a popular line?
Q: Well, with popularity comes a voice. There's a lot of good news that I've been hearing about life in general, and it's a good time to spread out the positive things to people that don't know about the great things I've been learning about in life. There are a lot of issues with the global environment, and I think it's good to get out words of peace and love to people who have no clue about what's going on in life. With popularity comes the responsibility to teach people about how we can make the world a better place.
MR: Beautiful. Are there any issues right now that are pushing your buttons more than anything else?
Q: We're going through a big shift--I don't know if you're into the whole 2012 consciousness shift, which is happening right before 2013. It's pretty much just a shift of love. Everybody is realizing that we're all one, we're here to help the Earth, the Earth is alive, and we're part of the Earth. So, when we learn to help the Earth it's beneficial for all of us. You know, little things like that, and there are a million other things, but it's just all love. We have to learn to forgive each other and junk like that.
MR: It's so hard to when everything is so polarized, huh.
Q: Sure, everyone is hypnotized in this world. We come into this world of problems, and it's full of hate, anger, jealousy, and all that. But it's like a video game and the secret to winning this video game is just being loving to each other, doing everything with love and helping each other. The secret of success is the continuation of making the world a better place.
MR: Really nicely said. Q, do you have any advice for new artists coming into the field now?
Q: Absolutely. Don't do it for the money or anything. We're all starting to realize that there's no such thing as money--money is an illusion--money is just energy. The universe is, if you haven't noticed, a very intelligent being, and it knows everything that's going on. So, if you're doing something that's very artistic, making the world a better place, and making people happy with your music, then you'll get back happiness, you know? That's really what we want--not the money. We just want to be happy and make everyone happy. If you're doing your art, being true to it and not thinking about money, then you're going to get that. You can never truly give or take away money, you always get what you deserve.
MR: You've said so many nice things already, but is there any last thing you want to tell everybody?
Q: I just want to give you guys props for having a solar-powered radio station--that is amazing. Everyone is getting to that now, and people are starting to learn about free energy. That's another thing--this whole shift before 2013 happens--all these cars that run on water, air, and electricity. Have you guys heard of Torsion fields yet?
MR: Do you want to go into that a little bit?
Q: Torsion fields are pretty much what surrounds us, what binds us--pretty much a force. If you raised your hand right now, what energy caused that? Scientists have discovered that those are torsion fields--the energy of consciousness--and they've learned how to tap into that. If you look on the Internet for torsion field magnetic free energy, people are making magnetic free energy--they get these magnets, put them in this horseshoe kind of circle thing, they spin it, and it's free energy forever. It's amazing how you guys are doing the whole solar power thing, and how everything is just coming together. We just did a commercial for Lexus, and they have a new car that runs on electricity now. It's coming out in six months, and it's just great to see how all these things are coming to this change in our Earth, where we're going to be free from enslavement to energy.
MR: I guess everything needs its time and it's unfortunate that some things just take too long. Then, all of a sudden, you wake up and see that things are kind of progressing along. For instance, the electric car could have happened in the '90s, but the politics and industry at the time killed the electric car.
Q: At that time. But now, with the Internet, they can't stop it. It won't be stopped, so it's a great time.
MR: Well, thank you, Q. It's been wonderful to have you spend some time with us at solar-powered KRUU-FM, and for you to make such nice statements about our efforts to make a contribution. Please feel free to come back anytime. We could have a whole show on torsion if you'd like.
Q: Absolutely, let's do that. Thank you for having me, it was an honor.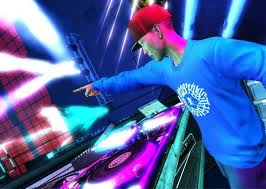 DJ Hero 2 Screen Shot
(transcribed by Ryan Gaffney)
P.S. BILL MUMY (aka ANTHONY FREMONT & WILL ROBINSON) SAYS, "GET OUT AND VOTE OR WE'LL ALL END UP IN THE CORNFIELD." DO IT!
Noah Chenfeld "You Know That I Do"
SUBSCRIBE TO & FOLLOW ENTERTAINMENT
HuffPost Entertainment is your one-stop shop for celebrity news, hilarious late-night bits, industry and awards coverage and more — sent right to your inbox six days a week. Learn more