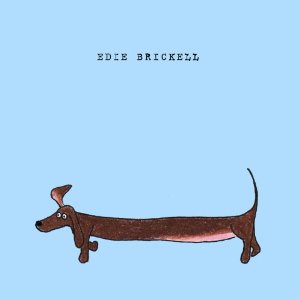 The video/song "Pill" is from Edie's new self-titled solo album, which was released earlier this month. Produced by Charlie Sexton, Brickell began writing her self-titled solo album during her 2003 tour in support of Volcano. Edie explains, "The first three songs for the solo album were recorded on a day off during the tour. They were all new songs and I wanted to record them while they were fresh and we were feeling them. Too many times I had waited months, even years to record a song and by that time, the feeling was gone and the song came out like a memory instead of an experience. So, any time I got a batch of five or six songs, I'd get together with the band and record them while they were new. I wanted to make a record where every song communicated a strong and true energy."
Director Ryan Sears has the story behind the new video: "Edie talked to me about making this video a few months ago. I've always loved her drawings, so I wanted to do something with them. I didn't have enough time to actually animate them in the traditional way, so I told her that we could do so basic animation to tell a story. She mentioned to me that she loved the old Monty Python animations, so I told her that if she drew enough things I could use them in that style and tell a story with it. Listening to the track again, I began to see a story of someone taking a lot of pills and just getting overwhelmed with all of them. Then thought it would be funny if this character itself was a pill. And then it just began. Normally, one would storyboard the entire story and have a direction, but in this case I just started making things and the story sort of just made itself. Not really knowing what the next scene was, kind of added to the randomness of everything. But some how it all worked out. I would show Edie updates as soon as there was something for her to see, and she got really excited and just kept drawing more and more. Sometimes her drawings gave me a direction when I didnt know where to take the story. In the end, I think I used most of the drawings she gave me."
Additionally, Edie Brickell will be performing at JazzFest on Friday, May 6th.
And here's a the videoclip for "Journey," the latest from The Box Story:

PEARL JAM'S CLASSIC ALBUMS VS. AND VITALOGY TO BE RELEASED
IN NEWLY-RESTORED AND EXPANDED EDITIONS ON TUESDAY, MARCH 29th
Epic Records and Legacy Recordings celebrate Pearl Jam's 20th anniversary with the release of newly restored and expanded editions of Vs. and Vitalogy, the second and third albums from Pearl Jam which broke all initial SoundScan records and secured the band's reputation as a preeminent force in American rock music.

Vs. and Vitalogy will be available in new Expanded Editions (featuring three bonus tracks on each) or together in a three-disc Deluxe Edition (featuring Live at the Orpheum Theater, Boston, April 12, 1994) and Limited Edition Collector's Box Set, on Tuesday, March 29th. Each album will also be released in new commemorative remastered Vinyl Editions on April 12th in time for Record Store Day 2011 (April 16th).

Pre-orders for the Vs. and Vitalogy Limited Edition Collector's Boxed Set begin today at http://www.PearlJam.com.

Details on the new Reissue Formats of Vs. and Vitalogy are as follows:

1. Expanded Editions (CD and Digital)
The expanded editions of Vs. and Vitalogy -- including the original studio albums, newly remastered, along with album-era bonus tracks -- will each be available on CD and digital formats:
· The Expanded Edition of Vs. includes three bonus tracks recorded by Brendan O'Brien at The Site studio during the Vs. sessions:
- a previously unreleased acoustic version of "Hold On";
- "Cready Stomp" - a previously unreleased studio outtake;
- and the band's cover of Victoria Williams' "Crazy Mary" featuring Williams on backing vocals and guitar.

· The Expanded Edition of Vitalogy includes three bonus tracks:
- the previously unreleased guitar/organ-only mix of "Betterman";
- a previously unreleased alternate take of "Corduroy" from the Vitalogy session (recorded by Brendan O'Brien);
- a previously unreleased demo version of "Nothingman," taken from the original DAT (recorded at John and Stu's in Seattle on October 14, 1993, featuring Richard Stuverud on drums).

2. Deluxe Editions (3 CDs or Digital Download Bundle at Various Digital Service Providers)
· Deluxe Edition CD version - Vs. and Vitalogy will be available together in a CD deluxe edition which includes:
- the Expanded Edition of each album;
- a copy of Live at the Orpheum Theater, Boston, April 12, 1994. A special performance recorded at the tail end of the mythic Vs. tour, Live at the Orpheum Theater showcases a dream setlist created especially by the Pearl Jam crew and has for years been one of the most sought-after recordings among serious aficionados.

3. Limited Edition Collector's Box Set (5 LPs, 4 CDs, 1 Cassette, Digital Download, Composition Notebook, Memorabilia-filled Envelope)
Vs. and Vitalogy will be available together in a limited edition collector's box set that includes 59 unique Pearl Jam performances on four CDs, five LPs and one cassette in addition to a number of guest artist performances. The Limited Edition Box set is only available for sale at pearljam.com.
· Expanded Editions of Vs. and Vitalogy remastered with bonus tracks on CD;
· Remastered Vinyl Editions of Vs. (single LP) and Vitalogy (double LP);
· Double vinyl LP and CD of Live at the Orpheum Theater, Boston, April 12, 1994 plus an exclusive digital download of the concert. A special performance recorded at the tail end of the mythic Vs. tour, Live at the Orpheum Theater showcases a dream setlist created especially by the Pearl Jam crew and has for years been one of the most sought-after recordings among serious aficionados;
· Exclusive collector's cassette featuring live tribute and studio performances from a number of Pearl Jam's fellow artist friends. Broadcast on January 8, 1995, this recording is part of the legendary Monkeywrench/Self-Pollution Radio series produced by the band;
· 80-page composition book filled with photos, drawings and artwork by Eddie Vedder and Jeff Ament;
· A glassine envelope containing a collection of Vs. and Vitalogy- era memorabilia including beautiful lithographs of each band member, postcards, posters and much more.
4. Record Store Day Vinyl Editions (Remastered) - Available April 12th
Vs. and Vitalogy will be available at independent record retailers in new commemorative Vinyl Editions on April 12th in time for Record Store Day 2011 (April 16th).
· Vs. (single LP) and Vitalogy (double LP) - both remastered

* * * * *


Vs.
Originally released in 1993, Vs., Pearl Jam's sophomore effort, faced the daunting challenge of following the success of Ten, the band's 1991 debut. Shattering all expectations, Vs., the first Pearl Jam album helmed by producer Brendan O'Brien, rolled into its first of five weeks atop the Billboard 200 at #1 with the highest first week's sales (more than 950,000 copies) in music history; a record it would hold for the next five years.

Vs. Original Tracklisting:
Go
Animal
Daughter
Glorified G
Dissident
W.M.A.
Blood
Rearviewmirror
Rats
Elderly Woman Behind the Counter in a Small Town
Leash
Indifference

* * * * *

Vitalogy
Released in December 1994, Pearl Jam's third studio album, Vitalogy entered the Billboard 200 at #1, second only to Vs. as the fastest-selling CD in chart history at that time.

Vitalogy Original Tracklisting:
Last Exit
Spin The Black Circle
Not For You
Tremor Christ
Nothingman
Whipping
Pry, To
Corduroy
Bugs
Satan's Bed
Betterman
Aye Davanita
Immortality
Stupid Mop

* * * * *

Pearl Jam 20
In 1991, Pearl Jam's debut album Ten catapulted the little-known Seattle-based band into superstardom. Nine studio albums, hundreds of unique live performances and nearly 300 concert bootleg releases later, the band continue to be critically acclaimed and commercially successful -- with over 60 million albums sold worldwide. Over the past twenty years, the band has remained a major force in rock and roll, as much for its aggressive loyalty to its social and political principles and restless experimentation as for its rock radio staples and bestselling albums.
2011 will be a yearlong celebration of Pearl Jam's rich twenty-year history. The anniversary festivities kicked off with the release of a new live compilation album, Live on Ten Legs, in January, followed by the March expanded reissues of Vs. and Vitalogy. Late summer brings a Pearl Jam 20th anniversary destination weekend bash followed by the fall release of Cameron Crowe's film, Pearl Jam Twenty, along with an accompanying book and soundtrack album. Interspersed between these PJ20 highlights will be a number of additional special events and new, unexpected releases. For the latest Pearl Jam happenings, visit www.pearljam.com.

Check out Glasvegas' first new track "The World Is Yours": http://www.youtube.com/watch?v=cMjoJugrDhc

Glasvegas returns in 2011 with the eagerly anticipated follow up to their critically acclaimed eponymous debut album. 'EUPHORIC /// HEARTBREAK \\\' will be released on April 4th on Columbia Records in the UK, followed by a U.S. release later this spring.

The album contains eleven tracks and was written, demoed and tracked in Santa Monica, then recorded in London with producer Flood. The album sees the band recapture their atmospheric anthemic sound whilst moving in new directions both musically and lyrically. In a recent feature, NME raved of the band's latest effort as "...a record that rings out with hope, fight, and redemption."

The band, James Allan (vocals), Rab Allan (guitar), Paul Donoghue (bass) and new drummer Jonna Lofgren are currently on a short Scottish tour which takes them to the likes of Orkney, Wick, Dunoon, Troon and Oban. More dates will be announced soon for later this Spring.

Tracklisting for the album is as follows:
Pain Pain, Never Again
The World Is Yours
You
Shine Like Stars
Whatever Hurts You Through The Night
Stronger Than Dirt (homosexuality pt.2)
Dream Dream Dreaming
I Feel Wrong (homosexuality pt.1)
Euphoria, Take My Hand
Lots Sometimes
Change

Check out Glasvegas on the cover of NME:
http://www.nme.com/artists/glasvegas
NPR Takes Ladysmith Black Mambazo Back Home
For their new album, 'Songs From a Zulu Farm' (out this week on Listen 2 Entertainment Group/Razor & Tie Entertainment), South Africa's a cappella treasure Ladysmith Black Mambazo went back home.

Original band member Albert Mazibuko and 20-year band manager Mitch Goldstein joined NPR Weekend Edition Sunday's host Liane Hansen to discuss how Ladysmith Black Mambazo collected songs traditionally sung by Zulu parents to their children for the new album.

"There's such a rich, wonderful history. A personal history that comes from the group that's not always found in their CDs," Goldstein said. Mazibuko added, "When my grandmother told me about the songs, she said that their parents were singing the same songs to them."

Listen to the NPR interview here:
http://www.npr.org/2011/01/30/133304252/ladysmith-black-mambazo-back-to-the-beginning
Ladysmith Black Mambazo was featured earlier this month on AOL's Spinner blog, where Mazibuko, said, "Most of these songs we sing, even the traditional songs and the songs we wrote as a group, are the songs that always have lessons of encouragement, this kind of instruction."
Read more about 'Songs From a Zulu Farm' and listen to "Uthekwane" and "Leliyafu" here:
http://www.spinner.com/2011/01/11/ladysmith-black-mambazo/
mySpoonful: a taste of new music
mySpoonful Launches Free Music Service for Busy People
New spoonful format profiles independent music artists, includes free MP3 downloads and is available by web, email newsletter and mobile
The company mySpoonful announced the launch today of its free new website (http://mySpoonful.com) and email newsletter that delivers new independent music to busy people. Three times a week, mySpoonful handpicks a single new artist that music fans should know about, and includes a free MP3 for listening or download. mySpoonful's unique "spoonful" format of delivering music is concise, simple and consistent, and lets music lovers learn about new artists any way they want - via web, email, Facebook, Twitter and a mobile site, where people can play and download songs right to their smartphone or mobile device.
"mySpoonful is perfect for people who don't have a lot of time, but still want to keep up on new music," said Dan Cohen, mySpoonful cofounder and CEO. "We're like the web version of the employee at the indie record store that always knows what new bands to listen to."
mySpoonful features independent music from a variety of genres, including rock, pop, hip-hop, electronic, folk and more, with a focus on up and coming artists that are outside the mainstream. mySpoonful's team of insiders, curators and tastemakers does all of the work of finding new music, sifting through thousands of bands and musicians and carefully selecting featured artists.
Each spoonful features a new artist and contains a free song download, an artist photo and an original bio from mySpoonful's team of writers. In addition, if a fan wants to learn more, each spoonful provides a video, links to other bands readers may like, live performance listings and a link to buy more music.
"mySpoonful is a great way for fans to easily find new music," said Jordan Kurland of Zeitgeist Artist Management and manager for artists including She & Him and Death Cab for Cutie. "The site and newsletter are short, sweet and to the point and cut through the clutter."
The mySpoonful founding team includes music and Internet veterans including Dan Cohen (CEO), Stacy Horne (Editor-in-Chief), and Amos Schwartzfarb (COO). The team's impressive track record and music and digital media credentials includes creating and leading several successful startups, work at Yahoo and Google, and producing and vetting talent for premier independent music events and festivals such as CMJ Music Marathon, Noise Pop, and the Treasure Island Music Festival.
The founders came up with the mySpoonful concept out of their homegrown passion and appreciation for discovering and sharing music. "We had a lot of requests from friends to recommend new artists, because they were 'out of the loop' due to work, family, and other life responsibilities," said Stacy Horne, mySpoonful cofounder and Editor-in-Chief. "We thought it would be a great idea to share our knowledge with fans who need some help navigating all of the information out there, and curate an online space for them to enjoy great new music at their own pace and on their own time."
Started as Spooonful, a regional weekly e-newsletter in San Francisco, mySpoonful already has a dedicated following of Bay Area email subscribers. As mySpoonful launches nationally this month, it has the potential to be one of the breakout online brands of 2011.
For more information, please visit http://mySpoonful.com.

SUBSCRIBE TO & FOLLOW ENTERTAINMENT
HuffPost Entertainment is your one-stop shop for celebrity news, hilarious late-night bits, industry and awards coverage and more — sent right to your inbox six days a week. Learn more