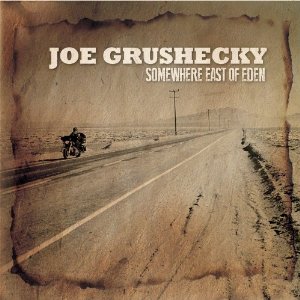 A Conversation wtih Joe Greshecky

Mike Ragogna: How are you doing, Joe?
Joe Grushecky: I'm good, man, how about yourself?
MR: I'm okay. You are everywhere, sir. You've been touring and have somehow found yourself...dun dun DUN...Somewhere East Of Eden.
JG: [laughs] I guess I am.
MR: By the way, I loved your American Babylon album.
JG: American Babylon, that was a few years ago. I always got s**t about being too old back then!
MR: [laughs] Like a fine wine, Joe, Like a fine wine.
JG: I'm just getting the knack of it.
MR: There's no time limit here.
JG: That's what I say! I'm going to keep doing this until I can't do it anymore. That's my theory.
MR: Perfect. So how did you end up Somewhere East Of Eden.
JG: I've been doing the Nashville thing, going down and doing a lot of co-writes, so I had a ton of songs written and I started recording them here in Pittsburgh. My wife Lee Ann said that I had not struck upon anything that was revealing about myself. She knows when you do the Nashville stuff, it's kind of generic. So with all these songs, I was writing and writing and writing and I felt very creative and very prolific and one day, I was looking at books and I saw East Of Eden, an old dog-eared copy of it. It's always been one of my favorite books. I picked it up and thumbed through it and the next day, I went to work in the inner city and I saw an Iraqi veteran returning home with all kinds of drug and alcohol issues. He pulled this Iraqi family out of a car that ran their checkpoint in a firefight, and he was back in the United States and he couldn't find a job. That was basically the impetus for a particular song. Once I wrote that song, it sort of gave me focus and inspiration to complete the record and I just got on a hot streak writing. I had thirty odd songs and I picked the ones that were just striking me the best at the moment.
MR: Joe, we just had a government shutdown. I'd prefer to call it a nervous breakdown. Anyway, what do you think is going on when you look at political behavior like that?
JG: I think there's a bunch of douche bags in Washington, that's what I think. It's pretty dysfunctional. I think a lot of the issue is the intransigence of people refusing to compromise, which our country was based upon. I think a lot of it is race-hating, you know? So it's pretty disappointing no matter how you cut it. You just have people that refuse to work together for the common good.
MR: Yeah, and right now, minority rules, and in the Senate, they can hold anything they want hostage. Personally, I wish Harry Reed would have removed the filibuster about five years ago so there would've been something coming out of the Senate.
JG: Of course, there's plenty of s**t to be spread everywhere. Nobody's really coming off looking great on this whole thing. I'm sure you and I are both in agreement that more of it's on one side than the other. The Tea Party guys. I can't stand the Tea Party guys. I don't know if I should say that while I'm trying to sell records.
MR: Is The Tea Party your audience?
JG I don't think anybody's going to buy it anyways.
MR: [laughs] Stop that! But with this budget madness, I feel like this latest sore loser maneuver was the latest kind of filibuster in a series of filibusters, only this time, it was the House's version of it.
JG: Yeah. Sooner or later it's going to reach the point where it's going to have to be repaired. It's like driving an old f**king clunker around when it's on its last legs.
MR: Good way of saying that. Where were we? Right, Somewhere East Of Eden. Kindly sir, please continue the safari if you would?
JG: Well, for me--maybe I'm flattering myself--but I'm looking at it like I'm writing a short story or a novel. It has a beginning, a middle, and an end. That's not to say that it's somehow linked and everybody's going to pick it up. But in my mind, I link them all together. I wanted to write a story about the state that I was in and the state of the world at that particular time. When I was writing it, I was in an angry mood; prices were going up; I've gotten paid the same for the last three years so my earning power was down; all the stuff about honoring the Vets and they return home to nothing. I had this song, "When Castro Came Down From The Hills." The record's about strife, and overcoming strife and then sort of at the end, it starts to mellow out a little bit. When I got to "Changing Of The Guard," I have my son's band, a bunch of twenty-somethings, playing on that, so it's like I'm passing the baton. Like "Here guys, you run for a while."
MR: Nice. Did you teach your son what he knows musically and otherwise?
JG: Yeah, he plays with us all the time. I taught him as much as he'd let me teach him. He did his first gig with Bruce Springsteen when he was like eight years old playing on drums. He always wanted to play. So he plays guitar and drums with me and he plays bass in this band called The Composure, which is a very good band, by the way.
MR: When you look at this album, does that also feel like a torch-passing?
JG: Yeah, I looked at it sort of like that. To me, for some reason, I don't know if it's the beginning or the end of an era. I put a lot of what I thought was different types of music on there to show the width and the depths of my influences. I thought I wrote some good songs, and the playing is good on it. People generally seemed to like the record when I was playing it for them. They were saying, "Oh, this record's great!" So I started thinking maybe I'll try to get back in the music business, you know, by bringing it to Warner Brothers. [laughs]
MR: [laughs] Hey, this is your seventeenth album. Did you even know you had seventeen albums?
JG: No, I really didn't. I knew it was in the teens. I'm like the turtle. I'm a slow, steady guy.
MR: Another sidebar... What's going on with the Iron City Houserockers these days?
JG: Actually I just called the guys. We'll be playing together. There's some magic to that band, there really is. The bass player, Art Nardini, and I have stuck together through thick and thin since 1976, believe it or not. We were just driving home the other night and he said, "You know, there's just a certain magic that happens when we get together."
MR: You know who also needs an invite? John Palumbo and Crack The Sky.
JG: Oh, you know, Rick Witkowski and I are going to play tonight at a benefit for a juvenile delinquent home in McKeesport. Ricky is John's main dude, you know?
MR: Right, or as he's commonly referred to as "Guitar God Rick De Wit." I just made that up, sorry. He's an amazing guy and player.
JG: Oh, he's a great guy. We've been recording since 1992, believe it or not. He's like a blood brother.
MR: What else is going on in Joe Grushecky's life? What are you up to?
JG: I'm hoping that this record sells a few copies. I'm getting near retirement age of teaching so I'm hoping this could maybe be a springboard to full-time musicianhood again. I hate to even say that because I might jinx it, but it'd be nice. I'm just going to keep doing what I'm doing. I like to play. I'm one of these lifers, I'm going to go down swinging.
MR: Yeah. And, of course, I have to ask you, do you stay in touch with buddies like, oh, what's his name...
JG: Yeah, the guy from New Jersey. Actually, we stay in touch. We talk periodically and see each other periodically.
MR: He's also got a couple of albums under his belt, too, that Springsteen guy.
JG: Yeah, he's got a few things. We were talking last summer about the difference between his career and my career. I went to college for five years. His record came out in '74 and my first record came out in '79 because I was in college. That was something I promised my father, that I'd get a college degree. That took me five years, I'm obviously not the world's best student. [laughs] Well it took me five years, you went to five different ones.
MR: Hey Mr. Joe, what's your advice for new artists?
JG: Advice for new artists? It depends on what you want to be. You want to be a pop star? You should aspire to be on American Idol or The Voice. If you want to be a musician, you learn how to play your instrument and you play as much as you can and you do the best work that you can and in my case, you try to stick around as long as you can. I thought I made it when I put the first record out with the Iron City Houserocker. That was a dream come true. Everything else is icing on the cake. I would like to have one identifiable song that people know more widely so I can hang up the old six-string.
MR: I feel like since the mediums and the platforms for music have changed so drastically, there's probably more of a shot for you now.
JG: It leveled the playing field a bit. You don't have to have a record company now. I'm being distributed by Warner Brothers these days and I'm just checking on some of it today. I'm on Amazon, I'm on iTunes, stuff that I've tried to do myself through the years, so that has its advantage. We're able to place music to get shipped and I've had a few interviews and all of this feels pretty good. I've been able to do it simply because I've been able to stick around long enough. Because of the changing scene, I've been able to work on my own and keep my chops up and work and write and record and all of that stuff.
MR: You've had an amazing career and you came right out of the chute with Cleveland International who also had Meat Loaf.
JG: Oh, they were all caught in Meat Loaf. They had a huge, huge internal feud over Meat Loaf's second record. His first record was cool, but they sort of imploded over Meat Loaf.
MR: Yeah it's really a shame. On the other hand, that became a "Jim Steinman" album, even though some of those songs have been covered by Meat Loaf since. It is a shame, it would have been a great next step for Meat Loaf if they'd completed and released it without the drama.
JG: Well, they had the whole table laid out to run with all the balls and they miscued, man. They just did not do it.
MR: Joe, you've worked with folks like rock 'n' roll's savior, Rick Witkowsi, and that other guy, Bruce dude. You're fulfilled musically, so despite not having a top ten record, you've still had the type of career you wanted, right?
JG: In certain respects, I wish it would've been a little bit more rewarding financially, but let's put it this way. There was one record on MCA where I didn't do exactly what I wanted to do, so other than that, with seventeen records and no commercial success, I pretty much define my own terms of how I make music. That's why I started to begin with; I wanted to play. I've been able to stick around this long and I'm still talking to you.
MR: There are so many artists who have had satisfying careers regardless of not having a hit. There were folks like Ian Hunter, Mick Ronson...
JG: Oh, my God, yeah. Talk about being lucky enough to stick around. Rolling Stone had the hundred best guitar players of all time and I've been produced by three of them: Steve Cropper, Mick, and Bruce. I just played with Ian not too long ago, he's great. He's even older than I am, way older than I am and he's looking and sounding great.
MR: My favorite album by him was You're Never Alone With A Schizophrenic. Just thought I'd say that.
JG: That was a great record. We toured with him on that record, something like fifteen or twenty tour dates with them.
MR: What a nice moment in time. When you've been out on the road with other acts, were you the big kid watching with fascination?
JG: Oh yeah, yeah, if it's somebody that I'm thrilled to be with. The Band knew who I was and I got to play "(I Don't Want To) Hang Up My Rock 'N' Roll Shoes" standing right next to Rick Danko. It was one of the biggest f**king thrills of my life. I played with Bruce and The E Street Band; I got to sing "All The Young Dudes" with Ian not too long ago, that was fricking amazing. That was one of the biggest thrills I've ever had. I'm a fan, Mike. I love music. I love all different types of music, from old-time country to bluegrass to the blues stuff. I can play some blues when I put my mind to it, too. I just love it all, man. I'm just happy. When I get a change to meet those guys and play with them, I'm thrilled.
MR: It also must be nice to have a Grammy.
JG: Well, I'm going to say that Bruce won the Grammy for singing a song that we wrote together. Let's put it that way. That's my Grammy fame.
MR: You mentioned retirement before, but I don't believe a word of it. A year from now, what is Joe Grushecky doing? His eighteenth album?
JG: Yeah. I'm thinking about it already.
MR: I thought you might be.
JG: Not that it's comparable but in a way, you've sort of brought this whole project from its inception to its completion and after it comes out, you go, "That was okay. What am I going to do now? It's time to start writing." Basically, I've been thinking about writing this whole week for the first time in a while. I've got some ideas for a new record anyway.
MR: Cool. I bet you can't help yourself. Are you one of those people who runs to the instrument or to the paper or whatever?
JG: Yeah, I've got scraps of paper all over the fricking place, I've got boxes full of binders and notes from when I was a kid. I've still got all the handwritten stuff from when I was with the Iron City Houserockers.
MR: Well I don't want to keep you from starting that new album, so I guess I ought to let you go. All the best with this new one, Joe, and with everything you're doing. Take care, Joe.
Transcribed by Galen Hawthorne
Tracks:
1. I Can Hear The Devil Knocking
2. Who Cares About Those Kids
3. John The Revelator
4. Somewhere East Of Eden
5. When Castro Came Down From The Hills
6. Still Look Good (For Sixty)
7. Magnolia
8. Save The Last Dance For Me
9. I Was Born To Rock
10. Prices Going Up
11. Changing Of The Guard
12. The First Day Of School
DEAR GEORGIANA'S "OVER YOU"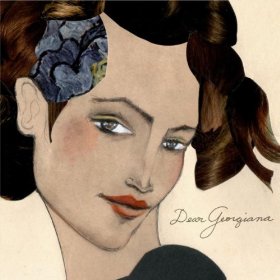 From those in the know...
"With a voice as big as the whole state of Alabama, Dear Georgiana proves herself to be an authentic Southern Belle-de-force on her self-titled debut album. In the tradition of great female crooners like Dolly Parton and Linda Rondstadt, Dear Georgiana delivers heartfelt songs with a charming twang and a bright twinkle in her eye. Her self titled debut is out now on Tummy Touch Records."
According to Dear Georgiana...
"'Over You' was written entirely on an autoharp! And the video for 'Over You,' produced by Crazy Lake Pictures and starring Jess Weixler, was made in one four-minute long tracking shot with no cuts or edits. It took us about 30 tries to get it right. I've watched it so many times, but I still keep finding new things that I didn't see before so I suggest watching it multiple times. It's a costume party!"
Tour Dates include:
10/22 - New York, NY @ Rockwood Music Hall Stage 1
10/23 - Philadelphia, PA @ Melodie's Cafe (formerly Milkboy)
10/24 - Pittsburgh, PA @ Howler's Coyote Cafe
10/25 - Columbus, OH @ Kafe Kerouac
10/26 - Bloomington, IN @ Bear's Place
10/27 - Chicago, IL @ Uncommon Ground
10/28 - Rock Island, IL @ Daytrotter Session
This Blogger's Books and Other Items from...
SUBSCRIBE TO & FOLLOW ENTERTAINMENT
HuffPost Entertainment is your one-stop shop for celebrity news, hilarious late-night bits, industry and awards coverage and more — sent right to your inbox six days a week. Learn more