Paul McCartney's "Queenie Eye"
Can you spot the famous folks?
A Conversation with The Rubens' Sam Margin
Mike Ragogna: Sam, what's up and how the heck are you?
Sam Margin: Not much and I'm good!
MR: So this isn't your first American tour, but it might be your most important one, huh?
SM: Yeah, I think it is because of the record that's out now. We've done a bit of American touring, not proper cross-the-country touring like we are now, but we did Bonnaroo and a couple of festivals, South-By, and stuff like that, which was good, a good lead-up to the record being released but I guess this is the most important so far.
MR: Your band is pretty new to this country.
SM: Yeah, definitely. We are new to the US. We spent a bit of time here, we recorded our album in New York for a few months, but yeah, in regards to the public and anyone really knowing who we are, we're really new.
MR: Who's going to be the opening act when you tour with Bruce Springsteen back in Australia? You guys or Bruce Springsteen?
SM: [laughs] I'm not sure, actually, I think we're fighting for it. It's up in the air right now.
MR: [laughs] How does that feel? You know how much of an icon Bruce Springsteen is here. How does that feel being paired up with him?
SM: We actually supported him about four or five months ago as the opening act and now we're the main support, so it's cool. The first time our parents all came down and watched, obviously. It's Springsteen, it's an honor. But it's kind of more fun finishing, grabbing a beer and watching Springsteen play.
MR: Let's talk about the new one. It's a huge record for you right now in Australia. How does it feel to be a hit act?
SM: It's great. It's been such a long time waiting for it to come out in the States. The album came out a year ago in Australia and we spent a lot of time setting it up. We got signed at Warner Brothers over here, so that hadn't happened by the time it was getting released in Australia. We were still waiting to get record deals over here. It's taken a long time to get this record out. It feels really good.
MR: You're in this band with a certain Elliott and a certain Zaac who seem to be related to you, as well Scott Baldwin. So why aren't you "The Margins"?
SM: Because that would just be terrible. That would be too obvious. It doesn't sound like a bad band name but there's no way. I think someone brought it up once but it was never going to happen. The Rubens actually came from a nickname from our younger brother.
MR: You guys were just goofing around and it came out? Then is was, "That's it, we're The Rubens"?
SM: Yeah, actually, that was exactly how it happened. It was kind of a joke and then we started to play gigs and that was our band name.
MR: What's the history of you guys playing music together?
SM: It's very short. We actually hadn't played together at all in our family. We played in separate bands but we'd never taken that seriously. The first time that we ever played music together was when we started the band. We spent twenty years of our lives not playing music together but being interested in it. Then suddenly, things all work out. "Why don't we just do it together? We live together. It's much more convenient. Why don't we just make a band in our home?"
MR: Are you guys close or is it like Oasis and The Kinks?
SM: [laughs] No, it's nothing like that, thank God. Yet. We get along absolutely fine. That question gets asked a lot, about sibling rivalry. There's nothing at all. If anything, Mike, it makes the whole process of writing, recording and being the band in general a little bit easier because when you're writing songs, you have to be pretty honest with each other about how it's sounding and the way you want it to go. If you write something that doesn't sound good, you've really got to be told and being told by someone that you've grown up with and know really, really well is pretty easy. It makes it much more efficient I think.
MR: Nice. All right, you start out the album with "The Best We Got." Why that's pretty presumptuous, wouldn't you agree? That's a joke, it's an awesome opener.
SM: You spend months and months making a record and throughout those months, different songs become your favorites and you think different songs are going to be the hit single. You really can't tell what's going to happen. Even now, whether it's the record or playing the songs live, we have different favorites, so I'm not sure if that song is the strongest. I think there are songs that are probably stronger, but I think in the commercial sense, I guess, yeah, it probably is the best.
MR: And you put a different spin on the concept of "The Best We've Got," which I thought was clever.
SM: Yeah, I mean the whole concept is that when you're young and in high school, you'll be whining about exams and you'll always have an older sibling or cousin or parent saying, "You know, you shouldn't be whining about these days because they're the best you've got." It's all kind of downhill from here. I thought that was a depressing way of looking at it.
MR: Let's go over a couple more titles and the concepts behind them. There's "Elvis," though the song isn't about The King.
SM: A producer at our label didn't want us to call that song "Elvis," but we sort of put our foot down with that. It came from when we were doing pre-production back in Australia and we were demo-ing songs and we demoed that song and a friend of ours, Dean, who was helping with pre-production stuff, said it sounded like Elvis or something else old school, I don't know why. But when you're demo-ing tracks on the computer, you have to save it as something, so we saved it as "Elvis" and it just stuck. I don't think we wanted to call it anything else because it'd been called "Elvis" for six months by the time we got to record it properly.
MR: What about Elvis the man? The King! Any feelings about him?
SM: Nothing more than anybody else would. Lots of legend. Don't really have anything else to say about him. Seemed like a cool guy.
MR: You have another great title on this album, "Look Good, Feel Good." It's almost like a gym anthem.
SM: [laughs] I don't know, I'm trying to think about why I named it that. Why did we call it "Look Good, Feel Good?" I'm asking the boys in the band. Why is it called "Look Good, Feel Good?" [pauses for response] Yeah, I think that was another Dean influence, our friend who helped produce the record. I really don't remember why we called it that. There's no lyric in there that says "Look Good, Feel Good." Oh, yeah, the original chorus, that's right! There was an original chorus that went "Look Good, Feel Good." I guess when we cut that chorus, the song still meant the same thing. We just took out those lyrics and I think we didn't want to get rid of that title.
MR: One of my favorite songs on this project is "Lay It Down."
SM: Me too.
MR: What's the story behind that one?
SM: That song was like one of the first songs that we ever wrote. I wrote that one, it was one of the demos I did on my laptop. We just programmed the drums, put some guitar and vocals on there, put some keys on there and then put it on a website in Australia called Triple J Unearthed, which is linked to a radio station and one day, it got played on the radio station. That's actually the song that got us discovered. That's my favorite song on the record, I think. It's funny because people have said on our Facebook page and Twitter that this is their wedding song or "this is me and my husband's song," but I don't think they listen to the lyrics because it's actually about a breakup. The lyrics are like "I've been searching for whoever made me feel this way, I'm not liking where it's leading 'cause it's you." That's why I like it, because it sounds like a beautiful love song, but actually, it's quite dark in the lyrics.
MR: Hey, what advice do you have for new artists?
SM: I think what I would say would be to play live as much as you can. Get out there and play heaps. I know you don't want to hear that when you're younger and you're not into doing any work, but you do have to really work hard on your live performances. Another thing I've worked out from being in the industry for just a couple of years now is that the record labels do know who the up-and-coming bands are. They've spent a lot of money on recruiting bands and if you're out there playing clubs and are well-known in your city and getting a bit of a name for yourself even if it's just a small fanbase, these record labels whether they're major or indie, don't think that no one cares. If you're good enough or if you've got the right talent, then you'll get a phone call.
MR: Interesting. Your press release reads, "There seems to be no limit to what possibilities lay ahead for The Rubens in the forseeable future. For now, they have the rest of the world within sights." Where do you picture The Rubens in about five years?
SM: I'd say in five years, we'll be looking at a third record, or there might already be three records. I don't know. Obviously, America's really, really important to us now. It was from the start because we went over to record in America and from that recording experience, we got signed and the whole thing is based in America, so I think we'll be doing well over in the States and hopefully, we'll have made ourselves a bit of a name. In five years, we should be able to.
MR: And you're going to be on tour with Grouplove, right?
SM: Yeah, we actually started. We're on tour now.
MR: Nice. How's that going?
SM: Fantastic, yeah. I'd say it can be hit and miss when you're touring with a band you've never met before, but if you can match up the style and the music and get that right, I think that really works. And we really love the people, too, which is really important because spending six weeks with one group of people and hanging out, yeah, it's just fun. They're lovely people.
MR: Not meaning to categorize you, but you've got a hint of an earlier Aussie pop sound like that of The Finn Brothers, Crowded House, Split Ends. Were they influential? Did you grow up on any of that music?
SM: Yeah, absolutely. That's cool, I'm happy to hear that because it's very common to try and categorize music. Whenever I hear someone, I think of who they sound like, that's what you do to try to work out what a band is. But that's a nice thing to hear, I don't think I've heard anyone say that before. We hear The Black Keys and Kings Of Leon but it's cool to hear something like that.
MR: Yeah, it's the raw power of the pop hook that they all have in common, including the Kings and Keys. That's why I'm comparing you.
SM: That's right. I'm happy with that, then.
MR: Well, hopefully, I'll get to talk to you again before Bruce Springsteen becomes your opening act.
SM: [laughs] That'll be never, so hopefully, before never.
MR: [laughs] This has been a pleasure, I really appreciate your time, Sam. Thank you so much for the interview.
SM: Thank you!
MR: Sam, all the best.
SM: Cheers!
Transcribed by Galen Hawthorne
ANYONE FOR TENNIS?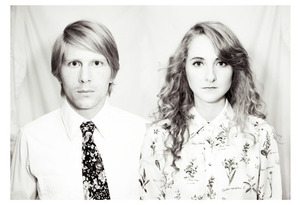 photo credit: Norman Nelson
According to those who about Tennis...
"Celebrated Denver based husband and wife duo Tennis return with Small Sound, a new EP out November 5. Small Sound follows their previous full length efforts, 2011's Cape Dory and 2012's Young and Old. Four of the tracks were produced by Richard Swift (Foxygen, The Shins, The Mynabirds) with the fifth track "Cured of Youth" produced by Jim Eno (Spoon, Polica, Gayngs). The band inked a new deal with Communion Records and will return to the studio to work on new music for a Spring 2014 full length album."
According to Tennis...
"I'd like people to enjoy the Small Sound preview as a door to another way of thinking about our songs and where they come from. Vague images with rummaging sounds and disembodied voices come together in a sort of dream collage that is equal parts reality and artifice. It is our way of providing context for listeners that encourages myth-making but is not prescriptive; like a starting point that has no direction."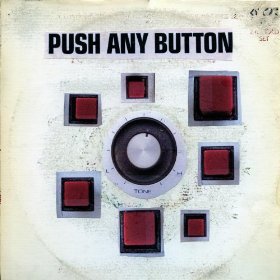 A Conversation with Sam Phillips
Mike Ragogna: Hi Sam, do you have a couple of seconds to talk about Push Any Button?
Sam Phillips: I do!
MR: Outstanding. How did Sam Philips dive into this album versus the last one?
SP: The last music that I did was called the Long Play project and it was a digital music and art installation on the web. Basically, I did four EPs and a ten-song album in the course of a little bit over a year, so I was writing very fast and recording very fast, which was great. It was instant gratification because as soon as I finished five songs, I could instantly get them to my subscribers and listeners. It was really fun, but since I was working so fast, I had a yen on this collection of songs to really take my time with them and work on the arrangements and the performances, just take a little more time with the production. So Push Any Button was a little more considered. I did have a little detour on the way; I scored a TV show for my friend Amy Serman-Palladino called Bunheads, so that took about a year's time away from Push Any Button, but then I went back to it and finished it. It took a little while to put together.
MR: What about the writing on this new one? How did you approach that? Did it collect, or did you say, "Okay, this is the new project, now it's time for creating material?"
SP: You know, one of my friends asked me, he said, "How does an album come together? Is it like there's one song that is like the daddy and then there are all of a sudden all of these little baby songs?" I thought it was a very funny image. But it was interesting that he asked that because the song "Pretty Timebomb" was actually written during my Long Play project and I just felt like it was, for some reason, part of something else, it wasn't part of that project so I kept it, I didn't record it. "Pretty Timebomb" was the first song that I recorded for this project and it seemed very unconsciously that all of the rest of the songs came as I worked. I do work very hard and it takes me a long time for songs. I do really try to edit and use craft to try to make them the best I can make them. I'm not a stream of consciousness person that doesn't edit at all. Some people are like that with songs; they just strum a guitar and something great comes out, but I work with things a little bit more. That's always been the way I do it.
MR: I imagine you come at creativity from different angles because you've had to deal with visual elements inspiring music, such as when you worked on Gilmore Girls and Bunheads. Do you get inspired by particular stories? Is it mostly biographical or do you get inspired by what's happening in the environment and politics? What inspires you?
SP: A million different things. It's always something different. I think more than anything, it's just being open to creating something. I know that sounds really tentative and very mundane, but I think that's the first thing. You set the intent that you are going to be inspired and you're going to begin a journey working on something. Usually, I'm wrestling with a melody that I love or that haunts me and I can't put down and I want to try to interpret. Most of the time, I feel like I'm an interpreter of what the melody's trying to say. I'm not usually trying to take a lyric and put it to music. That's kind of an odd thing. Other things that inspire me...sometimes it's cultural things but I try to come at it from a more emotional way rather than just from an intellectual place because I feel like after all, it is a song, it's not a book or an article. It's something that you should be able to listen to over and over again and should open up like a flower. It should have different layers. It's a tall order, but that's my attempt.
MR: This is your first physical product since 2008's Don't Do Anything. With the Long Play project and the like, it seems like you'd gotten very comfortable in the virtual world. Why the sudden physical release?
SP: I actually had a yen to do that because I have been working with collage and I have, with this project, also done these album covers and I wanted to house the vinyl I was making in these album covers that have erased the old images. I collaged new images onto them in sort of a statement about the record business and a fondness for vinyl. And with the new and old meeting, I feel like the music is also like that on Push Any Button. It's a little old and a little new. But I also heard from my listeners that they wanted something physical and they wanted CDs, which surprised me. I loved making the vinyl, but a lot of people wanted music on CD so it's interesting. It's just an interesting time in music for people because I feel like MP3s are meaning less and less to a lot of people and CDs are not the ultimate format and vinyl is not the ultimate format. I think it would be interesting if some new format did come along that was actually green and was very sturdy. I wonder if something like that did come along and was convenient and fit all of the things that we want out of music storage that would really take hold or if people will just want to house their music streamed. That's the way people are predicting this is going to go, but I still have a feeling that a lot of music fans want to own their own collection.
MR: Until you said "physically own the collection," I was going to say that your vision described playing it all live.
SP: Yeah.
MR: I feel like we're at that point where "they" have to figure out another way to do that. I imagine that a lot of artists have noticed when they tried to have a purely digital career, what happens is they're having problems finding and getting their royalties to live off of them. I know a lot of people just want to show their creativity, but on the other hand, it's such a challenge to try to collect on works that are online except from established sites like iTunes and Amazon.
SP: It is, although you're not going to have those costs of making a physical product. What's happened is that there's so much focus on the format that people forget about production and that it actually costs to make records. I use real musicians and an engineer. There are people involved that need to be paid. I'm not just in my closet making a record with GarageBand. That's fine, people do that, but that's not everything, and I think most of the records people buy and are popular are not made that way. They're made with other people who are experts at what they do, whether it's playing the drums or doing production, so it is a challenge. But you know, music has been around for thousands of years. I don't think it's going to go anywhere. We all love it, we crave it, the record business was kind of an odd thing in the twentieth century and just because it was that way for a little while doesn't mean it's going to be that way forever. I think it's all taking a different form and I also think that the different formats are joining together and becoming more powerful. Music to picture is certainly one of them but there are a lot of actors who do recording projects, Broadway theater music are getting together with the visual arts of music; a lot of people are doing different projects like that. I feel like that is probably the way it will survive, not just through a record bought by millions and millions of people.
MR: So you took a different approach musically with Push Any Button. It feels like there's an angle with some of these songs, like a nod to another era. Was there any intention of that when you approached this album during the production process?
SP: Yeah, a little bit. I'm always trying to get the songs cut down in different feels to try and get the essence of the song down. It took a few tries for some of them. Others we played and knew exactly where to go with the song, but all the while, in my mind, I was thinking of the late sixties, early seventies with The Wrecking Crew here in Los Angeles. They were a famous bunch of studio musicians who played on a bunch of different pop hits. The thing about evoking them especially is that it's not one particular artists or one particular kind of musical sound, it was just a general feel of them having to figure out a lot of different kinds of music as well as different feels and styles. I know the styles aren't that diverse on Push Any Buttons, but it was an interesting feeling to have in mind. I have a fondness for that era, but I also wanted to have everything planted firmly in the here and now. It's not exactly a nostalgic record, it's maybe just more of that certain approach. We did it song by song, we didn't just rehearse a bunch of songs live and then record them. It really was over a period of two years. Each song is a different universe.
MR: With "When I'm Alone," and "See You In Dreams," it almost seem like the songwriting is of a caliber and a quality of your classic singer-songwriters from The Wrecking Crew period. Do you admire them?
SP: Oh, there are some amazing songs from that era. I love songs and I love melodies. I think I can best explain it in fashion terms--It almost feels like music today. Instead of a very well-made suit, it would be something more like an old pair of jeans or a very loose, flowing dress. It's more casual, in a way, I guess, and maybe less craft. That's a good thing; there's more freedom, there's more innovation, there's more creativity. But I do miss some of that really crafted, structured songwriting from the past. So yeah, it was fun to go back and do that. Probably the next project will be the opposite of that.
MR: One of my favorite topics on this project is "Things I Shouldn't Have Told You." It reminded me a little bit of the Carly Simon song "No Secrets."
SP: Oh, I don't know that one.
MR: "We have no secrets, we tell each other most everything," and then the chorus is "Sometimes I wish that I never, never knew some of those secrets of yours."
SP: Oh, that's interesting.
MR: There are some truths that when a singer-songwriter spotlights them, there's this big "Uh-huh" for the listener.
SP: Well, I couldn't resist throwing a few things in that I did want to tell the listener. "Are we going to stay in one place in the oil fields?" and "Don't ever change," of course we do need change to look at environmental issues. I threw a few things in there.
MR: Ah, the ol' shopping list song.
SP: Yeah, I think the Tin Pan Alley called it, even worse than the "shopping list," I heard it's "Laundry List." But it is exactly that; it is a laundry list and even that harkens to a different era.
MR: Let's talk about a concept that you brought up there: If you don't have a planet you can live on, game over.
SP: That's what I really don't understand people not being aware of, in terms of climate change, but also in terms of people getting so wealthy at the planet's expense or at other people's expense, I always wonder where they think they're going to live. If you obliterate the middle class in this country and make a lot of poor people, do you really want to live in that world? It seems like such an easy concept, but it's mind-boggling that people don't see it that way. I think you're absolutely right.
MR: Yeah, and the amazing thing is watching people vote against their own interests. They send people to Congress who don't even represent them, people who represent their re-elections and their own worldviews.
SP: Yeah, and I wonder if sometimes, too, that we as creatures just resist change. If what happens to the health care act actually makes things better, "Ooh, that's scary" because that's change, you know? I think sometimes we as humans fear change, good or bad, and maybe sometimes, it's just that simple in terms of some of the voters. They're afraid of something different even if it's going to make things better. I think the great thing is we will have a chance now to see it make things better and hopefully, that will bring about even more change.
MR: And while we're at it, I am so sick of the word "socialism" being touted whenever someone makes mention of a program that helps needy people. You look around the world and virtually every other civilized country have nets for their citizens. But apparently, we don't like nets anymore, but when we do, we're socialists. That word is so antiquated no one even knows what it means anymore.
SP: Yeah, I know, it's just ridiculous. You're so right.
MR: Anyway, back to Push Any Button. From your perspective, what is the most revealing song on the album, the one that says the most about Sam Phillips?
SP: That's hard. I feel that even when I'm trying to write songs for other people--which doesn't happen that often, I don't co-write a lot--but "When I'm Alone" was actually written for another artist. It's a long story why it didn't get into the hands of that artist, but it's kind of funny that even that song is very revealing. What I try to do is not take all of the oxygen in the room. I try to leave a lot of room for the listener in the music. That's the kind of music, that's the kind of film, that's the kind of book that I like. I like to be able to listen or watch or read and have a place for my own thoughts and my own experiences. So I'm really trying to stand at a distance and create this little world where somebody can muse about their own lives rather than focusing on myself. I so appreciated when I saw Sigur Ros in 2006. I loved their tour where the lead singer was behind the scrim because it made you really think about the music. At the time, the songs were longer than usual and I felt during the whole show like I was in a different world, I wasn't at a normal concert, and I love that. I hope that at some point, I'll be able to do that for people as well, to give them a bit of perspective and take them out of their lives and help them see things differently.
MR: May I ask you just a couple of personal questions if I'm not obnoxious about them?
SP: Okay.
MR: What is the reason behind becoming "Sam" Phillips after introducing yourself as "Leslie" Phillips?
SP: Well, that's actually kind of a long story, but Sam was my nickname growing up. When I started making records, it was for a gospel record company and I really was very young and idealistic and felt that maybe I could contribute something spiritually to the world. What was interesting was that the whole thing transformed me. I learned a lot about the shortcomings of fundamentalism and then also started wanting to become a better songwriter, a better musician, and as I was doing that, that world was very critical. They turned it into a thing where they wanted me to do a lot of propaganda, telling people things that they already knew or believed and I felt that spiritually, I had grown or moved on. So finally, I just left that record company and felt that I wanted to start over and write better songs and actually grow, spiritually, on the personal side of things. That's exactly what I did. I left that record company and started with Virgin America and decided to go by nickname to draw a line between them. I was probably too young to be making records at that point, so I wanted to start over and earn the trust of my audience and get better. So that's why I went by my nickname from then on.
MR: Thank you for talking about that. I think there's also no coincidence here that the T-Bone Burnett album happened around that time, right?
SP: Yeah, I think a lot of things were dawning on me and thought I still think politics are very, very important, I still think love is more important and that filters down to the way you see the world and the way you're going to vote, hopefully with eyes wide open, knowing all the issues. There were political things that started rumbling at that time that I was uncomfortable with that had now become this whole full-blown, right-wing thing in this country. That's something that I didn't want to be involved with. I also think that people using politics in religion to feel powerful and get power is wrong. Really the spiritual man's power is going to be love, and if you're trying to use politics or graft or manipulation or anything else, I think you get into some stuff that doesn't belong with what you're doing.
MR: Again, beautifully said. And there were so many rich, fake-o evangelists working the ignorant and the system.
SP: The fundamentalist leader I remember who was most interesting was Francis Schaeffer, whose dad was a Christian author. Frankie went hard into the anti-abortion and fundamentalist right-wing politics world, and then a few years ago, wrote a book completely reversing it all. He completely came out of that world and wrote a book about it. I think that was very brave and very interesting because he was one of the main forces of the anti-abortion movement and that was very interesting.
MR: For many, I bet it's like the next day after being drunk, only this time maybe drunk with power. Who knows. Sam, I also wanted to ask you a standard question, what advice do you have for new artists?
SP: Oh, I think have a sense of humor and don't be afraid to put that in your art. I think one of the things that I see missing from every art form these days--except for comedy, of course--the humor is really absent. There are so many dramas on television that just don't have an ounce of humor in them that I think would be just so much better if they did. A lot of artists take themselves too seriously. To me, it's very charming, someone who's trying to reach the greater truth. I would say learn to do a lot of different things as well. Be open to the next hybrid. Rock 'n' Roll was a hybrid of a couple of different kinds of music and I think not only are there other music combinations out there, but I also think we should look between the art forms. I think it gets really exciting when people start combining the other art forms--theater with music and technology. I think there are a lot of interesting things on the horizon and I'm very hopeful. But back to that previous question one more time, the only thing that I really do want to say is that I've spent maybe twenty-five years now as "Sam" doing my music and I feel that I've done so much more work as Sam and I've worked very hard to not become a pop star but to become a decent songwriter and performer and record maker. But those beginnings were the beginnings and that's the way it is. I flinch a little when people ask about that because I feel that the majority of what I've done in my life is these other albums. Although they were wacky beginnings, I do appreciate you focusing more on the last twenty-five years rather than the first four of my career. I wanted to add that because I guess it's just weird, although there are a lot of artists who got their beginnings in the church because that's where they could sing and people listened to them. That's where they found their audience and then moved on and moved out of that as they got older. I guess it's not that odd but it is important to me that I have spent the majority of my time doing what I'm doing now.
MR: Earlier, I was curious about your history, and I thought that was a gentle way to back into it the way we did.
SP: And I understand because it has become such a weird political polarization and I feel that the church has been used by politics, really, and it's very sad to me. It's sad that they felt so powerless that they gave in to a lot of these politicians who try to manipulate them and use them. I hope that will change.
MR: Sam, this has been really beautiful and I'm glad we finally got to do the interview.
SP: Thank you so much, take good care and hopefully we'll speak soon.
MR: Absolutely, and all the best.
Transcribed by Galen Hawthorne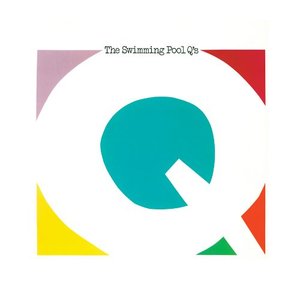 A Conversation with Jeff Calder
Mike Ragogna: Hey, Jeff, it's Mike.
Jeff Calder: How've you been, man?
MR: I'm okay, we spoke a while back but what is Jeff doing these days? Catch us up.
JC: You know what? Not much has changed. I still have a band, I'm still actively doing that; there's a new reissue, that took a lot of time to put together; got a bunch of new songs for a new recording that's about two thirds of the way done with The Swimming Pool Q's, and various music projects like that.
MR: All right, let's do this, since this is sort of a celebration of the box set of the reissues of the combo of the two albums, go over a little bit of history.
JC: I was a writer living in Florida, a freelance writer going to school down there at the University of Florida and so forth. In the mid-seventies, that's what I was doing, but I always wanted to be in a band, so I started writing songs through that mid-seventies period and eventually ran into people in Atlanta, who were Glenn Phillips, the guitar player, Bob Elsey, who's a really brilliant lead guitar player, and Anne Boston and I decided to move up here and start the group. That was in early 1978, so I guess we were on the front end of the fusion of new wave and punk and all of that energy into the South, who was having it a little later than New York or London or LA or whatever. It was a very exciting time. So between Atlanta and Athens and all of the other really wild developments that were taking place, over the course of the five years there before A&M records happened, the South was a very exciting place to be if you were into creative pop music.
MR: And I was in Tampa in the late seventies, early eighties and I remember seeing the Swimming Pool Qs.
JC: That's right, you were in a band and we played at the University of South Florida.
MR: You remember that? Holy crap!
JC: Oh yeah!
MR: Yeah, we played The Empty Keg together.
JC: That's right!
MR: I remember that was a time when everybody was getting into The B-52's and basically, a lot of the Athens bands. As you described it, the South was discovering what all that was, but it was putting its own label on it, too.
JC: Well you know, that was '79 and as soon as we could, we started to tour the region to find a place where a band like The Swimming Pool Qs could play. That was quite an adventure because there weren't that many of our contemporaries who were interested in that. You didn't see a whole lot of any of that; pretty much everything was directed towards New York and CBGB's and so forth, so a band that wanted to do it kind of had the region to itself. We landed in Tampa quite a bit and had a really good following there. Everywhere you went in all of these towns in the Carolinas and so forth, a couple hundred people would always come out and see you that were also into the new wave kind of thing. Over the course of four or five years, all of the grass roots activity with Swimming Pool Qs and R.E.M. ultimately really turned into something bigger than that.
MR: Right, and it turned into something bigger than that for you, you ended up on A&M.
JC: That's right, we were a very hardworking group of people and we ended up just hammering away at it until we had a good demo in '82 and finally I figured out in '83 that California might be a good place to go to try and get some major label interest. That's what we did and we ended up signing with A&M.
MR: So those two albums with rarities discs make up this box set. How did you get signed to A&M? Do you remember the story?
JC: I had come to the attention of A&M in New York and they had sent our tape out to California in advance of me going out there, so they were aware of the band. When I got there, I had a friend named Mark Williams who was really young at the time and he worked in the alternative marketing department at A&M. He'd just moved there from Atlanta. Mark was very instrumental in helping get R.E.M. signed. He was just sort of a young, energetic kid. I sent our tape to him and he took it over to the A&R department to David Anderle and David liked it. I think having produced any number of artists in the sixties, Anderle really responded to Anne's voice and he liked my lyrics, so they came in to see us along with some other labels and we ended up going with them. It was really David Anderle who signed the band.
MR: Cool. He also worked with Joan Baez, Rita Coolidge and others on the label.
JC: He worked with so many people. He helped start The Beach Boys' "Brother" label, he was the guy who put that together as a business entity. He signed The Mothers Of Invention to Verve in 1966. Interesting account, he and Richie Unterberger spoke about folk rock, about how David Crosby asked him to come in to help sort out a problem on Joni Mitchell's first record, just a technical problem about which Anderle knew nothing but somehow he solved the problem, so from very early on in the modern pop business, Anderle seemed to be everywhere.
MR: I don't want to make this a "blame the label" story, but I'm curious about what your theory is on why they weren't able to turn the corner on your two albums. Or did they expect you to keep going past two albums but some other event happened?
JC: I think it's a little of both of those things. I don't think that we were the easiest band for a label like A&M to promote and I think that barring some sort of lucky break on radio or MTV or something like that, they were not going to know how to promote a band like The Swimming Pool Qs. So it had a real singular focus, plus we were ultimately a little remote from the label, being in Atlanta. I also think that there were intellectual aspects that made it a little tough for them to understand easily, although A&M were the smartest group of label people I ever met. There were just so many bright people there, but given the taste of the music business, I think it was a little too hard for them to totally get behind the group.
MR: So The Swimming Pool Q's, all these years later, you guys still play out.
JC: That's right, we're still a very active band, and really, the lineup is the same. It's a little odd; the lineup is exactly the same as it was in 1982 except that our bass player now was our original drummer who played on our first album, which is The Deep End, Robert Schmid, who you would know from University Southwater on drums. Then sometimes, we play with J.E. Garnett who was with us when we made the two A&R records and then it's the same as it was during that period of time. It's really kind of remarkable because the band's been together for thirty-five years. It's almost strange, you know?
MR: What do you attribute that to? You all like each other a little or something?
JC: Well, pretty much. I really believe in the band. Also, you have to know when to leave people alone. You're talking about pretty much everybody's adult lives for thirty-five years. Musicians go through all the usual transitions in their personal lives, so you have to know when to leave them alone and not pressure them too hard. I just sort of developed a knack for knowing when to say, "Hey, we're not going to be doing anything for a couple of months" or "Let's get together and work on these new songs" or "Let's record this and that" or "Let's do a reissue." I think that's a combination of me being a driven character and also knowing when to weight off. But also, the band had these "arty" or artistic origins so that's kind of why we started as a band to begin with. I think that helps sustain a group through things like commercial success or commercial failure. That's the reason why R.E.M. stayed together as long as they did or why The B-52s are still doing it. I think it's because they had more purely artistic intentions when they began as opposed to, "Let's get together and be big rock stars and take over the world," which is perfectly acceptable to me as a reason to start a band, it's just that art is where we come from. I think that the reasons why you got together are the reasons why you have stayed together in this case.
MR: Hey, we have a mutual friend, good old Matthew Sweet.
JC: That's right, I saw Matthew about two weeks ago.
MR: Nice.
JC: We're pretty old friends. He was in town playing on a package show with Soul Asylum, The Wailers and Big Head Todd. I went over and we hung out for a while. I really like Matthew a lot. He's quite a character. And you did that great compilation, it was just terrific, what you did over there at Universal. You were involved in a lot of great things over there.
MR: Thank you very much. Yeah that Matthew Sweet early years collection is one of my favorites and of course, that's where I became friendly with him. I really like him a lot, I think he's so talented, I don't understand why he's not a household name.
JC: He did have a little bit of success with Girlfriend and the records after that, but you know, he's super talented. The record you put together had all of that Buzz Of Delight stuff on it and I listened to that just recently. I think that was really kind of classic Athens southern new wave from the period, hyper intelligent, intricate and all of that stuff. Your name has turned up on a lot of things that I didn't even know you were involved in. Your name turns up on the Captain Beefheart Safe As Milk reissue, which is really good. I don't know exactly what you had to do with that.
MR: I produced the reissue, yeah. The archive department unearthed all those bonus tracks and I oversaw the project. That was my job over at BMG when we were trying to reboot or at least exhaust some of the catalog that was in Buddha. It eventually included RCA and Arista titles. Anyway, thanks for remembering that.
JC: Yeah, that was a terrific reissue. You must have also been involved in the Mirror Man reissue because there was some real continuity between those records. From those two reissues, you can really see a whole lost or missing aspect to that artist. That must've been a lot of fun.
MR: That was an interesting period, yeah. Hey, let's go to my traditional question, which is what advice do you have for new artists?
JC: I just think if you get involved in any kind of artistic pursuit, you just have to keep your head down and push ahead and when people say no, you hear yes. That's really it. At some point, if you're really not cut out to be doing this, it'll become clear that you really need to be doing something else.
MR: Were there any times that you felt like, "Hey, I can't really do this"?
JC: You know, there've been plenty of frustrating episodes for me, but I never really questioned whether to keep going doing it or not, you know? The people I work with in the band are just so good and our bonds are really strong and it's just never really occurred to me to not do it.
MR: Very cool that you hung in there. What's the future for The Swimming Pool Qs?
JC: We've got about two-thirds of the new album done, we're going to be a bit stingy. Three of those songs we're going to release initially to our Kickstarter supporters on this project and then we'll just release them generally sometime in the next month maybe. Then I'd like to finish up this new album.
MR: Jeff, this has been great, we need to stay in touch.
JC: I'd love to, man. I've often wondered what you were doing over the last few years.
MR: Me too.
JC: You live in Iowa?
MR: Yeah. But that's another story. Jeff, I'll talk to you soon, you're great.
JC: Thanks.
Tranascribed by Galen Hawthorne