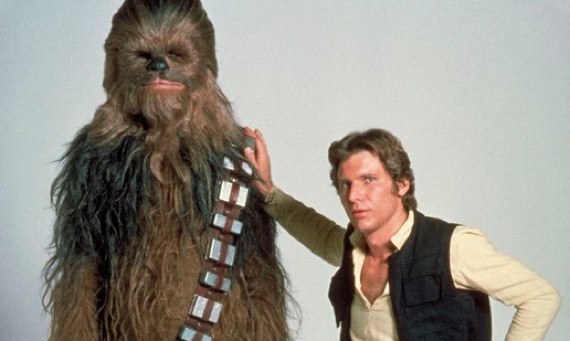 (Or! since Disney, Lucasfilm and everyone associated with the new Star Wars film is being mum on even the minute details, we may have just decided to create our own interview. And it's Friday afternoon. So, maybe that's the reason, too. Also, you're welcome, no one.)
So, Chewbacca, are you excited about the news that Harrison Ford may be returning as Han Solo?
When you think back on your time with Harrison in the original three Star Wars movies, what are your favorite memories?
Have you spoken to Harrison at all about Episode VII?
Yeah, I bet he does keep these types of decisions close to the vest.
No, there was no pun intended there.
What did you think of Morning Glory?
Yeah, I agree. It tanked at the box office, but I think it's some of the best work that Ford has done in the last few years, too.
I think the less we say about Firewall, the better.
What is your favorite Harrison Ford performance?
Interesting. I mean, sure, it was touching, but I would never have thought you would have cried during Regarding Henry.
Wait, that answer has nothing to do with the fact that J.J. Abrams wrote the screenplay for Regarding Henry, right?
Alright, alright! I'm sorry I even insinuated such a thing.
Have you heard anything about Mark Hamill or Carrie Fisher returning for Episode VII?
I suppose we'll just have to wait.
There's also a report that there will be a movie based on the adventures of a young Han Solo. Are you excited about working with a new actor playing that role?
If it were your decision, whom would you pick to play young Han Solo?
Oh, that's an interesting choice. I haven't heard his name mentioned before, but he makes perfect sense.
Can I offer you some blue milk?
Remember your Holiday Special? Boy, that was really bad, right?
Remember when you showed up in Revenge of the Sith? That's kind of weird, right? How small is this universe? I mean, you met Yoda.
Yeah, he seems nice. Hey, while you're here, can you clear up this whole "Kessel Run in less than twelve parsecs" thing? Isn't that a unit of distance, not time?
Well, I know your time is short. Thanks for talking to us today, Chewbacca. It was nice to meet you.
Mike Ryan is senior writer for Huffington Post Entertainment. You can contact him directly on Twitter.
SUBSCRIBE TO & FOLLOW ENTERTAINMENT
HuffPost Entertainment is your one-stop shop for celebrity news, hilarious late-night bits, industry and awards coverage and more — sent right to your inbox six days a week. Learn more