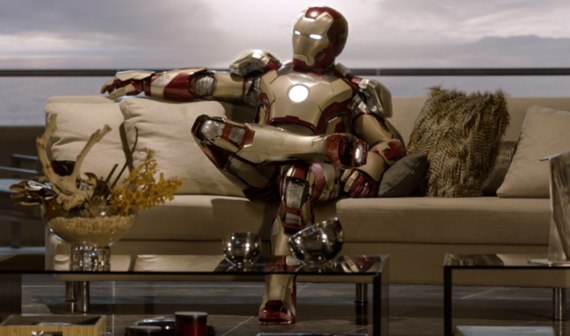 On May 3, summer blockbuster season kicks off here in the U.S. with the release of Iron Man 3. Once again, Robert Downey Jr. (Iron Man 2) reprises his role as billionaire playboy Tony Stark in the series, but this time there's a new director on board: Shane Black replaced Jon Favreau behind the camera for this installment. (Favreau, however, still appears onscreen as Tony's bodyguard-friend Happy Hogan.) Does Iron Man 3 improve on the fairly dismal Iron Man 2? Could Iron Man 3 possibly be the best of the Marvel movies? As a service, we answer every question that you could possibly have about Iron Man 3.
Q: Is Iron Man 3 the best of the Marvel movies?
A: Yes.
Q: Wait, Iron Man 3 is better than The Avengers?
A: As sheer spectacle? No. And I haven't forgotten how much fun The Avengers was last summer. But, as a movie from start to finish, Iron Man 3 is a better film.
Q: Is there a chance that I smell hyperbole?
A: First, hyperbole doesn't have a specific smell that I'm aware of. (If it did, I assume it would smell something like a warm tire.) But I saw Iron Man 3 10 days ago, so I've had at least some time for this to settle in. (Yes, I've spent way too much time thinking about this.)
Q: Where do we find Tony Stark when Iron Man 3 begins?
A: Iron Man 3 picks up shortly after the events of The Avengers. In fact, Tony's mental state in Iron Man 3 is influenced heavily by the events that occurred during The Avengers.
Q: What is Tony's mental state?
A: Tony is now prone to the occasional panic attack.
Q: Are the events from The Avengers specifically mentioned during Iron Man 3?
A: Yes. In fact, that's one of the best parts of Iron Man 3. Tony went through some serious shit during The Avengers and Iron Man 3 is smart enough to address all the fallout.
Q: How does Iron Man 3 begin?
A: Iron Man 3 begins with a flashback to a 1999 New Year's Eve party in which Tony meets a young botanist named Maya Hansen (Rebecca Hall) who is developing a technology called Extremis.
Q: What is Extremis?
A: Extremis allows living organisms to regrow extremities. Unfortunately, not every living organism's body accepts the Extremis treatment. If Extremis is rejected, it creates a very large explosion.
Q: How long do we spend in 1999?
A: Basically long enough for Tony to also meet Aldrich Killian (Guy Pearce), another scientist that Tony rejects. Of course, since this man is played by Guy Pearce, we meet him later in the movie and he has kept a grudge.
Q: Is there a Pulp Fiction reference during this scene?
A: Yes.
Q: Does Guy Pearce have a similar role to the one Sam Rockwell had in Iron Man 2?
A: I had assumed that this was the case, but no. I'll say this: Pearce's role in this movie is a lot larger and a lot more important than I had ever assumed.
Q: Does Tony have any new toys in this movie?
A: Tony has developed quite a few new Iron Man suits, and he's created a way to control the suits without actually being in the suit.
Q: Isn't The Mandarin in this movie?
A: The Mandarin, played by Ben Kingsley, is very much in this movie.
Q: In the comic books, The Mandarin is Chinese. How does Ben Kingsley pull this off?
A: In Iron Man 3 The Mandarin is certainly not Chinese. He's presented as a terrorist figurehead not unlike Osama bin Laden and he has a habit of interrupting regular scheduled programming to broadcast his propaganda videos.
Q: If I'm a huge fan of The Mandarin, will I enjoy how he's presented in this movie?
A: Well ... let's just say it's an extremely unique performance and we'll just leave it at that.
Q: Does Rhodey (Don Cheadle) have more to do in this movie than he did in Iron Man 2?
A: Not at first, but, by halfway though, Rhodey becomes a major player, fighting under the name Iron Patriot. In fact, everyone has more to do in Iron Man 3 -- Gwyneth Paltrow especially -- than in the prior movie.
Q: Why is this?
A: The biggest problem with Iron Man 2 (notwithstanding Mickey Rourke's awful performance) is that there is just so much going on. Not only were there the characters that are essential to the Iron Man movies, but Iron Man 2 also had to deal with all of the pre-Avengers buildup nonsense. I mean, even Jon Favreau's Happy Hogan has a nice little part in Iron Man 3.
Q: Wait, what's an Iron Patriot?
A: The U.S. government rebranded Rhodey's former alter ego, War Machine, to something a little more ... patriotic -- which includes a new red, white and blue exterior. This becomes a running punchline for most of the movie.
Q: There are still a lot of characters. How does it not get too crowded like Iron Man 2 did?
A: It's funny, even though Iron Man 3 is a big summer Marvel movie, it still somehow feels intimate at times -- which is a credit to director Shane Black.
Q: Intimate?
A: There's a good half hour portion of the movie in which Tony Stark is stranded in Tennessee and doesn't have access to the Iron Man suit -- all the while Tony has to solve a mystery without access to his technology. (Plus Iron Man 3 is set during Christmastime, which also helps building a sense of intimacy.)
Q: Does Iron Man 3, once again, end with Iron Man fighting another human being wearing an iron suit?
A: Thankfully, no.
Q: What is the worst thing about Iron Man 3?
A: As with any superhero movie, there are a few hokey moments, especially near the end. Fortunately, there are quite a few less than normal.
Q: What's the most impressive scene that you've watched in the past year?
A: There's a sequence in Iron man 3 in which quite a few people are thrown out of an airplane in midflight. The scene of Iron Man trying to rescue them was filmed using a honest-to-goodness real parachute team. In other words: Real human beings! In more other words: Yes, CGI in 2013 is great, but the human eye can still tell the difference what's real and what's not.
Q: What is the funniest thing about Iron Man 3?
A: Tony Stark's interactions with an adolescent boy while Tony is stranded in Tennessee -- which, I know just by typing this, sounds corny. But it's done extremely well.
Q: How many times does Tony Stark call an adolescent boy a "pussy" in Iron Man 3?
A: Once.
This story appears in Issue 47 of our weekly iPad magazine, Huffington, in the iTunes App store, available Friday, May 3.
Mike Ryan is senior writer for Huffington Post Entertainment. You can contact him directly on Twitter.
Summer Movie Preview 2013
Tony Stark is back in "Iron Man 3," which picks up after the events of last summer's "Marvel's The Avengers." Robert Downey Jr., Gwyneth Paltrow, Ben Kingsley, Rebecca Hall, Jon Favreau, Guy Pearce and Don Cheadle all star. Shane Black replaces Favreau behind the camera as director.

F. Scott Fitzgerald's classic novel gets the Baz Luhrmann treatment: 3-D and a soundtrack by Jay-Z. (Go all-in, however, on Joel Edgerton's mustache.)

Craig Robinson and Kerry Washington star in the comedy "Peeples," produced and presented by Tyler Perry. (Tina Gordon Chism wrote and directed the film.)

Chris Pine, Zoe Saldana, Zachary Quinto, Simon Pegg, Anton Yelchin, John Cho and director J.J. Abrams all return for "Star Trek Into Darkness," the highly anticipated sequel to 2009's "Star Trek." Boldly go, especially with newcomers Alice Eve (as a potential love interest for Kirk) and Benedict Cumberbatch (as a terribly evil villain).

Co-written by Noah Baumbach and star Greta Gerwig, "Frances Ha" focuses on Frances (Gerwig), a young woman navigating life and love in New York. "This is a celebration for me," Baumbach said at the New York Film Festival last year. "One idea for the movie was that we could make it like a great pop song, so that as soon as it's over, you want to play it again." Just as an FYI: You will.

From "Ice Age" director Chris Wedge comes an action-adventure about good and evil and all that stuff. What you'll want to note is the bananas vocal cast: Beyonce, Pitbull, Steven Tyler, Josh Hutcherson, Amanda Seyfried, Aziz Ansari, Christoph Waltz, Chris O'Dowd and Jason Sudeikis.

It all ends. Bradley Cooper, Ed Helms, Zach Galifianakis, Justin Bartha, Heather Graham, Ken Jeong, John Goodman and Melissa McCarthy star.

The movie that will make you believe a car can drive through the cockpit of an exploding plane.

The third film in Richard Linklater's "Before" franchise (following "Before Sunrise" and "Before Sunset"), "Before Midnight" is one of 2013's best movies thus far. Ethan Hawke and Julie Delpy reprise their roles, respectively, as Jesse and Celine.

Magic bank robbers! No, really: "Now You See Me" is about magicians who rob banks. The cast is impressive here: Jesse Eisenberg, Mark Ruffalo, Morgan Freeman, Michael Caine, Isla Fisher, Melanie Laurent, Woody Harrelson and Dave Franco.

Will and Jaden Smith star in this post-apocalyptic thriller from M. Night Shyamalan.

Alexander Skarsgard, Ellen Page and Brit Marling star in this "Fight Club"-y thriller about environmental terrorists and the law enforcement agent (Marling) who infiltrates their ranks.

Formerly called "Toy's House," "The Kings Of Summer" focuses on three friends who build a house in the woods after running away from home. Think "Stand by Me," "The Goonies" and "The Tree of Life," but with Ron Swanson as co-star. (Nick Offerman plays one of the boys' dads.) This excellent indie debuted at Sundance.

Vince Vaughn and Owen Wilson reunite for the first time since 2005's "Wedding Crashers" for "The Internship," a comedy about two middle-aged guys taking internships at Google. Is it OK to say that this looks really funny? Cool, thanks.

One week after "Before Midnight," Ethan Hawke also stars in the horror thriller "The Purge," a film about home invasions on steroids.

Joss Whedon takes on Shakespeare in this modern-day adaptation of "Much Ado About Nothing." A charming diversion with no superheros in sight.

You'll believe a man can fly. Henry Cavill, Amy Adams, Michael Shannon, Kevin Costner, Diane Lane and Russell Crowe star.

Seth Rogen, James Franco, Danny McBride, Jonah Hill, Craig Robinson, Jay Baruchel, Michael Cera, Emma Watson and dozens of other stars play themselves ("themselves") in Rogen's directorial debut, an all-out, R-rated apocalypse comedy. (Rogen co-wrote and co-directed with Evan Goldberg, his "Superbad" collaborator.) "This Is The End" has the most lol-worthy trailer of the year. (NSFW, of course.)

Sofia Coppola's take on the notorious Burglar Bunch, a group of Los Angeles teens who robbed from stars like Paris Hilton. Emma Watson and this movie for all the wins.

This Sundance hit focuses on famed back-up singers like Darlene Love.

Mike and Sully are back in this prequel to "Monsters, Inc." Expect bank.

Originally set for release last December, "World War Z" finally arrives in theaters this June. Will the Brad Pitt film overcome a troubled production (including last-minute rewrites and reported fights between Pitt and director Marc Forster) and find its audience? Since zombies are so hot right now ("Zoolander" reference), don't bet against that happening.

"The Heat" was supposed to come out on April 5, but Fox was so happy with the film that the studio moved Paul Feig's comedy into the heart of the summer. The red-band trailer, shown here, helps explain that decision. (It's the best.) Sandra Bullock and Melissa McCarthy star.

Channing Tatum (as wannabe Secret Service agent) and Jamie Foxx (as the President of the United States) team up to stop the U.S. government from crumbling from the inside. Roland Emmerich ("Independence Day") directs. Yep, in.

Get excited: This is Pedro Almodovar's first film in two years.

"Despicable Me 2"; or, ka-ching, ka-ching, ka-ching. (It's going to make a lot of money.)

Disney's $250 million gamble: will audiences want to see "The Lone Ranger" with Johnny Depp when Johnny Depp isn't playing "The Lone Ranger"? (He's Tonto.) Gore Verbinksi (the "Pirates" franchise) directs, so don't be surprised if the answer is yes.

Sleeper hit potential: Kevin Hart's last concert film, "Kevin Hart: Laugh At My Pain," earned a surprise $7.7 million at the box office in 2011.

From Oscar-winning screenwriters Nat Faxon and Jim Rash ("The Descendants"), "The Way Way Back" looks like the type of charming indie that Fox Searchlight normally releases during the summertime. That's probably why the studio spent $10 million to acquire the film -- co-starring Steve Carell, Sam Rockwell, Maya Rudolph and more -- at the Sundance Film Festival in January.

Because you've always wanted to see a deer pee on Adam Sandler's face.

Robots vs. monsters! Guillermo Del Toro directs what will be your geeky cousin's favorite movie of 2013.

Michael Cera play an American jerk searching for a mystical high in this Sundance comedy.

This movie is so scary that the MPAA gave it an R-rating despite a lack of violence or bloodshed. Translation: Too scary.

Jeff Bridges and Ryan Reynolds star in this high-concept adaptation of the graphic novel of the same name. From IMDb: "A recently slain cop joins a team of undead police officers working for the Rest in Peace Department and tries to find the man who murdered him."

Since "Red" left so many unanswered questions. (Hey, Helen Mirren!)

Fun with real log lines: "A freak accident might just help an everyday garden snail achieve his biggest dream: winning the Indy 500."

Kristen Wiig, Darren Criss and Annette Bening star in this comedy-drama about a New Jersey native (Wiig) who returns home to live with her mother (Bening) after faking a suicide attempt.

Hope it's better than "X-Men Origins: Wolverine."

Woody Allen's annual film stars Cate Blanchett, Bobby Cannavale, Alec Baldwin, Louis C.K. and Andrew Dice Clay.

The Sundance Film Festival Grand Jury Prize winner for 2013 tells the story of Oscar Grant (played by Michael B. Jordan, pictured), a Bay Area resident who was shot and killed by police on New Year's Day in 2009.

Denzel Washington and Mark Wahlberg team up to star in what should be the best movie ever.

Because you've always wanted to see a sequel to "300." UPDATE: MOVED TO 2014.

This again.

Another Sundance favorite, "The Spectacular Now" is an excellent coming-of-age drama that recalls "Say Anything." Shailene Woodley and Miles Teller lead the film, and will become superstars after this release.

Surprise! This actually looks pretty fun.

Matt Damon and Jodie Foster star in Neill Blomkamp's first film since 2009's "District 9." Get excited now.

Featuring the voices of Dane Cook and Val Kilmer.

Jennifer Aniston, Jason Sudeikis and Ed Helms star in this comedy about a pot dealer who uses a family to transport his drug supply into the United States from Mexico.

Lake Bell won the Waldo Salt screenwriting award at Sundance this year for "In A World," a comedy about a vocal coach with dreams of becoming a voice-over artist.

Chloe Moretz, Aaron Taylor-Johnson and Jim Carrey star in this sequel to "Kick-Ass."

Rooney Mara and Casey Affleck star in "Ain't Them Bodies Saints," another film that made waves at this year's Sundance Film Festival.

Aubrey Plaza stars in this R-rated comedy about a young woman looking to become a sexual pro before college.

If you're not in the mood for "Percy Jackson."

Director Edgar Wright and stars Simon Pegg and Nick Frost team together for a third time with "The World's End," an apocalypse comedy set in England. Their previous efforts were "Shaun of the Dead" and "Hot Fuzz" so put this on your radar.

Too scary.

[SCREAMS]

Eric Bana and Rebecca Hall star in this new thriller from "Boy A" director John Crowley.
Follow Mike Ryan on Twitter: www.twitter.com/mikeryan