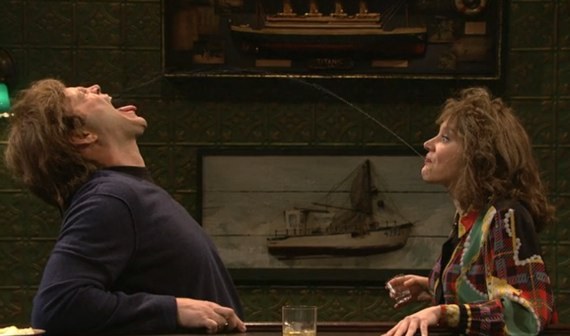 What an odd show this was. In that I can't remember the last time a host -- in this case, Vince Vaughn -- had that much energy during the monologue, yet the rest of the show felt so ... sluggish. In a weird way, I feel a little bit duped. I totally bought into Vaughn's had-to-be-mostly improvisational speech about the rocket ship of a show needing fuel. For whatever reason, I'm not sure that fuel ever arrived. (Though, there were some highlights.) Off we go to a slightly disappointed scorecard ...
Sketch of the Night
"History of Punk" (Bill Hader, Fred Armisen, Taran Killam, Bobby Moynihan, Jason Sudeikis, Vanessa Bayer) It makes me laugh just imagining Fred Armisen coming up with the name "Ian Rubbish" (assuming he was the one who came up with that name, that is -- but it sounds like an Armisen-type name). OK, this sketch was fantastic -- and was a perfect way to address the death of Margaret Thatcher. It's always tricky to do a comedy sketch about the death of such a polarizing political figure, but somehow, this comes off with a point (that the British punk rock movement was pretty much galvanized around its hatred of Thatcher) without being offensive to someone who just died (because Armisen's Ian Rubbish loved Thatcher).
Score: 9.0
The Good
"Vince Vaughn Monologue" (Vince Vaughn, Bobby Moynihan) As I noted in the opening paragraph, Vince Vaughn's monologue was terrific. I was worried that Vaughn was going to field fake questions from cast members -- which is always the go-to "we don't know what else to do" monologue -- but Vaughn did quite a great job interacting with real (and quite nervous) audience members. There was an energy in this monologue that I haven't seen in quite some time, it's just a shame that most of the rest of the show couldn't feed on that.
Score: 8.0
"Al Pacino HBO Biopic" (Bill Hader) A few days ago, I caught the last half of the HBO movie "Phil Spector," starring Al Pacino as Spector. Two things stood out: Pacino's Spector sounded just like Al Pacino and I felt like I had just seen this movie, only Pacino was playing Jack Kevorkian. Someone at "SNL" was thinking the exact same thing, with an end result of seeing Bill Hader's Pacino -- which is always a good thing.
Score: 7.3
"The Teshes" (Tim Robinson, Vince Vaughn, Jason Sudeikis, Kenan Thompson, Kate McKinnon) By the end of this sketch, I was convinced that NBC's now iconic basketball theme music (yes, written by John Tesh) does need lyrics. This is the kind of stuff that I love seeing Tim Robinson do. Unfortunately, a sketch set in 1990 about John Tesh and his lyrics loving fictional brother might just be a bit too esoteric for just about everyone watching other than me. In other words: I want to see more of this kind of stuff because it's just so odd, but I have a feeling it will be too few and far between.
(Not online due to song rights issues.)
Score: 7.0
"Last Call II" (Vince Vaughn, Kate McKinnon, Kenan Thompson) We've seen this before when Louis C.K. hosted. For whatever reason, this version seemed watered down in comparison. Louis C.K. took this much further than Vince Vaughn did. I just think that if a sketch is going to be repeated, it should up the ante a little bit -- which didn't happen here.
Score: 6.0
The Bad
"The Weather Channel" (Taran Killam, Vince Vaughn, Kate McKinnon, Tim Robinson, Cecily Strong, Bill Hader, Aidy Bryant, Kenan Thompson) I bet this idea sounded hilarious in the pitch meeting. I mean that with all sincerity. The concept is fantastic, but the execution came off as if I really was watching a soap opera on The Weather Channel. This is one of those types of sketches that I didn't particularly care for, but would love to see it tried again.
Score: 5.5
"Cold Open: Gun Control" (Jay Pharoah, Jason Sudeikis, Bill Hader) Finally, here's a gun control sketch that I have a feeling Jay Pharoah has been wanting to do for quite some time. Unfortunately, Pharoah didn't have a lot to do with this sketch. Instead, it played off senators Joe Manchin and Pat Toomey's bipartisan bill and how ineffective it will be, even if it passes. Instead of biting "it's funny because it's true" satire, it came off more like "it's depressing because it's true."
Score: 5.0
"Weekend Update" (Seth Meyers, Kenan Thompson, Jason Suedikis, Kate McKinnon) Very little worked for me on this edition of "Update." While last week just about everything seemed to click, it seemed as if Meyers was really stretching for some of his jokes. Thompson and Sudeikis were fine as LL Cool J and Brad Paisley discussing "Accidental Racist," but this really should have been its own sketch. Something we could have seen happen, as opposed to these two just talking about it. (Also, when the subject of a parody is so bizarre -- in this case, "Accidental Racist" -- it's really hard to make that parody more interesting than the original subject.) McKinnon's character who was raised by monkeys was ... good, but it did seem to go on a bit too long. Not "Drunk Uncle" long, but still a bit long.
Score: 4.7
"Short Term Memory Loss Theater" (Bill Hader, Aidy Bryant, Vince Vaughn, Fred Armisen, Jay Pharoah) Perhaps these were emotions that were only specific to me, but, for whatever reason, I was waiting for something big to happen in this sketch. Perhaps it was because Bill Hader kept breaking character. This is something that, yes, Hader does from time to time, but usually right before he says something particularly funny, not while feeding dull lines of a play to characters who all suffer from short term memory loss. Now knowing what I know about this sketch, I wish Hader had just fully lost it, which would have most likely resulted in Fred Armisen loosing it, which would have resulted in a much more interesting sketch.
Score: 4.0
The Ugly
"Junior Prom" (Aidy Bryant, Kenan Thompson, Bill Hader, Vince Vaughn, Bobby Moynihan, Taran Killam, Nasim Pedrad, Jay Pharoah, Tim Robinson) I still have no idea what this was, what this was trying to accomplish, or how this ever made it to the air. Honestly, I would watch an entire documentary about this sketch. A documentary about how this sketch was ever conceived and why it sounded so funny at the pitch meeting and why it continued to be funny at the table reads. I have no doubt that, for whatever reason, it had to be funny during the week leading up to the show. I am not strangely obsessed with a sketch that I hated.
Score: 1.0
Average Score for this Show: 5.75
· Christoph Waltz 7.03
· Justin Timberlake 6.40
· Martin Short 6.28
· Christina Applegate 6.13
· Seth MacFarlane 5.93
· Louis C.K. 5.92
· Anne Hathaway 5.87
·Melissa McCarthy 5.86
· Bruno Mars 5.81
· Vince Vaughn 5.75
· Adam Levine 5.71
· Joseph Gordon-Levitt 5.51
· Kevin Hart 5.47
· Jamie Foxx 5.43
· Jeremy Renner 5.39
· Jennifer Lawrence 5.38
· Daniel Craig 5.35
· Justin Bieber 5.23
Mike Ryan is senior writer for Huffington Post Entertainment. You can contact him directly on Twitter. Click below for this week's "SNL," Not Ready For Primetime Podcast featuring Mike Ryan and Hitfix's Ryan McGee.