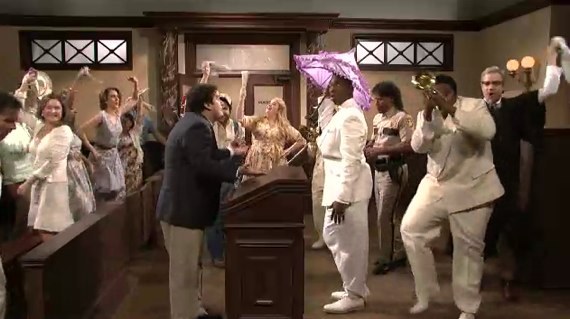 This is one of the few weeks in which my feelings toward the previous show have deteriorated since my initial review -- a review in which I already wasn't a particularly huge fan of what I had seen. (Well, except for "Maine Justice." Boy, that was great.) Again, coming off a break, and only one more show until a long break, everything felt stagnant. As we all place are wagers on if we'll see the return Ed Grimly in next week's Martin Short-Paul McCartney, here's this week's Relevancy Poll for your consideration...

1. Vanessa Bayer (Last Week: 10) It's interesting that Vanessa Bayer was the only cast member with two true starring roles, yet it doesn't really feel like she (nor any other cast member) had a particularly remarkable week. I suppose it was just that type of show (i.e. not a great one).

2. Jason Sudeikis (Last Week: 2) The "Final Season of Jason Sudeikis" train keeps on rolling. And we were only one Jason Bateman appearance away from a "Horrible Bosses" reunion during "Maine Justice."

3. Kenan Thompson (Last Week: 14) It was refreshing to see Kenan have such an active role in the show this week.

4. Aidy Bryant (Last Week: 11) It's official: Aidy Bryant has fully recovered from her early season slow start.

5. Taran Killam (Last Week: 3) I really can't decide if it's Taran Killam or Bobby Moynihan who does the better "everyman/game show contestant" character.

6. Jay Pharoah (Last Week: 8) Now that the election is over, I would like to see Pharoah bring more bite to Obama. I mean, sure, it's already an improvement over what we were seeing from Armisen near the end of that run, but it just feels like there's another level not explored yet.

7. Bill Hader (Last Week: 5) Rewatching "Dylan McDermott or Dermot Mulroney," I concur with Ryan McGee in this week's podcast (embedded at the bottom of this post for your listening pleasure, if you so choose to do that): Hader has an impressive ability to pronounce both of these actor's names.

8. Bobby Moynihan (Last Week 6) I've decided from earlier: It's still Bobby Moynihan.

9. Seth Meyers (Last Week: 1) Meyers was fine, but nothing particularly memorable (well, except that "fell asleep during a haircut" line.)

10. Cecily Strong (Last Week: 7) I appreciate the fact that Cecily Strong is having a terrific first season to this point, but I would like to see something that doesn't involve a thick accent. Then again, if it's getting airtime, it's hard to break away from that.

11. Nasim Pedrad (Last Week: 13) I hate saying this, but I'm starting to get concerned here. Another week of just one fairly thankless role. I hope this changes soon.

12. Fred Armisen (Last Week: 4) Not a lot to do on the actual show, but do you have any interest in watching Fred Armisen laugh his way through a sketch cut at dress rehearsal? Of course you do!

13. Tim Robinson (Last Week: 12) I get the sense that Tim Robinson is going to explode something terrific soon. It's in him, just bubbling on the surface, waiting to erupt. It's coming. I can feel it. I can feel it!

14. Kate McKinnon (Last Week: 9) It's so weird seeing her down here.


Mike Ryan is senior writer for Huffington Post Entertainment. You can contact him directly on Twitter. Click below for this week's "SNL," Not Ready For Primetime Podcast featuring Mike Ryan and Hitfix's Ryan McGee.