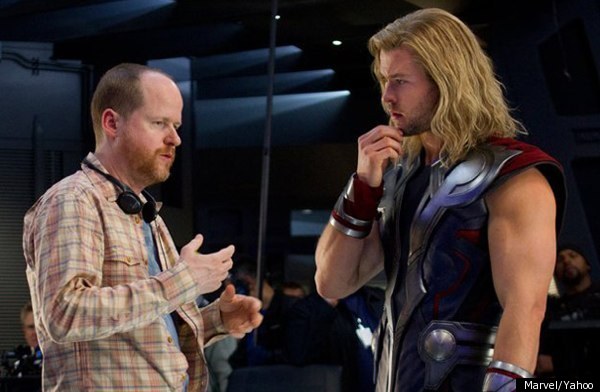 Today, on Yahoo!, an assortment of behind the scene photos were released from a movie that you've probably heard of called The Avengers. It's always, well, bizarre to see a man wearing a superhero costume standing next to a man not wearing a superhero costume. So much so, that it's almost impossible to look at this photo of Joss Whedon standing next to Chris Hemsworth and not immediately think, Hey, look, it's Joss Whedon and Thor. But if that really is Thor (it is), what's going through Thor's head at this exact moment? I mean, it looks like he's really thinking. Here are our eleven best guesses.
If you think that you know what Thor is thinking, let us know in the comments.
1. "I see this human's point."
2. "This human confuses me."
4. "By Odin's Hammer, I will nail your scene, human."
5. "Right, right, I see your point. Or, how about I just crush you, human."
6. "Why does this human keep referring to me as 'Chris'?"
7. "I don't like this human's one-button-buttoned dress code."
8."Who is this "Buffy" that this human keeps referring to?"
9. "Why does this human insist that I filmed a movie in 2008 called The Cabin in the Woods?"
10. "Why does the color of this human's beard match the color of his hair and mine doesn't?"
Mike Ryan is a senior writer at The Huffington Post. He has written for Wired Magazine, VanityFair.com and GQ.com. He likes Star Wars a lot. You can contact Mike Ryan directly on Twitter

SUBSCRIBE AND FOLLOW
Get top stories and blog posts emailed to me each day. Newsletters may offer personalized content or advertisements.
Learn more