Topeka, KS -- As America continues to mourn for our loss at Sandy Hook, more gun violence in Topeka, Kansas results in two of America's finest slain and a community in shocked grief.
Last night, phone calls went to Topeka police department due to a suspicious vehicle being parked outside a Dillon's grocery store. Three officers responded to the scene, as is standard in their duty to protect and serve the public. When officers approached the vehicle, eye witnesses in the store and neighborhood report that an immediate exchange of gunfire took place and two officers were hit.
An eyewitness reports that one officer was seen laying on the ground, with obvious bullet wounds to the torso. The other officer was seen holding his head. According to Police Chief Ron Miller's report on Kansas First News' live telecast, the two wounded officers died at an area hospital. The third officer responding to the scene was uninjured.
Within moments after the shooting, over 20 police cruisers surrounded the store and many more canvassed the neighborhood. The police department has released information about the suspect and near time of report, the suspect was shot after another shoot-off and died of wounds at a local hospital. The mourning community started to hold vigils near the city's police headquarters after the shooting.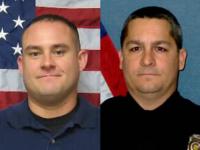 The two heroes who fell in the line of duty have been named: Cpl David Gogian, 50, and Officer Jeff Atherly, 29.
In a week marred with gun tragedy, it is seriously time for America to grow up and face the question we have been avoiding: how can we reduce gun violence?
Yes, our Constitution does give us the right to bear arms. We should never remove that right and freedom for our lives. The wisdom of our founding fathers for placing this tenet of law so high should not be ignored or discarded. Wisdom must also be applied when deciding how law applies to modern time and technology.
Modern firearms are deadly, quick and accurate. In the hands of a person who has stolen the guns, or may not be mentally competent, as we have seen this is a horrible thing.
The recent spats of gun violence bring up interesting questions about the habits of our society. Do we possess technology that allows a gun to only fire if activated by the DNA or fingerprints of an owner? Do we really have adequate and available mental health facilities and medicine for those in need?
There is no excuse for these type of crimes, but there is a world of improvement we can make that can give what we need most right now: working together. We do need to make sure our right to arms is not infringed upon or opened to a slippery slope of declining rights. The NRA has voiced concerns of such for years and are right to do so. On the other hand, we must control guns. Why not use our technology to do so, and why not council those who are prone to violence to the best of our ability?
Taking away guns does not take away criminal intent or planning. Before the widespread availability of guns, massive violence and acts of horror existed. We need to only review history and human bloodshed to know this fact. To curtail violence in humans is an impossible task: some people will always just be deranged. Making guns 'illegal' is obviously not a choice: the notion is unconstitutional and just like 'illegal drugs', they will always find their way to the hands of those who want to inflict violence or their coercive will upon others.
An activation system for guns should be considered. In the world of iPhones with the power of a computer and placing a rover or Mars, it is within our technological ability. And access to better psychological care, especially for those with chronic needs, must be addressed. We can never control or eradicate violence from popping up in some people, but we as a society can work together to cleverly, and beyond political posturing, curtail it.
May comfort and peace be upon the Topeka community, the families of these brave officers and the rest of the nation during this time. And let us hope that we can work together to come up with responsible solution to end the rise of gun violence.