The Typhoon and Global Warming
Drawing editorial cartoons about natural disasters and human tragedies are the hardest ideas to formulate and execute. The task is to create a clear and concise point that won't be misinterpreted as offensive while avoiding the clichés and shopworn images that we often see in cartoons about unfortunate events. When considering ideas for a cartoon about the suffering in the Philippines, I wanted to steer clear of images of piles of debris, tears or cries for help. These images tell us what we already know: The human toll is incredible. So instead, I chose to focus on the possible cause of this terrible destruction.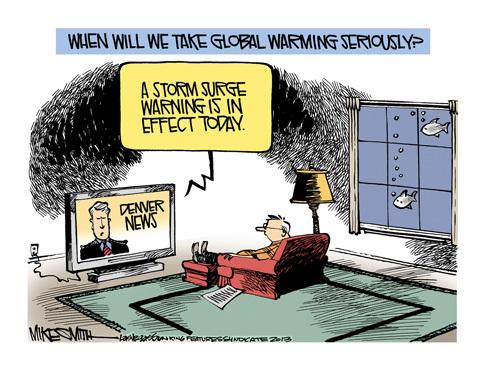 See more cartoons by Mike Smith at Las Vegas Sun.
Follow Mike Smith on Twitter: www.twitter.com/@smithtoons