THE BLOG
Experiential Eating at Noma: The World's Best Restaurant?
It began with fried moss and nearly ended at the sight of two prawns visibly wriggling within a tightly sealed glass jar, carefully positioned atop robust cubes of ice. Eyes widened, Tim and I exchanged nervous glances, stupefied by what would be the least conventional of our 28 courses at Noma, and that's saying a lot.
Recently named the world's best by the San Pellegrino World's 50 Best Restaurants, Noma inhabits a distinct gastronomical place: imaginative, yet down to Earth. Although it's practically impossible to attain a reservation (my friend Tim knows a Danish food critic, which is how we scored ours), any concerns of pretension evaporate upon arrival.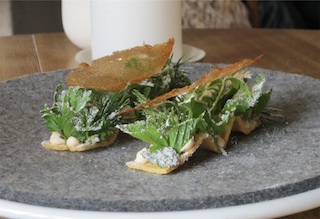 Pontus the Sommelier coolly accepted the rather embarrassing admission that I don't drink wine (pesky intolerance) and agreed to bring me a selection of earthy local ales throughout my meal, including the Noma house beer, brewed by Mikkeller. This friendliness extended to every member of Noma's staff. Chefs from all over the world put finishing touches on their courses, visible from behind the glass-fronted kitchen, before whisking them to our table with wide grins.
Time stood still as we tentatively loomed over the prawn prison. I tried in vain to reconcile my inner wildlife conservationist with my other half, the adventurous foodie, when Tim finally broke the deafening silence.
"When in Rome."
With that adage, we reached into the glass encasement, simultaneously grabbing for the prawns' torsos lest they suffer separation anxiety atop death phobia. We dipped their writhing bodies headfirst into an accompanying beurre noisette and stuffed them into our mouths where they heroically resisted defeat like Davy Crocket at the Battle of the Alamo.
In retrospect, I wouldn't do it again, the live-prawn eating that is.
But I'd certainly revisit Noma.
Sit beneath its wooden-beamed ceilings in a place where understated elegance reigns. Survey the glistening inlets of Copenhagen's waterfront while noshing on unusual ingredients. Although molecular gastronomy typically vexes me, I appreciated Noma's insistence on creativity; its particular breed of innovation demands active participation. Every course requires the diner to use his hands, from manipulating those rebellious prawns to opening the egg-shaped container of smoked quail eggs.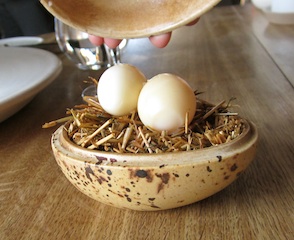 Ultimately, these experiences make a greater impression than the courses they accompany. They are what we affectionately recall (or in the case of the prawns, revile) years later when the tastes we shared have melted away.