In Hawaii, birthplace of the genetically modified papaya, a top restaurant launches a GMO-free menu.
There may be no free lunch, but you can have a GMO-free lunch, and I just ate one. True, it's no easy feat in the face of a marketplaces flooded with unlabelled GM (genetically modified) foods. Eighty-six percent of U.S. corn is now genetically modified (GM). USDA has approved two new GM crops, beet sugar and alfalfa; giant GM farmed salmon may be next. In Hawaii, birthplace of the GM papaya, GM corn and other seed crops provide the largest agricultural commodity sales, so it's an industry with a lot of clout in islands so recently dependent on monoculture pineapple and sugar cane. Thus I was pleasantly surprised to learn that, starting April 1, the storied Halekulani Hotel in Waikiki will be offering a GMO-free menu in its popular Orchids restaurant.
I called Vikram Garg, executive chef, to find out more, and he invited me for the non-GM lunch. We met on the seaside terrace at Orchids on a bright, windy afternoon of small surf, four days after the Japanese earthquake and tsunami prompted the vertical evacuation of Halekulani and other hotels in Waikiki. Chef Vikram presided over our table with the slightly distracted air of a boss not used to sitting down on the job. Asked why he was creating a GMO-free menu, "Personally I'm not against anything GM," he replied, but if it's in the plant you eat, it's going in your body. And do we need to do it? Of course not " The new menu, Garg said, was the result of a brainstorming conversation he had with Peter Shaindlin, Halekulani's COO, last year at the urging of both their wives, "who are really into healthy food."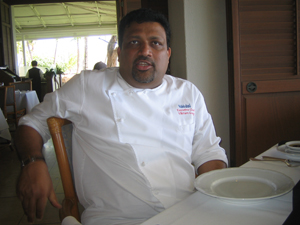 Asked whether Halekulani guests, about 50% of whom come from Japan, which resisted importing GM papaya for more than a decade before accepting it last year, asked for GMO-free food, Garg shrugged. "There might be 2%, but we are here to give the option to all our guests," he said, adding that he's also trying to alleviate confusion over the many competing green labels and claims, not all of them authentic. He wants people to know that, while certified organic foods are GMO-free by definition, "GMO-free doesn't have to be organic." In the absence of organic certification, Garg sources GMO-free foods by "asking every farmer what kinds of pesticides they use and what else they're growing on that land." Finally, he requests a written assurance that they don't use GMOs.
Avoiding GMOs provides one more reason to choose fresh, sustainably produced local whole foods rather than processed foods likely to contain GM corn, canola or soy."Let's say there's a natural disaster in Hawaii-no boats, no planes can come in. If we can increase what we can eat, source locally, we won't worry so much. It's a way of life-we need to get there," Garg said, not having to mention Hawaii's most recent scare.
In addition to food security issues, environmentalists and heritage food advocates fear that pollen drift from GM crops is contaminating non-GM crops and harming biodiversity ; others worry about the spread of food allergies and the ethics of combining animal with plant genes. But what matters most to Garg, he said, is the superior taste of the fresh local, sustainably produced foods that are the focus of his closely vetted, GMO-free menu as well as most of the food at Orchids.
The GMO-free salad is a colorful heap of Hamakua Farms mushrooms ( "the flavor is mostly from the mushrooms-we grill them just enough to bring it out"), thin-sliced Wailea hearts of palm, red onions, sea salt, and spotless Sumida Farms watercress. The only non-local ingredients are the Italian olive oil ("no olives are GM") and aged balsamic vinegar ("for the sweetness, less acid"). "The main idea is that people not think that with GM-free you can't have a dish that tastes like this," Garg said. "On the contrary, you get the best of all these flavors--and, it's not GM."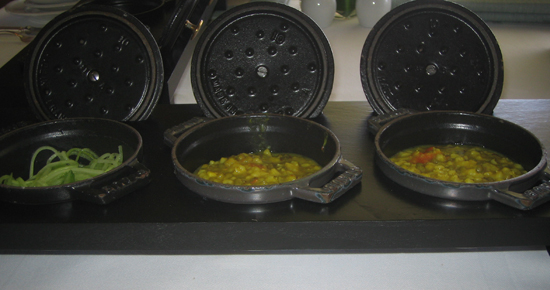 The entree, organic green lentil and brown rice risotto, was pure comfort food, graced with Hamakua tomatoes and seasoned with turmeric, cumin, salt and asafoetida, a vegetable gum."We call it kichidi, and this is my mom's recipe; when I go home to India this is always my first dinner, because she knows I love it."
Garg was born and raised on Neil Island in the Bengal Sea. The family ate a meat-free diet. His parents still grow tomatoes, okra and aubergines in their garden, and compose each meal based on what they find in the market that day; Garg grew up without a refrigerator or canned food. There is no can opener in the Aina Haina home where he and his wife, Abhilasha, are raising their daughters-but there is food growing in container gardens.
Confession: Because the GMO-free desserts weren't ready yet, I indulged in a huge slice of the Halekulani's classic coconut cake, layered with creme anglaise. Not only was it non-vegan, but the coconut, ironically, wasn't local, Garg said, despite the coconut palms surrounding us all up and down the shore. Still, I didn't regret it. At least the cream was organic.
While Halekulani buys on such a massive scale, for its five restaurants plus room service, that it can't exclusively rely on local foods, they're Garg's first choice: "Cook globally, source locally" is his mantra. In a marketplace where the industry continues to block consumer demands for labeling foods containing GM ingredients, the best assurance we've got, he said, is fresh whole foods (except for papaya). "The less processed it is, the more information we have." From Orchids, we could see the beach where, on the day of Hawaii's tsunami watch, a dozen wading visitors were swept offshore and had to be rescued; one 79-year-old was pulled under and nearly drowned. Veteran lifeguards said they had never seen small waves of such power and reach. It seemed a good reason for having caution in the face of all sorts of unknowns, including GMOs.
SUBSCRIBE TO & FOLLOW THE MORNING EMAIL
The Morning Email helps you start your workday with everything you need to know: breaking news, entertainment and a dash of fun. Learn more