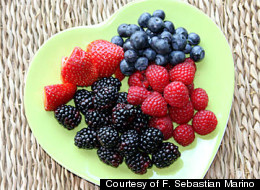 February is Heart Month. Since heart disease is the No. 1 killer of men and women in the U.S., I thought I'd focus on prevention.
After all, if you prevent heart disease, you're very unlikely to die from it.
Here's a new Harvard study that says women who eat three or more servings of strawberries or blueberries a week can lower their risk of heart attack by 32 percent. The study also said grapes, eggplant and blackberries may work too. It's those flavonoids again. The antioxidants you find in red wine, dark chocolate, green tea, apple skin, etc. Rule of thumb: The darker the color, the more flavonoid content. They slow down your aging clock and prevent disease by keeping free radicals from damaging cells in your body.
Free radicals are incomplete molecules looking for an electron so they can complete and stabilize themselves. Sounds like something you'd hear in therapy. They steal an electron from a neighboring molecule, turning it into a free radical and setting off a chain reaction. They contribute to the aging process and a wide range of diseases.
We form them naturally when we breathe and metabolize. Free radicals don't wreak havoc with your body until you have too many of them. They can be formed by oxidative stress, like intense exercise, smoking and exposure to environmental toxins.
Enter the flavonoids. They give the free radicals one of their electrons and stop them in their tracks. They help prevent heart disease by stopping LDLs (bad cholesterol) from breaking down and forming plaque in your arteries.
Nowadays, you can get berries year round, and they are a perfect low-calorie food, alone, in yogurt, or sprinkled on your cereal. So let's have a few servings of berries, some eggplant, a glass of cabernet and maybe a square of dark chocolate for dessert. Not such a major lifestyle change.
Since we are talking about prevention, how about stress?
A series of studies by Columbia University Medical Center says whether or not we perceive ourselves as stressed can be a measure of whether or not we'll have a heart attack in the future. So from now on, I'm not going to perceive myself as stressed. Yeah. Good luck with that.
Seriously: My clients who exercise regularly, particularly aerobic exercise, tend to think of themselves as being more relaxed. And they are more relaxed. Aerobic exercise releases endorphins, the body's natural tranquilizer, and they know they're getting the heart benefits of all that cardio. To get the maximum benefit from cardio exercise, most people should build up to 45 or more minutes at 60 to 80 percent of your max heart rate. If you're just starting out, you can ease in with a few minutes a day at a comfortable pace and add more as it gets too easy. But here's the rub: Aerobic exercise, because it requires so much oxygen, is an oxidative stressor. It produces free radicals.
People who exercise once in a while or really hard only on the weekend are more at risk for producing harmful levels of free radicals. But studies have found that people who exercise regularly tend to adapt and produce enzymes that create antioxidants minimizing free radicals' negative effect.
So here's the formula: Eat berries, drink wine and get regular cardio so you don't perceive yourself as stressed. It's an eclectic concoction, but I think it's tastier than one of those midnight vegetable smoothies. Don't you?
For more by Mirabai Holland, click here.
For more on personal health, click here.
Earlier on Huff/Post50:
Natural Ways To Reduce Anxiety And Get Better Sleep
Exercising can naturally help you sleep better by raising dopamine levels, which in turn reduce anxiety and depression. Avoid exercising too close to your bed time, however, as this may make it more difficult to fall asleep soon after. Cognitive hypnotherapist Lesley McCall suggests having at least three hours between exercise and sleep in order to give your body ample time to wind down and prepare for rest.

Avoid devouring large meals before bedtime. Along with the discomfort of being stuffed, large meals take the body longer to digest, thus leaving you more tired when you wake. Conversely, going to bed hungry can be just as disruptive. Dr. David L. Katz recommends fruits, vegetables, beans and whole grains for sound slumber as these "tend to produce a slow, steady rise in blood insulin that helps the amino acid tryptophan enter the brain. Tryptophan is used to make serotonin, a neurotransmitter that helps induce sleepiness along with improving your mood".

Try adjusting the temperature of the bedroom for a more optimal sleeping environment. According to Jennifer Trachtenberg, M.D., FAAP, you should aim for somewhere between 68 and 72 degrees. For easier temperature regulation throughout the night, ditch the singular heavy comforter and opt for piling on light layers that can be easily kicked off as needed.

According to The Mayo Clinic, the ideal bedroom should be three things: Cool, dark and quiet. It may be time to invest in earplugs, an eye mask or even heavier curtains to block out extra light and sound. Don't be afraid to give fidgeting pets the boot and avoid eating, watching television or finishing work in the bedroom. Instead, make the space strictly for sleep and sex only.

Don't ruminate. Practice "thought-stopping" where you only allow yourself to worry about a problem during daytime hours. Refrain from checking texts and e-mails (physically banish your cell to a different room if necessary!) before and during your bedtime routine. McCall suggests doing a "brain dump" before bed, in which you spend 10 minutes writing down what is on your mind. Whether you're making a to-do list or merely scribbling by minute eight, leave everything on the page.

Relaxing stretching and meditative breathing can help reduce anxiety and leave you more at ease and ready to put your body to rest. Follow a gentle sequence, such as the "night time flow" featured in this video, designed to help prepare the body for a restful slumber by quieting the mind and soothing the nervous system. In the clip, Jason Crandell reminds "Practicing with a receptive, non-striving tone is essential for relaxation and moving into a state of sleep."

Keeping a sleep diary can both help you maintain a consistent sleep schedule and reveal the possible culprit (or culprits) behind your difficulty falling asleep naturally. Create your own sleep diary following a general template and use it in conjunction with a visit to your doctor to discuss any questions or concerns you may have.
Follow Mirabai Holland on Twitter: www.twitter.com/movingfree