As a UNICEF Goodwill Ambassador and Grammy-award winning recording artist, Benin-born Angelique Kidjo is fighting to provide education and opportunity to young women in Africa. On her new single, "A Song for Everyone," a collaboration with Emmy-award-winning musician and producer Peter Buffet, Kidjo makes music the weapon. 100% of download sales benefit her organization, the Batonga Foundation, whose mission is to give girls a secondary school and higher education so they can take leadership roles in Africa. It's a battle fought on numerous fronts--HIV, malnutrition, and teen pregnancy are just some of the challenges Kidjo's "Batonga Girls" face in cities and rural areas throughout Africa.
Through the scope of her artistry and her capacity to engage with communities, Kidjo is also taking on perhaps the most complex challenge of all: deep-seated cultural resistance to the notion of women's empowerment.
I recently spoke with Kidjo and Buffet about education, advocacy, and the process of collaborating on a song from different cities and in different languages.
HP: What was the song-writing process like for both of you? Peter you mentioned it took you some time to get the track back to Angelique after she sent you her music and vocals.
PB: "The reason they waited and waited is because I was panicking. Usually I write something and then send it to somebody. I really did sit for a couple of weeks just thinking what the hell am I gonna do ? I just decided one Saturday or Sunday to go, 'Okay, I just have to jump in and bite the bullet.' And it all came out within about a two or three hours."
AK: "He was very courageous. Peter captured the poetic essence of the song. That's what I wanted. I didn't want to keep him in a box. It was great to hear him singing English over African lyrics and keeping the exact same rhythm of the words. That was the challenge I was thinking might baffle Peter a little bit, but he came around like, 'this is not difficult at all.'"
PB: "Especially from a white guy in Omaha!"
HP: Tell me a little about the work that Batonga does.
AK: To empower the women in Africa, education is the key. Not only to help them decide at which time they're gonna get pregnant, but also we teach them a lot about sanitation, about vaccinations, water conservation. A mother that has been through primary school is already a champion to save the lives of her children. If you educate one woman in the village, you educate the whole village. And if you educate two, three, it becomes a power that you can't even quantify.
HP: There is also an advocacy component to the work you do - changing people's minds about the roles women should play in African societies. Was there someone who advocated on your behalf?
AK: My father was my champion. He was the one that fought in the society where I grew up to make sure that the three girls that he had go to school, which was not easy. And in doing so, my father alienated some part of his family and lost a lot of friends. Some of them would say to my father, 'I don't want my kids to be friends of your kids anymore because they are going to school, they are doing music.' And my father said, 'You know what, you're welcome not to come back, you're welcome to do whatever you want to do but you can't tell me how to raise my kids.'
HP: So, what is really at the heart of the resistance to the notion of educating women in Africa and how is your role as one of the most respected African women in the world a part of changing that?
AK: African men, one of the reason they are so reluctant to send the girls to school is they think that when you are educated you don't respect your husband anymore. And believe me when I go with UNICEF to talk to mothers and fathers to send their children to school, the men, they look at me like what the hell is she talking about? And I say, 'Look at me. Let me give you my example: I've been married more than twenty years. What has education done bad about it?' And I say to them, 'You know, a man that has a powerful woman next to him, he's the most powerful man on earth. We cannot solve this problem without men being involved. Because we need men and men need us. We need to work side by side.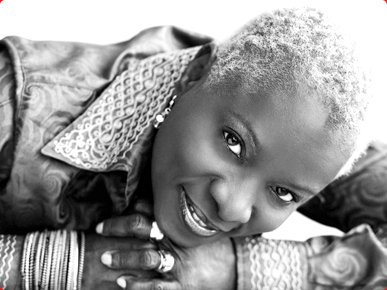 HP: I also read on your website that an educated girl reinvests 90 percent of earned income in her family, compared to 35 percent for a boy. And yet 99.4 percent of international aid is not directed to her. This last number seems to point to a larger problem
AK: Women's issue is not an Africa issue. It also a developed countries issue. Even in developed countries, women with an equal diploma don't have the same paycheck as the men. Why is that? And [women's education] is also gonna help us diminish violence against women across the planet. What makes the men think that it is okay to violate women and walk away free from it? We cannot solve this problem without men being involved. We are partners in life forever.
Hear and Download "A Song for Everyone."

2 downloads buys a girl a math set
3 downloads buys a girl lunch during the school day
5 downloads buys a girl a textbook
10 downloads buys a girl a school bag or uniform
1,000 downloads pays school fees for an entire classroom of 45 girls to go to school for a year
FOLLOW HUFFPOST