by Samuel Bathrick
In March of 2010, Trinity College soccer captain Sam Adams Wisner made 'em say "huh?" when his rap EP Boston's Boy (ahem, his first attempt at a record) debuted at the top of the national iTunes charts, trumping even mega-star Lil Wayne. With over 65,000 sales in just about 65 hours, rumors circulated throughout the blogosphere that Adams purchased his own fame--one download at a time. Adams would go on to hit #7 on the rap billboard charts, #73 overall, a seemingly impossible feat for an artist with virtually no national press.
Nielsen SoundScan and Billboard would come out in defense of Adams' iTunes sales, tracing the purchases to tens of thousands of credit cards with billing addresses in all 50 states. But even with the proper paperwork, Sam Adams' very existence challenges the relevance of, well, take your pick: record executives, publicists, music writers, every rapper with a dream and a day job and, umm, Myspace.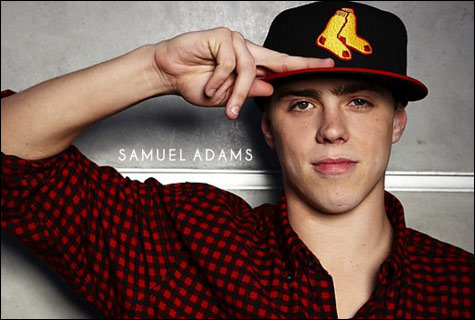 "Obviously, the industry was mad because we made them look retarded," Adams recently told me, when I spoke with him and his manager to find out how a white college rapper with no radio play landed so squarely, and apparently uninvited, at the center of nationwide attention.
"We just kept in touch with everyone. Starting the fan page on Facebook was the integral turning point. Because even if people weren't fans of mine, they'd see their friends were. Doing small shows, going to colleges. We were building our empire behind the scenes."
"We wanted to be able to connect directly to our fan base," added Alex Stern, Adams' Wayland High school buddy and manager. "Our understanding was that it was primarily college students and high school kids."
Of course record labels have always targeted these groups; no big revelation there. But Adams got a major boost when his first online release, the auto-tuned laced "I Hate College Remix", drew a million hits on Youtube in the span of a few months--with no music video. Like the Asher Roth original (streaming music), the remix spread like wild fire through college campuses.

In recent months, self-proclaimed hip hop fans have swarmed online forums to voice their loyalty and distaste. Here are a few tasty moments that about sum it up.
BallerStatus.com
RAN CONTOUR "hes a trust fund baby thats how he had the cash to buy them all."
NYmag.com
AVENUEHEBREW: So this guy is basically a low-budget mashup of Justin Bieber and Marky Mark. Boy, the bar just gets set lower and lower.
STRETCH_CUNNIGHAM: Wow! What's with all the hate? Jealousy is my guess...I'm sorry if you think someone has to wear his pants below his rump and have a gold tooth to be considered 'legit'.
Myspace.com
I L o v e H i m♥ L o A m o:
i think you are SO freaking amazing and hotttt [:
i would give you my virginity.........................

If it's true, as they say, that any press is good press, then Adams, who at one point in our interview described radio execs as "stupid" and "degenerate,"--before apologizing for getting "opinionated"--will probably do well by continuing to feed the fire. He's clearly having fun with it. I asked him if he thinks there's a racial element to some of the negative backlash online.
"The fact that I'm white, yeah, I think it pisses a lot of people off. Anyone who's still on that 'white people can't rap' shit are retarded. Tell them they have an open invitation to one of my studio sessions."
Adams told Billboard.com his music was "about more than hip hop," as his lead single, "Driving Me Crazy," (which samples Annie Lenox's "Walking on Broken Glass"), is clearly out to prove. With self-propelled pop appeal and a built-in college audience that considers Wednesday though Sunday the weekend, I wondered what, if any, role a major label could play in the young rapper's career. Currently signed to 1st Round records, a small independent label, Adams seems to be asking himself the same thing.
"There are things that a major label can do for us at this point, one of them being radio play," Adams said. "But I'm not even sure a label could have done what we did in terms of getting our name out. Keeping' publishing is huge, creative control. Where we're at now, that's where we got from my creative direction. So, why fix it if it isn't broken?"