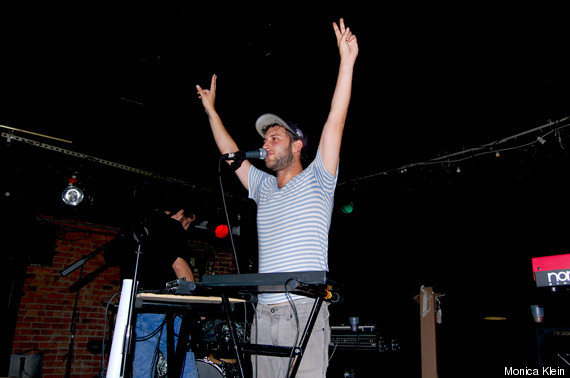 Small Black and Beach Fossils fit into an overcrowded genre of lo-fi Brooklyn-based indie bands; four guys, one with thick black frames, two in flannel, three with scruffy beards. They make incredibly similar music, and they all look a little bit the same. As Small Black openers Beach Fossils explained that their guitarist Chris Burke would be leaving the band and the remaining three would be forming a new group ("because he's too hot for them," one female fan explained to me), I could only imagine various scruffy floating faces, splitting and regrouping into new variations -- they would all settle back down into new, two-noun named bands in a matter of weeks.
This interchangeability is not to diminish these bands' various accomplishments, but rather to highlight the impressive nature of a two-noun when they actually succeed in standing out from the endless trail of boys setting up and breaking down drum sets -- especially on the stage at Mercury Lounge. And while Beach Fossils has yet to truly distinguish themselves (although they have made recent headlines for guitar-tossing antics), Small Black's performance last night revealed an aural complexity that might lead to an impressive full-length album later this year.
While opener Beach Fossil's repetitive, soothing rhythmic tracks offered a calming entrance to the night, lead singer Dustin Payseur's voice was often obscured by an overly-amped guitarist, and the lyrics were largely indecipherable. Their dreamy pop most clearly emerged during Daydream, another song with forgettable lyrics but an undeniably catchy bass riff that continued even as Payseur's voice faded in and out.
At 11pm, Small Black emerged on stage, setting up three jumbo neon glow sticks to stake their position as the headliner of the night. As the band began to play, the glowing rods, held up with ripped pieces of masking tape, began to fall. Nevertheless, this half-hazard attempt at ambiance only added to Small Black's adorably unpolished image.
"We don't have enough songs to have a set list," lead singer Josh Kolenik of Small Black explained once their show ended. After listening to them play seven or eight songs in a row, his statement was slightly perplexing. Maybe he didn't understand what a set list was? Nevertheless, this slightly confused confession aptly framed Small Black's short performance last night, in which a mix of blurred songs and occasional standout riffs created a sweetly honest, if admittedly coarse, performance.
Lead singer Kolenik and keyboardist Ryan Heyner maintained an impressively synchronized connection -- and often, eye contact -- through the entire set as Kolenik spastically jumped around the stage, slowly moving the crowd out of their Beach Fossils-induced lethargy. Though the highlight of the night was a catchy and polished unnamed song that will be released on their new album, the undeniable crowd-pleaser was their most famous track, Despicable Dog. As Kolenik repeated "Do it without me/ Do it when I'm gone," wiggling around the stage with childlike glee, it was clear that the band is beginning to learn the rhythmic nuances that will keep them from becoming just another forgettable Pitchfork darling of the week. Though their sound is still rough around the edges (and their set list apparently nonexistent), Small Black's small show was enough to convince their crowd to stay loyal for a while longer.
Small Black, "Despicable Dog" by HuffingtonPost
SUBSCRIBE TO & FOLLOW THE MORNING EMAIL
The Morning Email helps you start your workday with everything you need to know: breaking news, entertainment and a dash of fun. Learn more