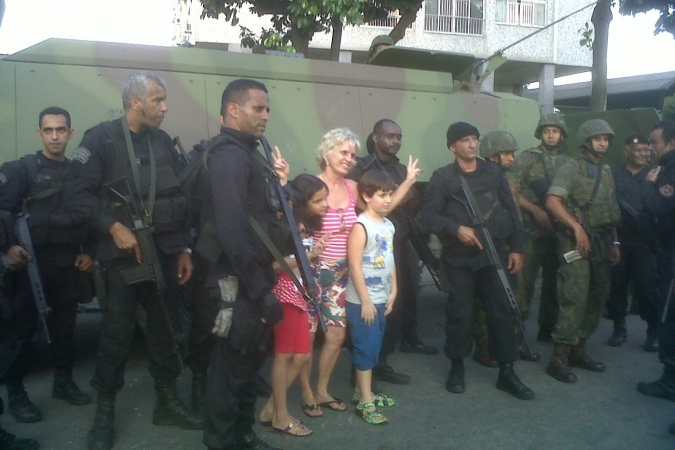 (Al Jazeera photo)
"It's worse than Iraq here." I heard this phrase repeatedly while reporting in the Complexo d'Alemao favela. The reason was apparent from the first moment I heard about the place. The slum in northern Rio is home to four thousand people. A year ago I was there to interview a woman who had lost her daughter in a police shootout, a stray bullet having ripped through the tin door of her rickety home and killed the child at night.
Getting to the interview location was an odyssey. Chatuba, the hillside slum where she lived, had two checkpoints; the roads were blocked by metal poles and young men in flip flops armed with assault rifles and RPGs were posted at each one.
Supplied with radios and walkie talkies, they decided who went in and who went out. I asked our community escort back then if we could film and he said, "If you take the camera out they will shoot you." We later saw nearly 50 armed drug dealers, or "traffickantes", in some sort of celebration. They were drinking and firing shots in the air. All belonged to the red command, a gang that learned military techniques from the left wing prisoners of Brazil's dictatorship years. Mika, one of the red commands lieutenants, shot down a police helicopter. His boss, Marcinho VP, is in a federal prison.

Subsequently I was surprised to hear that the Rio police forces were going to storm Complexo d'Alemao. More so when I learned that armored tanks and 20,000 troops would take part in the take over. Cameraman Thierry Humeau and I landed in the favela hours after the announcement and found ourselves immediately under fire, in an urban warfare style confrontation.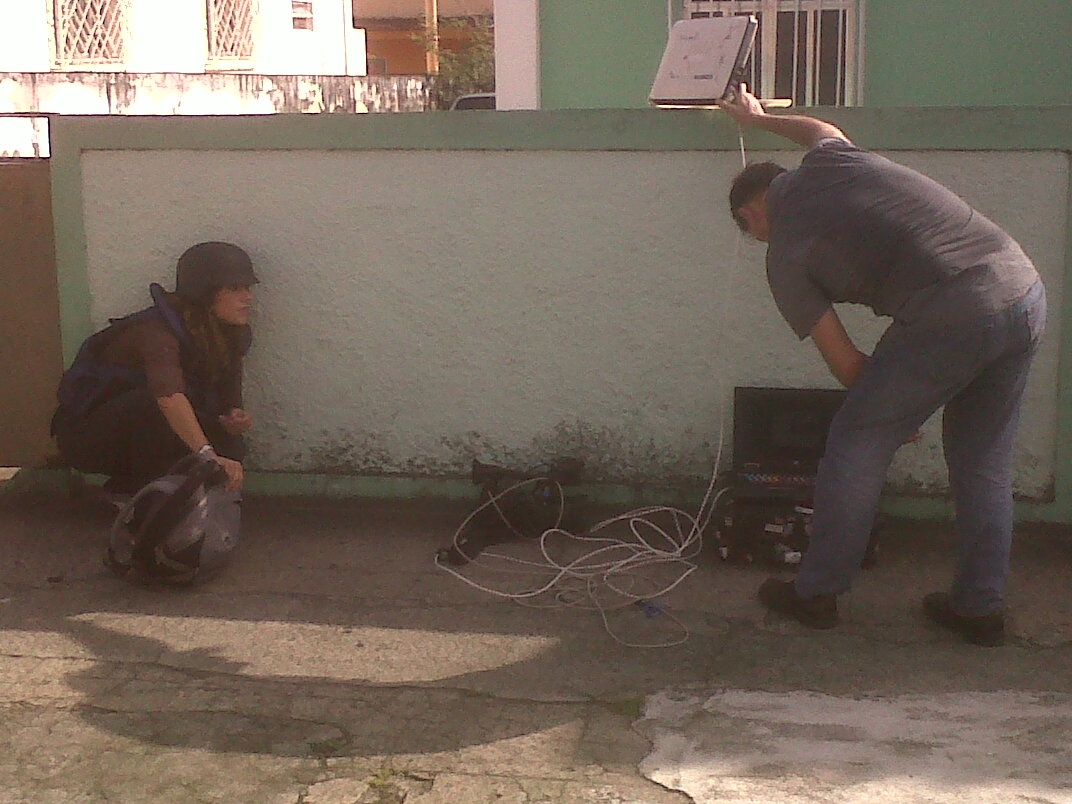 Watch my report of the shootout.
The scene was chaotic: local residents took cover behind trees and walls, elder women screamed and dozens of local journalists docked behind cars or newspaper stands in the sidewalks. The Special Forces elite unite, known as Bope, knocked down the metal posts at the checkpoints with their armored cars; helicopters flew over the slum, and improvised explosive devices detonated in the distance. Every time there was a moment of silence, we tried to set up our computer and satellite connection to file the footage we were getting.
Then the gun fire would start again. At some point a woman came out of her house, unlocked the gate and told us that we had better come inside or we were going to die out there. A policeman was wounded seconds after and evacuated immediately.

The drug traffickers did put up a 12-hour fight. But ultimately federal and local police and Special Forces placed a Brazilian flag on top of a cable car and claimed that they had occupied the territory. It is an irony that this territory is 20 minutes from the famous Copacabana beach, where for two days French, German and American tourists walked along the promenade completely unaware that on the other side of town there was a war going on.

Some say the country is taking the security issue in hand and has a long term plan to secure the city before the Olympics in 2016. Rio authorities want to install permanent police units in the forgotten and impoverished slums and gain back the residents' trust.
The residents of the favelas are still under shock. No one will speak on camera, and fear of reprisal by the police or drug dealers is widespread. Heavy police presence has brought media attention. Regular press conferences -- where confiscated drugs, weapons and motor bikes used by drug dealers to move around -- are showcased. But in the unpaved narrow streets, garbage piles high, electricity remains cut off, and schools are closed.

I asked spokesman Lima Castro if Fabiano (FB) or Mika had been captured and he said that they were still at large. The rumor is that the top gang members escaped through the sewage system or the forest and are now in nearby slums; in any case, there are many favelas in which to hide -- around 700 or so in Rio alone.
___________
Follow me on twitter: @monica_vv
Follow Mónica Villamizar on Twitter: www.twitter.com/@monica_vv