Before my recent trip to Sedona, the only travel I had done in the American Southwest was to Las Vegas. Arriving at Phoenix's Airport, I had no idea what to expect. The two-hour drive to from Phoenix to Sedona yielded rocky cactus-filled vistas and a seriously blue sky. As the Escalade turned into Sedona's secluded Enchantment Resort-nestled on 70 acres in the midst of the red rock-bound Boynton Canyon -- my impression wasn't of being in a faraway part of the country but on another planet altogether. Looking down to see that my cell phone had wandered off into no signal territory further cemented the impression of otherwordliness.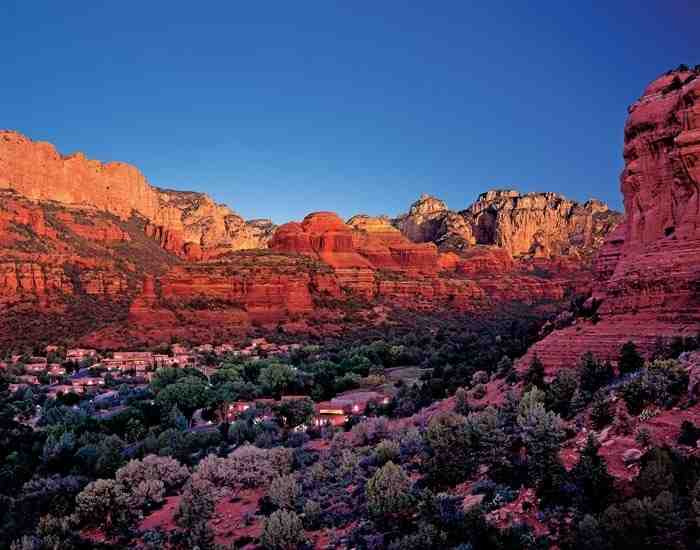 As I found out on a short tour of the property, Sedona's supernatural vibe has a long history. The indigenous Yavapai tribe considered the canyon the location of its creation story and today's Sedona is known for its vortexes. In fact, when you Google "Sedona Arizona," "Sedona Arizona Vortex" is the sixth suggestion that comes up.
Vortexes are described as a concentration of spiritual energy-psychic hotspots that lend themselves to meditation and prayer. So, do they exist? Maybe. When it comes to the metaphysical, I'm something of a novice-my main spiritual practice involves reading Susan Miller's horoscopes. That said, the combination of eerie quiet and painted rock views in every direction create a setting that is ripe for big picture reflection. Following the advice of Enchantment's friendly staff, I made an early-morning climb to the base of the Kachina Woman rock formation -- an experience well worth waking up for.
After starting the day with Zen-like calm, we headed to Sedona's Diamondback Gulch for a decidedly less serene take on the terrain. Pink Jeep's four-wheel drive suspension vehicles provided an exhilarating tour that left me feeling lucky to be in one piece and not at the bottom of the canyon. A visit to some local wineries was the perfect way to relax after the jeep tour. Arizona wines were a surprise to me, but it turns out Franciscan missionaries planted the state's first grapes in the 17th century. Feeling restored after sampling a lovely Cabernet, we went on to Tlaquepaque, a gallery-heavy stucco village that provided a diverse dose of the local arts and crafts scene to a Southwest newbie like me.
Back in Boynton Canyon, there was more unwinding to be done. Prickly pear margaritas beckoned, as did spa treatments at Enchantment's Mii Amo. The highly recommended spa uses desert botanicals like blue corn and juniper to buff your mind and body back to a Garden of Eden-like state. When it was time for dinner, the glass-walled Yavapai Restaurant served up regionally influenced dishes like Colorado lamb and Southwestern rainbow trout along with 180-degree views.
Blissed out as I was after my first day in the desert, I forced myself to fit in one last activity-evening stargazing. I have never seen so many stars in my life! The night sky was thick with endless, twinkling pinpoints of light and even Saturn was visible, rings and all.
Last thoughts before bed on my first day in AZ? I waited way too long to go west.

SUBSCRIBE TO & FOLLOW LIFESTYLE
We're basically your best friend… with better taste. Learn more