By Nichole Dupont
I was at work on the due date for my first child. I know, I know, that doesn't make me special, but I was working. Not because I was bored or because I was an overly energetic pregnant woman. I had to. I absolutely had to work, no matter what, to build a pathetic little nest egg for myself and my child. So, I continued to drive at night and odd times of the day in order to tutor private-school kids after their classes and sports were over. Those sessions often brought me home around 10 at night. When the baby, a girl, finally came, I was terrified and excited at the prospect of getting to know her. Our date didn't last very long. There was no paid or even unpaid maternity leave for tutors (even though it was a full time job) and so what I had in my bank account was it, and would, I surmised, get me through at least a month of time off while I adjusted to life as a very young, thankfully educated, extremely exhausted single mother. The days and nights blurred. I tried to nurse the baby, I did little to care for myself. Finally, after three weeks, and with $87 left in my checking account, I brought my baby to work with me. I didn't ask for permission. I just hoisted her out of her car seat, brought her in to the tutoring room, and continued to instruct high-school boarding students on chemistry, math, literature, Spanish, and American history. My colleagues were surprised, even appalled, that I had returned so soon after the birth. The students didn't seem to mind at all; in fact, they thought it was cool to have baby Anna gurgling away while we went over essays. The adults, i.e. the teachers and administrators, were not so happy. Some whispered that I was setting a bad example; here I was, unmarried, making a spectacle of myself with this bastard baby who I dared nurse on occasion in my supervisor's office. My supervisor was thrilled with the idea. She said it was good for the students to see me raising a child and working, and making single parenting work.
Then summer came, the students left, and I was, again, scrambling for work, and now, affordable child care. As had been the pattern all along, I would figure it out. Along with paying rent, feeding at least one of us, keeping the lights on, and maybe even treating myself to a latte every blue moon. I landed a temp job at a summer choral festival. Of course, bringing Anna, who had crested the 4-month mark, was out of the question. Apparently there are some serious risks to a non-mobile baby when working in an enclosed office with just two people. So, I sought out child care, a wrenching decision, especially that first morning when I walked into a huge building, set just a ways back from the main highway, and saw kids of all ages and constitutions. Some were sniffling, others were fighting over toys, and the snack table was a chaotic scene of flying Cheerios and preschool drama. I hugged my daughter tight as I brought her into the infant room. A kind, elderly woman greeted me at the door, all smiles and confidence.
"Oh, this must be little Anna. God, what a cutie." She reached for the diaper bag on my shoulder and set it into a cubby already marked with my daughter's name and age. I gave her the feeding schedule and we chatted about Anna's "personality." While I was filling out the payment application, the woman shook her head knowingly.
"Oh, honey, you need a voucher. Look how much you work. And you're a single mother. We'll get you set up."
That woman was a godsend. The crushing math of poverty and fear fell away when I realized that I would not have to hand over my entire paycheck to the daycare, and might, just might be able to forgo looking for a third job to keep our heads above water that summer. The rent would still be paid, we would not starve, not yet, and I could even start a little savings account for college.
Back at the choral-festival job, where the pangs for my infant never really subsided, I would have loved to have brought her into work maybe one or two days a week, but that was out of the question. Yet, my boss saw no problem dragging in her 4-month old chocolate lab puppy, who shat on the floor, barked loudly over important phone calls, and left half of her food everywhere (she was a messy eater) at mealtime. And she chewed incessantly on any shoe or bag left unattended.
"I wish I didn't have to bring her," my boss said, settling into her chair and sipping at her coffee, ten minutes or more late as usual. "But it's so hard to find an affordable, reliable kennel around here. You know?" I nodded my head, choked back a cripplingly sarcastic response, and counted the hours until I could pick up my daughter and we would drive to the river bank and have a picnic dinner; me with my sandwich and her with her bottle, thankful that, at least for the evening, this was my only job.
Organizations like MotherWoman work hard to advocate for policies that help mothers and families, and therefore help all people.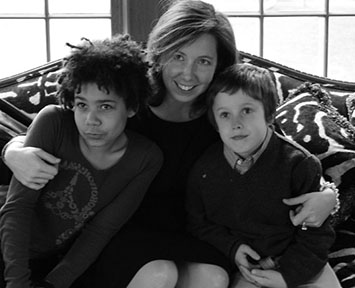 Author's Bio: Nichole Dupont is a freelance writer and editor living in Western Massachusetts. Her work has appeared in Newsday, Berkshire Magazine, The Advocate Weekly, and Rural Intelligence. She also writes positive stories for change for the Berkshire Taconic Community Foundation. In March 2013, her essay "Have I Not Commanded You?" was included in An Anthology of Babes: 36 Women Give Motherhood a Voice. She is a regular contributor to the Berkshire Festival of Women Writers, and has read several essays and conducted writers' workshops for women of all walks. A former literature teacher and obsessive observer of people, she has written several short stories which have appeared in lit journals and online, and she maintains a blog, Versus, about the snarkier side of rural, single motherhood and feminist politics. She lives in farm country with her two extraordinary children.