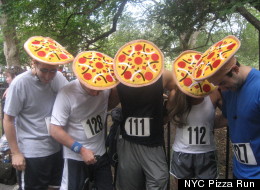 The Eugene Lang Entrepreneurship Center's annual A. Lorne Weil Outrageous Business Plan Competition encourages Columbia Business School students to explore creative entrepreneurial ideas that are sufficiently ambitious in scope and scale to be considered "outrageous." All participating ventures give 90-second elevator pitches via video (see examples of this year's pitches here) and then speak to a panel of established venture capitalists and experienced entrepreneurs.
Each student is free to interpret the call for an "outrageous business plan" as they see fit; some create typical businesses that solve outrageous problems, and others create disruptive businesses that solve ordinary problems in an outrageous way.
Proposing the former this year was Panda Dog USA, a dog grooming company that serves pet owners desiring to style their dogs to look like pandas and other exotic animals. The judges' pick for first place, Cup and Compass, fell into the latter category. Cup and Compass is a company that intends to go head-to-head with companies like Coke and Pepsi at the beverage counter of "fast casual" restaurants by offering a delicious alternative: healthy, all-natural, and non-carbonated beverages. Attempting to disrupt the quick service drink market ruled by these monolithic brands can certainly be considered outrageous.
Past Outrageous Business Plan Competition winners have launched their outrageous businesses after graduation. Take second place winner in 2009, Jennifer Wright '09's business, environmentally conscious organization, inc. (e.c.o.), which successfully launched the GreenBox, a pizza box that breaks into storage boxes so consumers can divert waste from landfills. The box, made from 100 percent recycled material, easily breaks down into four serving plates, while the bottom converts to a small storage box -- perfect for storing a slice in one's fridge. Other "outrageous plans" that became full-fledged businesses include Shazi Visram '04's HappyBaby, a popular source of organic food products for babies, and KashPile, Bobby Singh '09's initiative to create a parent monitored e-commerce site tailored to help kids learn to save, spend, and donate responsibly.
A total of $14,000 is awarded annually to the resulting winners to help launch their ventures.
Here are some of the most outrageous business plans from this year's competition:
The Bullying Prevention Project aims to end to bullying before it begins. We deliver fun and educational content to preschool and elementary school educators that helps them promote tolerance, kindness and diversity in their classrooms and local communities.

DeansList trains school leaders to implement a school-wide behavior system by defining a vision and tracking and monitor progress toward the defined goal. DeansList provides a customized data analysis tool for high-performing, "no excuses" schools that want to quickly and simply track students' classroom behavior and analyze that data to pinpoint where to target improvement efforts to ensure excellent school culture. Patel was the 2nd place winner, awarded $4,000.

Social Stereo is an iPhone application that lets users play the same song on all their phones at the same time.

TrendSeeder curates and features exclusive, limited-edition fashion pieces from the hottest up-and-coming designers for men and women. A platform that springboards emerging designers into the fashion spotlight.

We are going to change the way people party by inspiring healthier social drinking. Our first product, Strip and Go Bare, is an alcoholic cocktail, made with a cane neutral spirit base, 100% organic ingredients, and all-natural citrus juices. Our cocktail is served at 12.5% ABV, is meant to be enjoyed over ice, and is stripped of all artificial additives, preservatives, and sugars.

BlocPower will market a portfolio of renewable energy and energy efficiency products to churches, non-profits, small businesses, and residential property owners in underserved communities, where energy bills can consume 20 to 40% of an annual operating budget. BlocPower will assemble "blocs" of consumers--like Groupon--to negotiate pricing discounts and community hiring quotas for the light construction jobs created by BlocPower projects. Donnel tied for 3rd place and was awarded $1,500.

USA Food Runs is the first ever national organization dedicated to putting on food races across the country. You may know Jason for his work in the New York City Pizza Run. Jason tied for 3rd place and was awarded $1,500.

The Weightless Weight Machine is a cheaper, lightweight, and portable alternative to the traditional weight machine. Instead of bulky weights, the weightless machine utilizes controlled electromagnetic forces to provide resistance.

TheSquareFoot is a one-stop-shop for leasing that connects tenants with the full complement of providers they need for finding and setting up a new office, restaurant, or store.

Cup & Compass Beverages makes "naturally crafted, globally inspired" drinks that are sold at high-end, quick-serve restaurants through uniquely branded dispensers. Our mission is to provide high-quality, healthier drink options in the fountain category. You can find Cup & Compass on Facebook and Twitter. Crouse was the 1st place winner and was awarded $7,000.

Ninoh is a web and mobile application that makes your life easier by helping you fill out the whitespaces in your calendar with great recommendations derived from your habits and personal preferences.

Panda Dog USA is a specialized dog grooming service that will style your dog to look like a panda or a number of other different animal types. Our grooming truck will come to you and your dog will have its makeover complete in less than an hour for just $100.