White Walls Boston
, a mobile art initiative launched on June 30 to make art accessible across the city.
The project's first of three exhibitions, Phototrop by artists Jesse Kaminsky and Vela Phela, presents an interactive video installation projected through a field of thousands of strings of light reaching each corner of the space. Unlike city-registered food trucks, this "art truck" utilizes guerilla tactics to surprise those passing by while parked throughout the city, and then disappears as it drives on to the next location.
Read MutualArt's interview with Ethan Kiermaier below, the organizer and curator of this innovative project, who explains the need for exhibiting outside the normal gallery setting and the challenges of art on-the-go.
Where did you get the idea for White Walls Boston? What was your inspiration? Tell us how your concept differs from other similar initiatives.
I've always been interested in presenting art in novel contexts. In Boston right now and in many other cities, physical space is at a premium and the pressures of capitalization and gentrification make it very difficult for independent art spaces to survive. White Walls Boston is in part a reaction to those pressures, a way to present work outside of large galleries and institutions. The inspirations for the project are diverse but I'm very interested in the way Gordon Matta-Clark was able to bridge the gap between DIY cultural events and the institutional art world. Honestly, I don't think my project is very distinct from things which are happening in other cities; the biggest difference is that it's happening in Boston where the DIY culture sometimes has a rough time becoming established.
How do you choose artists for exhibition and what are the selection criteria? How does this unique moving venue affect the curatorial process?
All of the artists I chose for this series are people whose work I know from being engaged with the arts community in Boston. The artists involved are local and all are accustomed to working outdoors or outside a traditional gallery context. Beyond that, I was looking for work which is flexible in its presentation and could work well inside the constraints of time and space imposed by the format. Each show is only 24 hours because that's all we can afford to rent the trucks, so the pieces need to be fully installed, shown and de-installed in that time period. I was also looking for work which would engage with the environment that the trucks find themselves in, since I feel like that flexibility is one of the real assets of the format. Curation always deals with a set of restraints which shape the work, either spatial, conceptual or fiscal. Putting together this series has been all about viewing the unique set of constraints imposed as opportunities to innovate.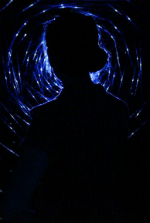 Tell us about the work of Jesse Kaminsky and Vela Phelan and why their work was chosen as your first exhibition. How is Phototrop experienced in the truck?
I've been a big fan of both of their work for a few years and I had conversations with Jesse about showing a new version of a piece he did before he moved to Boston. We decided it would be great to involve Vela (who contributed the video component) in order to give the piece a more durational and participatory element so that it worked better inside the short exhibition window in which we were working. Both of their work is about time in a certain sense, but they work with very different aesthetic sensibilities and I felt like it was tremendous to see them come together to create this piece. Phototrop (pictured right) worked incredibly well installed in the truck, as you can tell from the photographs -- it created a space which people were interested in engaging with wherever we went.
How do you determine which neighborhoods to visit? How do these locations benefit from the project?
I really left it up to the artists to decide the locations. Part of the interesting thing about the format is how integrated each location can be to the experience of the work and it adds another consideration to the pieces and a great deal of flexibility. The artists are free to integrate the location of the truck into the pieces they are presenting and my input on that process was minimal. It can be a huge challenge to find places where we can both park the truck and attract an audience. I like to think that the work benefited from the locations it was shown in, as much as the environments we chose were enhanced by the work.
What are the reactions of people so far? Have any surprised you?
The best reactions have been from people who just happened by the work and chose to engage with it. You get a feeling that people are delighted by having something beautiful and enigmatic just show up in the course of a regular Saturday night. I'm most surprised when people walk by a giant truck on a city street with a crowd of people and pulsating blue light pouring out of it and choose NOT to investigate. It's interesting to see who chooses to engage and who pretends it's not there.
Is this project sustainable? How long will it last and what/which artists can we expect to see next?
We have a total of three shows planned for this summer. The project is sustainable as long as we can keep finding funding to produce the shows. The Berwick Research Institute gave us a grant to produce the first series of three and it would be great to find another source of funding so we can continue. I would love to do another series next summer incorporating more artists since so far the response has been overwhelmingly positive. Maria Molteni will be showing on the 4th and 5th of August where she is orchestrating a series of performances over 24 hours based on a tent revival. Shane Butler will be showing on the 1st of September, with a live soundtrack and multimedia projection.
MutualArt's Christine Bednarz
What is your reaction to the White Walls Boston project?  How are independent art spaces challenged?  Which artists do you admire who are working in nonconventional venues?
The food truck fever spreading across cities of the United States and beyond has infiltrated the contemporary art scene: One 25-foot-long rented truck in Boston is serving up culture instead of sandwiches through
SUBSCRIBE AND FOLLOW
Get top stories and blog posts emailed to me each day. Newsletters may offer personalized content or advertisements.
Learn more