Can you provide a detailed account of Miley Cyrus and her twerking skills at the VMAs? How about the Affordable Care Act, also known as Obamacare?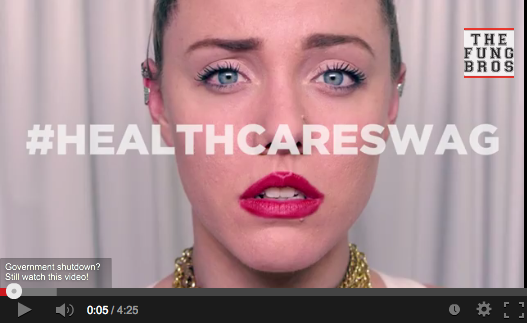 According to the latest Kaiser Health Tracking Poll, nearly two-thirds of Americans polled had no idea the Affordable Care Act (A.C.A) went into effect starting October 1st, which ultimately led to a government shutdown.
But weez knows what twerkin' is!
If you still don't know about Obamacare, don't feel too bad; neither did those sidewalk civilians on Jimmy Kimmel Live who tried very hard to differentiate between Obamacare and A.C.A., which essentially is the same thing.
My Intro to Communication college lecture hall had no idea either. On October 1st, I asked all 80 students, "How many of you know that the Affordable Care Act starts today?" Only five students raised their hand. Almost everyone raised their hand when I asked who knew about Miley Cyrus and her twerking skills.
Confession: Until recently, I could give a detailed account of Miley Cyrus getting her twerk on but not about health care reform. I barely knew the gist that having some type of health insurance will become the law by January 1st 2014. If you don't have it, you could get fined. Unfortunately, I was obviously not alone. I only first learned about the law when asked to produce a project with The Fung Brothers, a comedic duo made popular on YouTube and with KCAL Insurance Agency a few months ago. The goal of the project was to educate and entertain the millennial generation about Obama's health care reform policy.
After bouncing ideas, we all agreed that we needed to make health care look cool to get the attention of Generation Y. Brochures and pamphlets, no matter what the message, would not get the attention of overly stimulated college students.
Luckily, the Miley Cyrus phenomenon happened around the same time. With the virality of her hit "We Can't Stop," we knew this was how we needed to get millennial attention and stir dialogue.
The Fung Bros' wrote the lyrics to the hooks of current popular icons like Drake, Rihanna, Justin Bieber, 2Chainz, and Miley herself. Next we looked all over LA for the perfect pseudo celebrities and found everyone mentioned above plus Katy Perry, Bruno Mars, and Psy. Together, we produced #Healthcareswag.
Put swag after anything and it automatically becomes cool.
The track aims to be catchy and the lyrics aim to be informative.
"Started uninsured. Now we here," raps doppelganger Drake.
"You need health care. Affordable health care. If you don't have it, you can't mess up. Hurt yourself twerkin in the club," sings pseudo Miley.
"There's an enrollment period. It's a limited period. If you miss the period, then it's OVER period," hollers lookalike 2Chainz.
We hope Miley's twerking and Drake's swag is good for something...
Watch #Healthcareswag here: