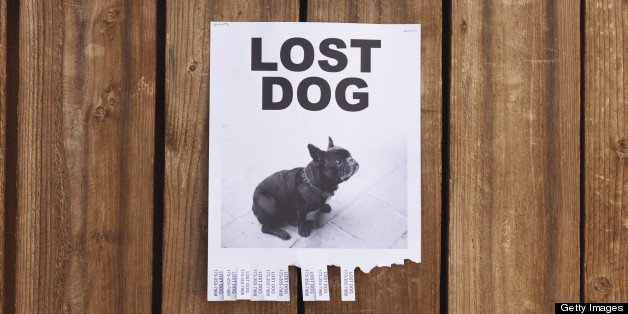 They can't be avoided and they tug at my heart -- the flyers crying out for lost cats and dogs. Whether I am walking down my street, driving through an adjacent neighborhood or riding my bike, the flyers line almost every utility pole along the way. They contain the haunting faces of lost dogs and cats, placed there by distraught owners. Their vacant stares, usually in black and white, invade my being and tear at my heart. Each one tells a story -- a description, a last seen location or a warning not to approach the frightened animal. I try not to look at the postings, but find I am drawn to the sad faces and I involuntarily begin to scour yards, sidewalks and driveways, hoping to spot a glimpse of the lost pet whose face is imprinted in my mind. Maybe I'll find one.
Once, I did! As I was walking down Beverly Drive, a main thoroughfare in my neighborhood, I noticed a flyer about a lost dog. Although there was no photo, there was a description of the dog. A block away, I spotted flyers listing a "found dog." I wasn't sure if the two posters were describing the same dog, but after some sleuthing, knocking on doors and phone calls, I was convinced it was. The problem was that the dog had already been brought to the local pound and was no longer with the person who posted the "found" flyers. Happily, after securing proper ID and proof of ownership, the owner was able to retrieve his dog. We were all elated!
Another time, as I was walking down my street, I saw a small dog wandering aimlessly without an owner in sight. I was able to approach him and noticed that he had a tag with an ID on it. I returned him to his owners, neighbors who live down my block. They were unaware that he had gotten out of their yard. The dog is blind and slipped out a gate that was left open by mistake. These happy reunions are rare and most people don't update lost dog flyers with a status report of "Found."
The TV stories and YouTube videos that publicize the reunions of dogs or cats with their owners are loved by many. I find them very touching and am always moved by the joyous reunions. The dog's exuberance on being reunited with his owner is heartwarming. Sometimes, the stories depict servicemen returning home after being gone for long periods of time or animals who managed to trek hundreds or thousands of miles to return home to their owners. Honestly, cats are rather nonchalant and can't match a dog's enthusiasm on being reunited with his owner, but I love those stories too.
There are some people who are not affected by the flyers and can walk past them without giving them another thought. I can't. The animals' beautiful faces and haunting eyes pierce my heart. I identify with the distraught owners and can feel their pain and suffering. I can still vividly remember my distress years ago when my 14-year-old indoor cat got out of my home in NY. The house was eerily quiet when I returned from work and I knew something was wrong. I put up signs and frantically searched the neighborhood for days on foot and by car, calling my cat's name. I even left work for my lunch period to continue the search -- returning home at the end of the day to continue searching. We were among the lucky ones -- a neighbor found him and called us. I will never forget those days -- my fear and anxiety, and finally the feeling of relief and joy when he was found.
The "not knowing" was the hardest part. My mind conjured up millions of scenarios and they played nonstop in my head -- Was he frightened? Was he cold? Was he sick? Those are the same questions I think about when I see the flyers now.
The lost pet flyers stay posted for a long time and although the paper may fade, the animals' faces are engraved in my mind. New flyers appear and the question remains -- are they ever found?
My routine is always the same. When I return home, I am usually met by one of my two cats. After giving him a squeeze and caress, I call out for my other cat. If she doesn't appear, I search for her in all her special places. When I find her, I hold her close and stroke her fur. I feel the vibrations of her body and sometimes I am fortunate enough to get a lick on my face or hand. My cats fill me with pure affection and are calming and reassuring. They keep me balanced and I am grateful for every day that they are with me. I know that loving an animal brings its benefits, and always felt that the most important one is that it teaches us to love deeply and unconditionally. I often say that I love my children the way I love my pussycats - with pure and deep affection. My four sons understand that because they love them too.
SUBSCRIBE TO & FOLLOW THE MORNING EMAIL
Start your workday the right way with the news that matters most. Learn more