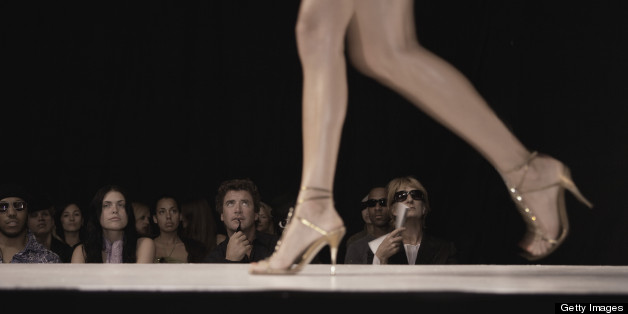 America's Next Top Model, Project Runway and The Face are a few of the programs that glorify the hard work of the fashion business. It is through these shows that audiences see more than just finished products but are also given the chance to be taken behind the scenes for a first-hand look at where it all begins.

Through the new phenomena of reality TV, we have seen the best, the worst and sometimes we have even seen things we wished we hadn't. This new style of programming has completely changed everything we have come to know about television.
I don't know if this transformation is necessarily a good or bad thing, but one thing I do know is how it has shaped a change in the industry. It has led people to believe that anything is attainable. It has showcased behaviors in humans that are less than perfect. And it has definitely revealed how desperate some individuals have become to obtain fame and recognition.
So what does it take to make it in this industry? By "making it" I do not mean how does one make themselves into a famous or wealthy fashion designer or model. It's grittier than that. I am asking what it takes to survive the industry.
I believe it comes from your roots. How you are made. How you are built. In the pursuit of survival your very substance as a person is tested.
Is it enough to just be beautiful? Is it enough to just be talented? Is it enough to be at the right place at the right time? How do you get chosen? How does life or one's fate come to the conclusion that you are the "one" that will suit a particular deed or project? Was it pre-destined for you to be where you are?

These questions could go on for days. And there are more. Is all of this controlled by the decisions you make such as the school you attend? Maybe it's a measure of the grades you get. The friends you have. The people you know. Or is it just the people who know and remember you?
Maybe it's something else altogether. Maybe it has to do with the region of the world that you are born into or have lived in. It's a term I'll coin as "Geographic Privilege," something I thought up after meeting two amazing women.
Meet Latifa Kouchti. Latifa is a model of Tunisian background, French upbringing and she geographically lives in Dubai. She is an absolutely breathtaking woman. Her tender features are nothing in comparison to the grace and softness found in her voice when she gently expresses herself.
Something about her reminds me of the legendary model, Cindy Crawford. It could be her smile. Then I take a look at Latifa's facial expressions and I am reminded of Madeline Stowe, who I believe to be one of the great actresses of an era.
Latifa is a beauty who is well grounded within herself. Her confidence is not one of arrogance or self-entitlement but of something more pure. She is almost gratified, even regal, with a clear understanding that her gift of beauty is a gateway to another chapter of her life within the art industry. Living in Dubai for Latifa has proved to be a successful move. Her clients vary from haute couture Chanel to Bloomingdale's, to name a few.
Then there is Mona Fares, the designer and founder of Neon Edge. I think I want to call her the Patricia Fields of Dubai. Her sense of style is exact, well defined and very specific from a woman who is far from shy about the use of color. Her space is not like the boutiques you would see in the normal malls of Dubai. Instead, it is located in an artsy area of Dubai known for its cool galleries and cafes. She shares the space with a group of artists that is reminiscent of what a SoHo clan would be like in New York City.
While speaking to her it was clear to me that her secular education was the path she chose to guide her into the success that she envisions for herself. She fascinates me because most artists are not often known for their brilliant business practice. They are instead noteworthy for their love and passion for the arts. For most artists this is a curse that so often leads to financial suffering. But Mona throws the industry and myself a curve ball, as she is both creative and business savvy. She credits her mother for gifting her with this talent and is proud that her training at university has made her the practical and inventive businesswoman we see today. This beautiful flower will continue to develop her skills as an artist and continue to adapt with the business industry to flourish her brand and her products.
Mona gives herself 10 to 15 years to grow to international acclaim. But I highly doubt it will take her even that long.
One thing for sure about these women is they are built to last. They are not trendy, seasonal picks. They have found great soil and have dug deep, rooting themselves in unshakable ground. In a way they also remind me of the Everlast Bunny rabbit because they will keep going, going and going...
SUBSCRIBE TO & FOLLOW TRUMP'S FIRST 100 DAYS
How will Donald Trump's first 100 days impact YOU? Subscribe, choose the community that you most identify with or want to learn more about and we'll send you the news that matters most once a week throughout Trump's first 100 days in office. Learn more