In the new "Lego Movie," the heroine is a sassy girl with color-splashed hair and a color-splashed hoodie. While her name is Wyldstyle, she's actually a complex, nuanced girl who is discovering herself. And what she discovers is the strength and happiness of self-empowerment.
Wyldstyle also happens to be a great source for another message that's inspiring to girls of all ages -- although heart disease is the No. 1 killer of women, claiming more lives than all forms of cancer combined, it doesn't have to be. Like the feisty character Wyldstyle, women can and should take control, and fight back.
"It's time to shout louder, stand stronger and demand change," Wyldstyle says in a new public service announcement, echoing key themes of the American Heart Association's Go Red For Women movement. "Together, we can put an end to heart disease."
Funny thing is, I recently heard a similar message from another influential person: Bill Clinton.
At the Woman's Day Red Dress Awards on Feb. 11, Clinton accepted an award for the Bill, Hillary and Chelsea Clinton Foundation's work with the Alliance for a Healthier Generation, a leader in battling the childhood obesity epidemic. The Alliance -- which was co-founded by the Clinton Foundation and the American Heart Association -- has been instrumental in removing calories from schools, work that Clinton cited in delivering his core message about the fight against heart disease: We know how to do this. And, together, we can do it.
Thanks to former President Clinton, Wyldstyle and countless others, this month -- the 50th anniversary of American Heart Month, and the 10th anniversary of the Go Red for Women movement -- has been perhaps our best February yet.
National Wear Red Day on Feb. 7 was stunning. It seemed like every TV news show I watched featured an anchor wearing red! Among the hundreds of national and local hosts who let their wardrobe do the talking included Katie Couric, Robin Roberts, Norah O'Donnell, Elisabeth Hasselbeck, Univision's Teresa Rodriguez and Malillany Marin.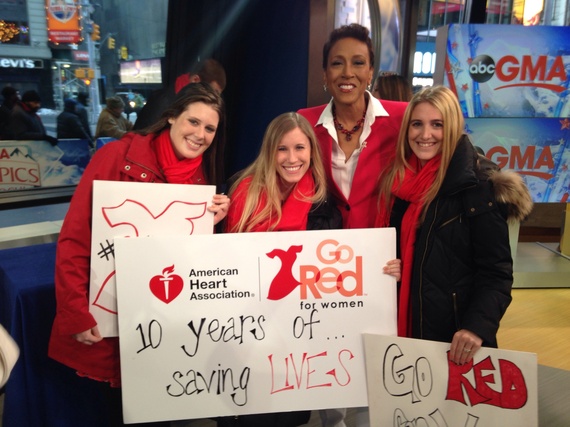 Robin Roberts and friends on "Good Morning America"
Another visual delight was seeing more than 1,000 landmarks from coast to coast being illuminated in red. The Empire State Building, LP Field in Nashville, the Los Angeles International Airport and much of the Philadelphia skyline were among those shining in honor of our fight against the No. 1 killer of all Americans.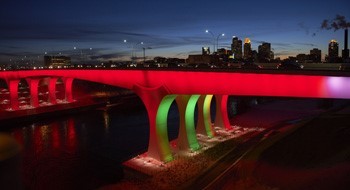 The I-35 bridge in Minneapolis
While this awareness month included many more gatherings -- and I'm certainly including the panel discussion held at Huffington Post Media Group headquarters in the final days of January -- our marquee event was held the night before National Wear Red Day.
Go Red For Women and The Heart Truth presented the "Red Dress Collection 2014" during Fashion Week in New York City. The collective efforts of these two organizations brought heightened attention -- and a lot of fun. The extravaganza featured a diverse constellation of stars wearing creations from the nation's top fashion designers for a memorable night on the red carpet and runway. The Red Dress Collection has kicked off Fashion Week since 2003, with this being the first time it was a collaborative effort with the American Heart Association's Go Red For Women movement and the National Heart, Lung and Blood Institute's (NHLBI) awareness campaign, The Heart Truth.
Actresses Kat Graham, Jill Hennessy, Victoria Justice, Taryn Manning, AnnaSophia Robb, Bella Thorne, Gina Torres, Joan Van Ark and Rutina Wesley, model Ireland Baldwin, singers Colbie Caillat, Joan Jett and Leona Lewis, reality TV star NeNe Leakes, and chef Giada De Laurentiis were among those strutting in gorgeous red outfits created by standouts such as Carolina Herrera, Nicole Miller, Carmen Marc Valvo and Mark Zunino.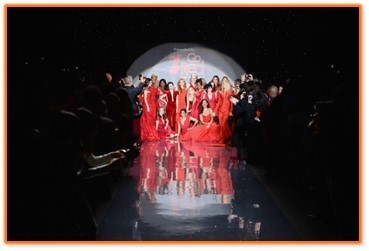 Among the scene-stealers was Olympic champion Lindsey Vonn -- who expected to spend this month competing at the Sochi Olympics until an injury forced her to withdraw. She triumphantly raised her crutches as she hobbled across the catwalk to the sounds of the empowering anthem, "Stronger," by Kelly Clarkson.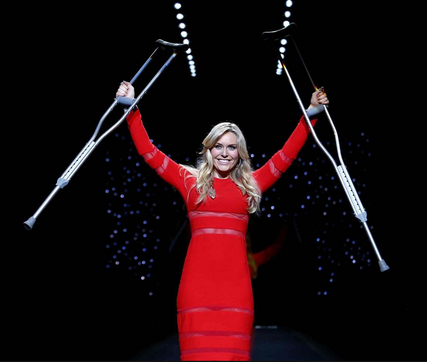 Another special moment was Star Jones sharing her story of overcoming heart disease, and introducing the premiere of "The Common Thread," a new video about women and heart disease voiced by Tony Award winner Anika Noni Rose, best known for her Broadway roles in "The Princess and the Frog" and "Dreamgirls."
As tempting as it is to elaborate further -- such as detailing events that featured keynote speeches by heart disease survivors Dick Cheney and Rosie O'Donnell -- I want to steer this conversation from buzz and back to the root of it all: saving and improving lives.
Research shows that the Go Red movement has saved more than 627,000 lives, and changed countless more -- with 9 of 10 women who become involved in Go Red making some sort of improvement in their lifestyle. This month, we learned of a woman in Charlotte, N.C., whose life was saved in part because she knew about Go Red. And we wrote about a woman in Seattle who got the lifesaving treatment she needed thanks to a friend having seen our "Just A Little Heart Attack" video, which, by the way, stars actress Elizabeth Banks, the voice of Wyldstyle.
Another important step toward saving and improving lives was the release this month of our first-ever guidelines to prevent stroke in women. The guidelines provided treatment standards for healthcare providers regarding stroke risks related to pregnancy, birth control pills and migraine headaches with aura (those paired with flashes of light, tingling and other visual disturbances). These guidelines are critical because women have more strokes than men and suffer more stroke deaths than men. While stroke is the No. 4 killer of adults in the U.S., it remains the No. 3 killer of women.
Our work against heart disease continues. While we appreciate and enjoy the added attention in February, I look forward to continuing our discussion on this vital area the rest of the year, too.

SUBSCRIBE TO & FOLLOW LIFESTYLE
HuffPost Lifestyle is a daily newsletter that will make you happier and healthier — one email at a time. Learn more