Or, Who Would Really Say "Colin Powell Lives Across the Street"?
Spoiler alert - I've seen the first episode and I am, among other things, a real wife who lives in a real house in DC - so given these credentials and a little extra digging around let me take some time here to answer the top questions surrounding this Thursday's premiere of Bravo's Real Housewives of DC.
But first, let's take a deep breath - it's a TV show, a reality TV show that is part of a franchise of shows pitting wealthy attention-seeking attractive women of a certain age against each other while lots of cameras are rolling along with an ingredient recently described by a Bravo producer as "just add vodka..."
Whether Washington DC will provide the same kind of drama and ratings as Orange County, Atlanta, New York and New Jersey remains to be seen; what is apparent already is what this show does and doesn't say about life in the nation's capital. And what's the deal with Michaele and Tareq Salahi crashing the State Dinner? Why does Bravo seem to be downplaying the scandal's role in the series while promoting the living daylights out of it? Let's take it one at a time...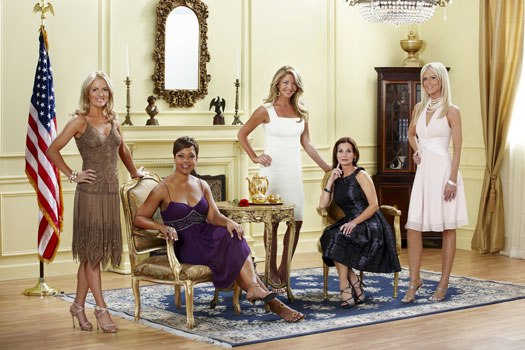 What is this show? People either watch reality TV or they don't - I know that sounds simple but it matters here - because once many of the women in Washington approached to participate saw a few episodes of the franchise they ran for the hills while others stepped right up. The show presents character-driven stories and relationships played against a background of a certain geographical and sociological milieu (i.e. money, mostly new). Out-sized personalities do best, excess entertains and cat fights with bleeps and furniture tossing provide great "best-of" moments for the reunion shows hosted by Bravo's Senior VP of Original Programming and Development producer Andy Cohen.
Why DC? Abby Greensfelder was a top executive at Discovery Communications before forming Half Yard Productions and is the executive producer of Real Housewives of DC. Her husband is Franklin Foer, editor of The New Republic, and it seems she had to venture pretty far out of her own social and professional circles to find the cast. But she did it, and brought the show to Bravo.
She's fond of saying that, going in, "we'd never thought we'd get Nancy Pelosi to be a housewife," but adds that she wanted to showcase a Washington that wasn't just "three piece suits, bad shoes and helmet hair - there is a whole vibrant part of Washington... even more in this post-Obama time - the city has gotten energy, glamour and swagger... it was important to look at different people who represented different parts of Washington - not just politics and embassies - all social types."
Producer Andy Cohen admits, "look, there are more people in Orange County who are anxious to be Real Housewives than in DC, but this show was picked up based on the casting Half Yard brought to us."
While none of the women on the show are directly involved in politics, Greensfelder says the show accurately reflects DC's rules of engagement. "Politics in always in the frame - politics is the wallpaper of Washington and it's always there." She adds, "It's different from New York or Los Angeles, here the rules have to do with proximity to power, how you act in situations. Our show is nuanced and reflects that anthropology."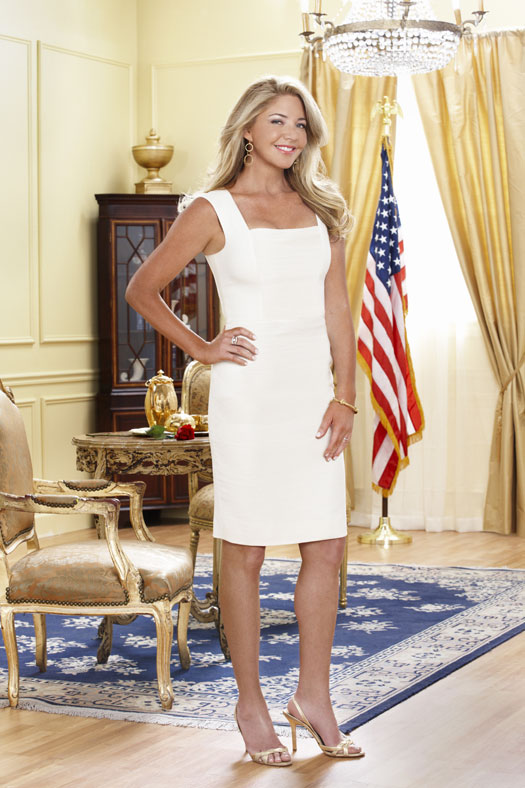 1) Mary Schmidt Amons. Married mother of five. Socialite from McLean, VA (hence her proximity to Colin Powell) with dubious bragging rights about being the granddaughter of broadcasting legend Arthur Godfrey. Gets buzzed in first episode and says it's time to integrate beauty salons. What?
2) Lynda Erkiletian. Divorced mother of four, owns modeling agency. Maybe the most socially with-it of the five - been around fashion circles a long time. Funny bitchy. Would fit in on any of the other Housewives shows. Hot younger boyfriend named Ebong.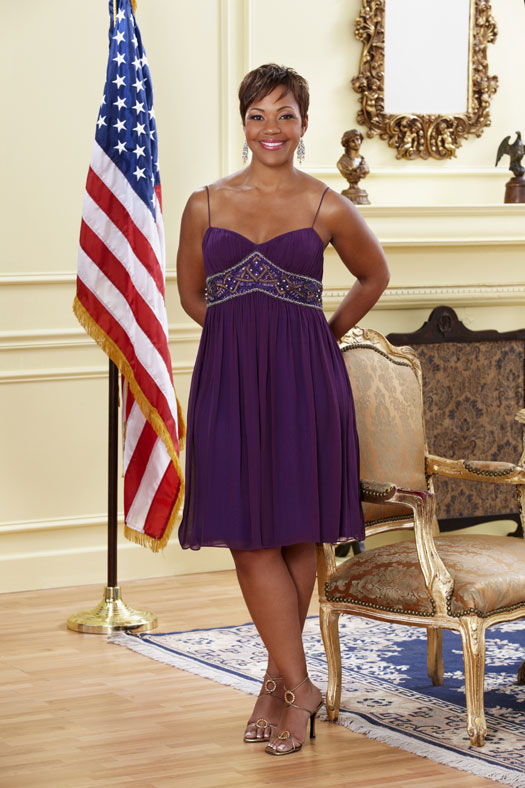 3) Stacie Scott Turner. Realtor, Harvard MBA, husband used to work for Mayor Adrian Fenty. Backstory of being adopted from foster care and finding her birth mother and father developed in the series. Has her own charity now for teenage girls in foster care. Has several great "what have I gotten myself into" reaction shots in first episode.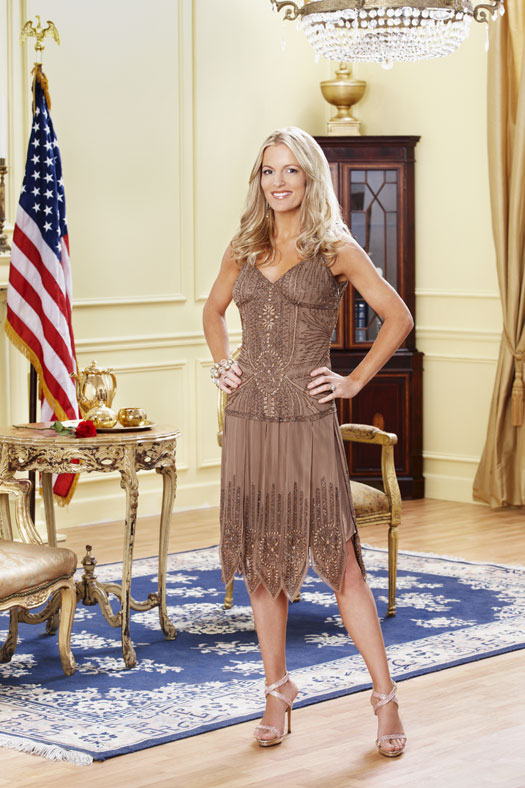 4) Catherine Ommanney. British, kissed Prince Harry, was married to Newsweek photographer during the series, but now they are separated. Crashes into the series with lots of awkward bravura. Hates Tyra Banks, loves George Bush and is annoyed President Obama did not respond to her wedding invitation. Over-the-top British accent.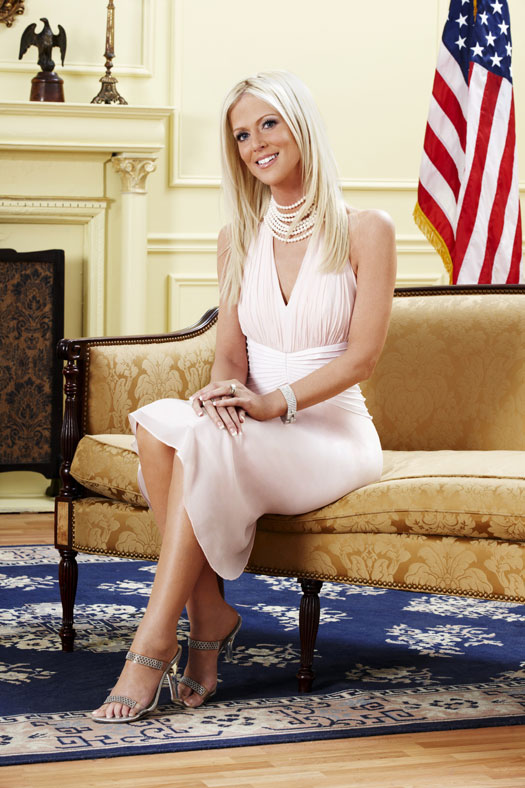 5) Michaele Salahi. Keep reading... (N.B., the others have it in for her from the start.)
But are they really DC?
In fairness of course they are. They live here and are on a TV show about themselves. They don't need any more legitimacy than that, but, Washington being Washington, some others need to weigh in.
Abby Greensfelder says they represent a genuine slice of the city. "Lynda comes from Georgetown, Mary lives in McLean, Stacie is from the city, Cat lives in Chevy Chase and Michaele is from horse country. We didn't sit there with a map, but these women do authentically represent a cross-section."
Michael Clements is the Executive Editor of Washington Life, a monthly lifestyle magazine that often focuses on what he calls "the creatives," meaning the hair/fashion/design world, where he insists most of the cast comes from: " would say that Lynda and Mary are and have been part of circles and communities that exist here in Washington - no, they're not part of what we might consider real society of Washington - Sally Quinn, say, or Lucky Roosevelt, but that's because the most socially connected people in Washington wouldn't be on Bravo reality television. That's the difference here in Washington - it's not going to be about the life on Capitol Hill, some things in Washington don't belong on reality TV."
Sally Quinn, legendary Washington Post society writer, Ben Bradlee's wife and a serious power player in her own right, basically throws in the towel on this one: "This show is not going to help people become part of the elite because there is no Washington elite anymore - there are many - there's no inner sanctum."
Amy Argetsinger, who, along with The Reliable Source partner Roxanne Robert,s has covered this story from day one for the Washington Post:
"They've done what I thought they would end up doing, not 'real housewives of Washington' but the McLean and Potomac, MD socialite scene - it's Washington-based but not unlike the social scene you'd fine in Miami or Malibu or the finer suburbs of Pittsburgh."
She adds, "Look, if you want to do a show about politics or Capitol Hill you just can't get access to anyone who really works in that world. They are discreet by nature and worried about their careers. These are people who defer to the boss - the congressman is in front of the camera, not the staffer... every connection on this show is second-hand."
Tammy Haddad - veteran network producer and political insider: "I would say anyone who wants a long term political future in Washington doesn't do two things. One, put photos on Facebook and two, they don't join any show with 'housewives' in the title."
What's the deal with the Salahis?
Michaele and Tareq Salahi entered the national celebrity radar like well-dressed meteors when they showed up uninvited to the first official state dinner hosted by the Obama White House in November of last year. The flap that ensued dominated the media for days and weeks after, revealing, among other things, that they weren't exactly the wealthy vineyard owners and polo match charity event planners they said they were - claims of unpaid bills and other legal problems compounded their notoriety. They are still under federal and state investigations for the White House incident and other ventures.
Washington Life's Clements knew of the Salahis before the gate-crashing episode. "It had always been hard to pin down what was happening with their events and who was involved... obviously I think Michaele is interested in promotion and they're going to give the cameras what they want. I think she's hoping this will legitimize this image of celebrity she's been trying to cultivate for over a decade, maybe longer - kind of a 'fake it 'til you make it.'"
Carol Joynt, a former network television producer and current blogger, interviewer and contributor to the New York Social Diary, puts it more bluntly: "I think the Salahis has been swimming upstream for a long time... look, this is Washington. We uncover spies here. We see through people. It's not like you can say 'I'm an A-lister' so if you say so you must be. We don't fall for people's bullshit."
Joynt thinks Bravo may have been as clueless as the Salahis were about their invitation to the White House. "So many people involved were dumb about Washington - unsophisticated and un-clued in as to how this city works. It's entirely possible the Bravo producers also thought you could get into a state dinner based on an email."
Once it was clear that Michaele was indeed a Real Housewife and that the film crew accompanying them to the White House was from Bravo, public opinion really turned against them. Letters and emails to the Washington Post called them grifters, con artists and dinner crashers whose "unique audaciousness" made them "famous for trying to become famous."
Even fellow cast member Stacie Turner was both dismayed and mystified. "My feelings about Micheale and Tareq are that they are nice people and we had a lot of good times prior to the White House. Once that happened they disappeared. I felt pity for them, it was such an appalling, horrible incident... I'm interested in what's divulged about the motivation for doing it." (Worth noting here - she's on the show and doesn't know how it turns out?)
This past spring Joynt interviewed the couple on her local Q&A forum at the Ritz Carlton. It's as real as any Housewife episode, and possibly more entertaining; there is actual growling:
Andy Cohen says no. "Look, this is not the Salahi show. That's what people will see when they see the first episode. That incident is one twentieth of what happens and it happens late in the run."
"The story is the story," says producer Greensfelder, "It's very transparent - it speaks for itself." She emphasizes a distance between Bravo and the White House incident: "We were with Michaele that day and up until she went into the dinner, but we weren't credentialed to follow her in."
She maintains that at the time it came about, "We believed they were invited... I don't make judgments now one way or the other. They told us they were invited. And we covered all the events of their life... Our job as producers is to present what happens authentically, cover it and present it without judgment."
The Post's Amy Argetsinger: "The big mystery is whether the Salahis will help or hurt them. It's a concern as to whether viewers want to see this, if it's a turnoff or a draw. My immediate reaction is that this ruins the show." She continues. "I think the editing of this story will follow the three part Salahi series we did, they have crafted it around the story arc of the Salahi exposure and humiliation... everything is up in the air pending the federal investigation into the White House incident."
Bravo actually considered canceling the series altogether because it was impossible to edit Michaele out of the storyline, but finally made the decision to move ahead with this week's air date of August 5. It's been suggested by several insiders that NBC brass was concerned about the show's potential to embarrass the Obama White House and waited until the upcoming NBC merger with Comcast seemed to be a done deal with legislators in Washington.
"There are two ways to cut the White House episode," says Carol Joynt, "one way so it embarrasses the President, or you can cut it so it embarrasses the Salahis."
It's a safe bet it's going to be the Salahis who take the fall. There is a line in the opening of the show - "Washington is not a forgiving city," and it's not hard to figure out who they're talking about.
"Unless Bravo faces any legal exposure, I don't see why they'd care if the Salahis get prosecuted or not," says the Post's Argetsinger, "Frankly, it's just more of a story for them."
How's Michaele?
I interviewed Michaele Salahi and found it difficult not to like her. She's been laying low, "trusting only my family and keeping it to attorneys and close friends," and says it makes her sad to even think about the last nine months. "It was painful and horrific."
She adds, "Without my mom and the strength of who she is, at 82 - I wouldn't have made it, she's still my strength."
She says she is moving forward, "returning to who I was, even better, with a focus on what matters, who matters. I'm still the life of the party but I know what's important and who is important. I'm still going to have fun, I have a great love of people, but I'm going to know you have to pause and learn who people really are."
From all accounts her fellow castmates fully turned on her by the end of the series, and she admitted she hadn't seen them until the recent weeks leading up to the premiere.
"After that period, testifying before Congress, I did feel very left out," she says, "The women thought I was trying to get attention - no one would want this kind of attention. I felt on my own."
"Michaele has an eternal brightness," says Carol Joynt, "But that doesn't mean it has anything to do with reality. Whether it's sinister, con-artistry or cluelessness, I don't know, I haven't plumbed those depths."
The Salahis collaborated with celebrity journalist Diane Dimond for a book due out any day now and look for a big magazine spread on Michaele coming out in September.
How will the show do?
Big surprise, the Washington Post hates it - three articles printed this past Sunday reflect this city's uneasy, near xenophobic relationship with lowbrow celebrity.
The paper's TV writer Lisa Morales recently asked, "Are 'Reality TV Series' and 'Washington DC' mutually exclusive?" citing poor ratings for Bravo's Top Chef series based in Washington as well as bad numbers for MTV's Real World DC.
It's not a secret that people in Washington find themselves far more interesting than people everywhere else find them. Will the Housewives franchise change that?
"We're adding a little sparkle to Washington," says Andy Cohen, "It's DC as I've never seen it before - there is some real glamour, DC is sexy in this show."
Adds Greensfelder, "People will be surprised. They will go in thinking they are getting one thing and my hope is they come out being entertained in ways other than they expected."
There is a new Ford Commercial out with Discovery's Mike Rowe interviewing real people as they purchase their cars. At the end he says, "You can't script reality."
But of course you can. Whether this series will be mutually beneficial to Bravo and the Five Housewives or mutually exploitative for all parties remains to be seen.
"I think Bravo is going to take their pound of flesh, fairly, or unfairly, from each of these women," says Washington Life's Michael Clements, "and each of them should do the same to advance their own careers... I just hope each of them gets as much out of Bravo as Bravo is hoping to get out of the DC Housewives."
Something to keep in mind as some significantly cringe-worthy moments come our way this fall and we witness just how much dignity these women are willing to risk for any kind of fame.
SUBSCRIBE TO & FOLLOW ENTERTAINMENT
HuffPost Entertainment is your one-stop shop for celebrity news, hilarious late-night bits, industry and awards coverage and more — sent right to your inbox six days a week. Learn more