What's it like to come back to the United States when you're not only a soldier but a wife and mother? Return, a film written and directed by Lisa Johnson, stars Linda Cardellini as just such a woman who faces the daunting challenge of coming home.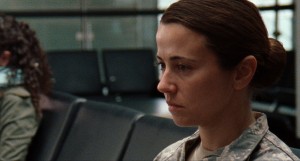 Opening Feb. 10 in LA and NY, Return tells the story of Kelli, a returning reservist who struggles to readjust to her old life in a working class town in Ohio with her plumber husband (played by Michael Shannon) who has been Mr. Mom to their two young girls. The film takes it's time as Kelli's dislocation and alienation in her own home slowly drags her down until she's barely able to get up from the sofa, with missteps that include a DUI and hooking up with a terrific John Slattery playing another vet she meets in rehab.
Cardellini, whose previous roles include another working class toughie, Samantha Taggart on ER, spent over a year and a half preparing for the role and is in virtually every frame of the film. Her downward spiral, with little or no dialogue, is an actor's master class in presence and skill. And her face, often a mask of passivity with mere glimpses of both pain and the normal girl she once was, stays with you long after the film is over.
Meredith Viera is one of the executive producers of the film and had this to say about Cardellini's performance:
"This entire movie rests on the shoulders of Linda and, not only doesn't she disappoint, she amazes. She brings such depth and nuance to her performance and to this character. There's a scene in the film in which she discovers something and, without any dialogue, with the camera focused only on her eyes, the story is told, her shift in emotion is felt. It's remarkable and, as an executive producer on this film, very thrilling for me. I'm excited for people who haven't seen Linda in this kind of role, with this kind of responsibility to really carry a film, to see her in this new light."
Cardellini, who is expecting a baby this month, recently answered the following questions for me:
What a huge role. As has been noted, you are virtually in every scene of this film. Can you talk a bit about your preparation before filming? Your immersion into this character?
It is a giant role. I am so happy to have been entrusted with it; it's a role of a lifetime.
I tried to do as much background research as possible -- I went to the VA hospital, did bedside visits, spoke in person and over the phone with anyone who was willing to share their experience. I met women (and men) who were really generous and shared a lot with me. Kelli has a lot running through her mind throughout the film and it was important to me to fill her silences with the details and stories I had collected. I also found some very interesting blogs/websites -- there are great accounts by women soldiers about their everyday experiences while they are deployed, some of whom are fantastic writers. Liza and I went out to the Marine base at 29 Palms. It was helpful to be immersed in the military culture, because it is very specific. It was wonderful to be invited to experience the daily life, even just learning the ways people address one another, or how they comport themselves in different ways.
We did things that were not at all in the movie, but seemed like important background for the character. We stayed in the town in Ohio where Liza first imagined the film, we visited places where Kelli and her family would frequent while living their normal life, we also learned to shoot and clean rifles. My character doesn't shoot any guns on screen in the movie, but I wanted to have as much background preparation as possible. I wanted Kelli to appear capable of handling all of the things she may have learned in basic training, even if she doesn't specifically perform those tasks in the film.
One of the most informative people we spoke to was a psychologist who had come out of retirement to help returning soldiers readjust. We sat with her for a while and asked her how people dealt with their return and what some of the recurring issues were. Although everyone had a different and separate story there was a definite common thread of soldiers having a hard time getting back to the "normal" that they had expected. She had dealt with many different cases and shared that often one specific trauma could not describe the experience of alienation or change in the person as they returned. She had said, merely being in such a broken and war torn environment can change people in a way that they can't quite ever explain.
The film allows a great deal of time for Kelli to change -- not always for the better. And so much seems to be an internal decline -- can you share your thoughts on how this comes about so effectively in Return?
When she gets home she's pretty thrilled for things to get back to normal, but then of course things are never exactly the way you left them. Life has changed in many ways at home and her experiences have changed her. Another aspect to the disruption of normalcy for her is that it's hard when you've been working in such a high-stakes environment, to go back to a job where the stakes seem pretty low. Her "internal decline," is a slow unravelling that is very painful. She wants so badly for things to be what they were before she left but nothing is as it was. She has expectations on herself and expectations from others that can be too difficult to navigate at times or understand. I think Kelli is struggling to understand a version of herself that is now somehow foreign to her and those around her.
Viewers are likely to remember your role as Samantha Taggart on ER and see similarities to Kelli in Return -- the working-class pragmatism, toughness, impatience with talks about feelings, tendency to shut down when threatened... do these roles seem similar and/or come particularly easily to you?
I loved the role of Samantha Taggart and I was excited to take it exactly for those reasons. I grew up around a lot of working-class pragmatism, and there aren't a lot of roles like that.
I believe that both are survivors, they both have a strong sense of motherhood and duty. Kelli is different to me because she had a life she loved and chose a job that meant something different to her than when she enlisted. Her job description changed when the wars came along. She signs up for duty because she wants to serve her country but did not realize to what extent and what cost.
Sam runs away a lot. Kelli could try but can never.
I like playing roles where things can be left unsaid. I think it is the beauty of film. I like the silences that Liza allows for Kelli. It lets the audience become a participant in her inner life.
I was particularly struck with the lightness and confidence of the interaction between Kelli and her daughters. Can you talk a bit about playing a mother in this film?
Thank you! Those girls were great. Michael Shannon was great with the kids. They really took to him from the start, which was good for me because they were less familiar with me to begin with and made the distance a mother would have had from her children seem more real. I wanted it to seem that at first they have a stronger bond with their father after that year she spent away. I think that is an unnerving experience for a mother and leads to her further sense of alienation. I loved working with the girls because they are such a contrast to what Kelli has seen and been through. They are beautiful, trusting and innocent. They are some of her only allies at times. They are her world but she has been compelled to make different choices for them than most mothers.
A final question -- at the end of the film once again we are with Kelli at the airport. In your opinion, how broken is she?
I think she is more resolute than broken. She has searched her options and she does what she knows best, she takes responsibility for herself and her family, living up to the commitments she's made. I think she is still fighting for her family every step of the way and fully expects to have all of that back someday. I think that she is unsure of her future but unwilling to give up on her kids. Maybe she is going back for answers to questions she can't quite define.
SUBSCRIBE AND FOLLOW
Get top stories and blog posts emailed to me each day. Newsletters may offer personalized content or advertisements.
Learn more