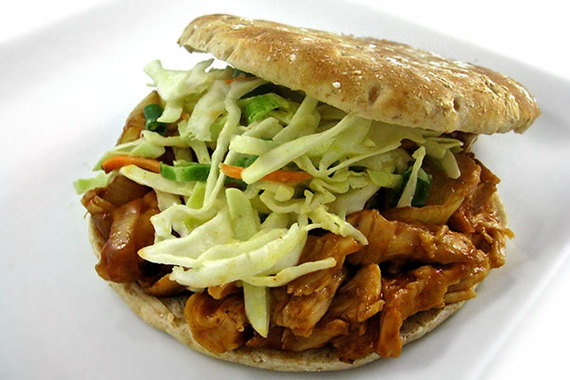 This dreamy pulled chicken sandwich is so tender and extremely flavorful. So easy, it's finished and on the table in a little over an hour! Each has only 238 calories, 4 grams of fat and 6 Weight Watchers POINTS PLUS. If you're not looking to feed a crowd, just cut this recipe in half. One thing I know for sure, it's really, really delicious!
Prep Time: 15 minutes
Cook Time: 1 hour
2 pounds boneless, skinless chicken breast
1 large onion, thinly sliced
1 (18 oz) bottle of Sweet Baby Ray's Honey Barbecue sauce or your favorite
Ingredients for Coleslaw:
6 cups shredded white cabbage, 1 (10 oz) bag
4 tablespoons light mayonnaise, I like Best Foods (Hellman's) Light
1 tablespoon plus 2 teaspoons apple cider vinegar
2½ tablespoons spicy brown mustard
¼ teaspoon prepared white horseradish
2 packages Oroweat's Honey Wheat Sandwich Thins, see shopping tip
Instructions

1. Preheat oven to 325 degrees. Place chicken breasts in a roasting pan or rectangular Pyrex baking dish. Arrange sliced onions over the chicken, then pour the barbecue sauce over top, reserving 1 cup for later. Cover the baking dish/pan tightly with foil and place in the oven. Cook chicken for 1 hour, remove foil and cook for about 10 minutes longer until chicken is fork tender.
2. In the meantime, prepare the coleslaw: In a large bowl add the cabbage, carrots and scallions. In a small bowl mix together the dressing ingredients. Refrigerate the coleslaw and dressing separately until ready to serve. Don't toss until serving to keep coleslaw crisp and crunchy, not soggy.
3. Remove the chicken to a plate or cutting board. Using two forks, pull the chicken breasts apart to shred the meat. Place the shredded chicken back in the pan, add the reserved 1 cup barbecue sauce and toss the chicken well to thoroughly coat in the sauce that's remaining in the pan.
4. Serve the pulled chicken warm. Place on the bottom of each sandwich thin ½ cup barbecue shredded chicken. Add onion, ¾ cup slaw and top with sandwich thin.
5. If you have any leftovers, the shredded chicken freezes great. You can use leftover chicken to stuff a baked potato or add to a salad. Plus, this recipe can easily be cut in half!
Makes 12 servings (each serving ½ cup shredded chicken and ¾ cup coleslaw)
Shopping Tip
Oroweat Honey Wheat Sandwich Thins can be found in most large supermarkets. One sandwich thin has 100 calories, 1g fat and 5g fiber. They come in several flavors with the same nutrition facts. Several brands are available so if you can't find Oroweat, use one of the others brands.

Weight Watchers (old points) 4
Weight Watchers POINTS PLUS 6
SKINNY FACTS: for 1 sandwich (each serving ½ cup shredded chicken and ¾ cup coleslaw)
238 calories, 4g fat, 22g protein, 34g carbs, 7g fiber, 745mg sodium, 8g sugar
SUBSCRIBE TO & FOLLOW LIFESTYLE
HuffPost Lifestyle is a daily newsletter that will make you happier and healthier — one email at a time. Learn more