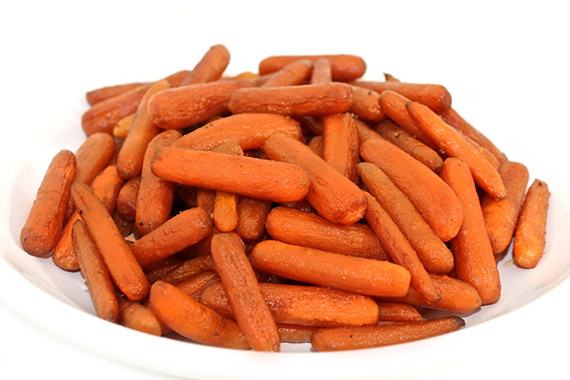 This carrot recipe is so good! The vinegar makes naturally sweet carrots, even sweeter. I love them so much, I've been making them several times a week. Each ¾ cup serving has just 57 calories, 2 grams of fat and 1 Weight Watchers POINTS PLUS. Such a simple and delicious vegetable dish to serve with any main course.
Prep Time: 5 minutes
Cook Time: 35 minutes
1 (16 ounce) bag baby carrots or 2 (8 ounce) bags
A little salt and pepper, to taste
1. Preheat oven to 425 degrees. Coat a baking pan with cooking spray.
2. Spread carrots out over the pan. Drizzle olive oil over them. Toss with hands to coat. Spread out again over pan. Sprinkle with a little salt and pepper.
3. Bake in oven until tender, about 20 minutes. Sprinkle balsamic vinegar over the carrots; shake the pan to coat evenly. Return to oven and bake until the liquid is absorbed, about 8 minutes. Serve hot.
Makes 6 servings. Each serving ¾ cup

Weight Watchers (old points) 1
Weight Watchers POINTS PLUS 1
SKINNY FACTS: for ¾ cup
57 calories, 2g fat, 0mg chol, 9g carb, 1g prot, 2g fiber, 110mg sod, 4g sugar
SUBSCRIBE AND FOLLOW
Get top stories and blog posts emailed to me each day. Newsletters may offer personalized content or advertisements.
Learn more