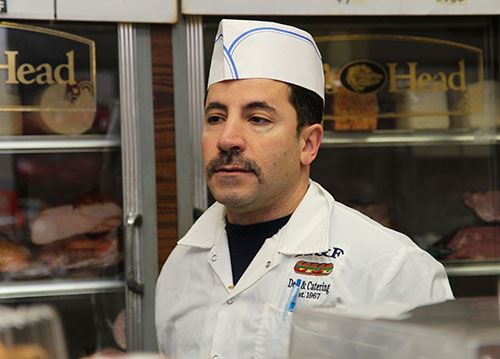 Photo by Nancy A. Ruhling
John is the owner of Andrew & Frank's Catering.
He smiles, the happiness drawing little lines at the corners of his black eyes. There is no place he would rather be.
In fact, there is no other workplace that he has ever been. Andrew & Frank's and John came into this world together 48 years ago.
Andrew, John's father, and Frank, John's uncle, the Sicilian immigrants who founded the establishment, retired long ago.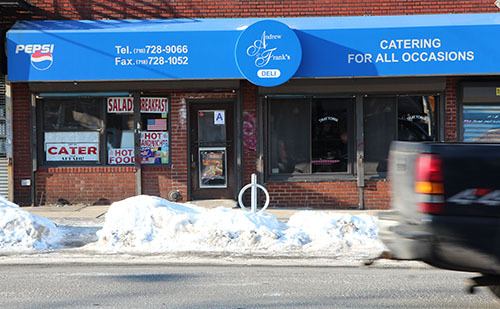 Photo by Nancy A. Ruhling
The deli has been on 23rd Avenue since it opened in 1967.
In the past, other family members were employed there, but for the last decade, John has been running the show.
Andrew & Frank's, a blue-collar, blue-plate-special eatery that displays a paper American flag in the front window, is where Astoria's regular Joes -- firefighters, cops, construction crews, city workers and old-timers -- drink their coffee, and with their plastic knives and forks, tuck into dishes like the Joey Shirts Special, The Jerm, Gracie's Fav, The Transit Jimmy and Benny's Caesar Wrap.
The names, John explains, come from constant customers.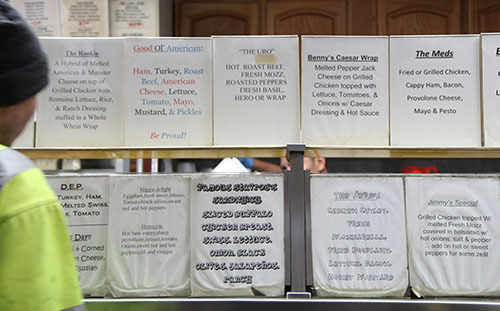 Photo by Nancy A. Ruhling
The dishes are named after customers.
Speaking of the menu, it's likely that Andrew & Frank's has the longest in the neighborhood if not the world. John is proud to point out that he offers more than 100 sandwiches and 30 kinds of hot food every day.
"People come for the food and the ambiance," he says, not a trace of jokiness in his voice.
Ambiance is a pretty fancy word to apply to Andrew & Frank's, where the square tables are covered with plastic red-and-white-checked cloths, the photocopied menus are taped above the serving trays and the walls are lined with glass-front refrigerators stocked with drinks too common to be called beverages.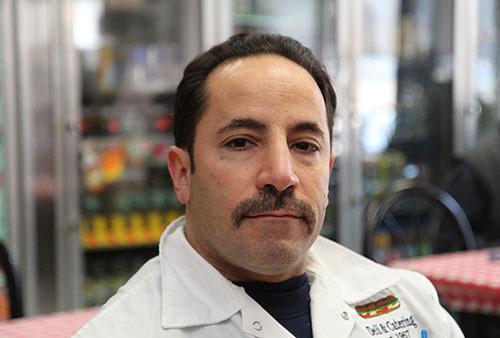 Photo by Nancy A. Ruhling
John was born the year Andrew & Frank's opened.
"I like to do things the old-fashioned way," John says of the deli, which has remained in the same building since it opened in 1967.
John, who was born and raised in Jackson Heights, started working for Andrew & Frank's upon graduation from high school.
"Basically, I grew up in the store," he says. "I was very excited to come into the business."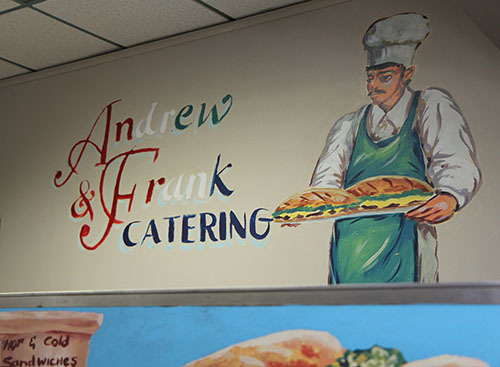 Photo by Nancy A. Ruhling
The decor is 100 percent U.S.A. patriotic.
Perhaps business is the wrong word. John sees Andrew & Frank's as an extension of himself and his family.
It is here that he reached adulthood, working one 15-hour day at a time.
It is here that he was introduced to his wife. She walked by the deli, and John never stopped following her.
"I met her when I was 18," he says. "I got married at 20, and we're still together."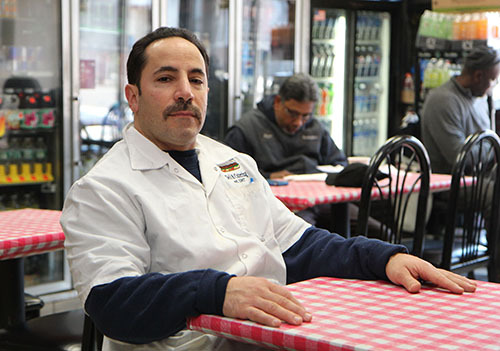 Photo by Nancy A. Ruhling
John likes to do things the old-fashioned way.
It was here that his two children came to work when they were growing up.
And it is here that John will spend the rest of his working life.
If Andrew & Frank's has made John a successful man, it's because of hard work, which was handed down from father to son.
"My dad came to New York with zero pennies in his pocket," he says.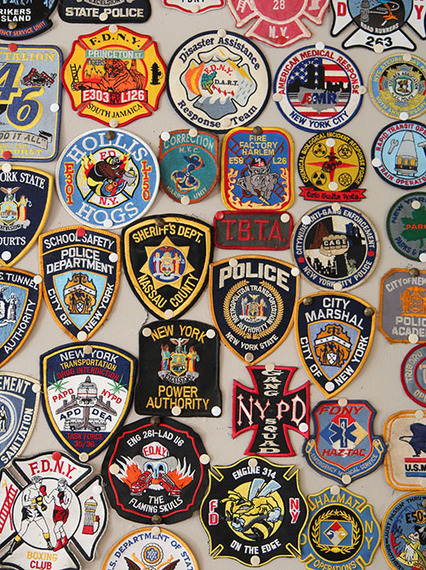 Photo by Nancy A. Ruhling
The deli caters to cops and firefighters.
John opens the deli at 6:30 a.m. and with the help of four employees, cooks and mans the front counter. Although he closes at 6:30 p.m., he's rarely out the door before 9:30.
"I don't work 15 hours every day," he says, almost apologetically. "Sometimes, I only put in 10."
It's the interaction with customers that makes every day exciting for John. In Greek, Spanish, Italian and even English, he takes their orders. He jokes with them, shoots the breeze and chats about their families.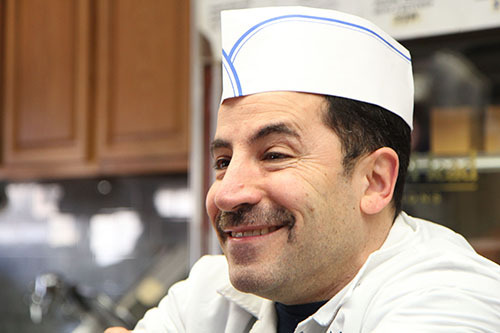 Photo by Nancy A. Ruhling
Working makes him smile.
"I've been successful because I'm always positive," he says. "And I don't let nobody stress me out."
As much as John would like to continue the legacy, he's resigned to the fact that he will be the last generation of the Zizzo family to call Andrew & Frank's home.
Photo by Nancy A. Ruhling
John in the dining room.
"After me, the dynasty is over," he says. "It doesn't bother me at all. I don't want my children to take it over. I'm proud that they have steady jobs with all the things I've never had -- 40-hour weeks, health benefits and pensions."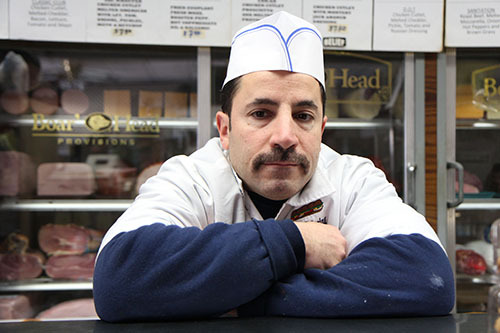 Photo by Nancy A. Ruhling
Right where he belongs.
But retirement is a long way away. John prefers to focus on the line at the counter, which is getting longer.
A regular on the run shouts out in passing: "Are you making pizza today?"
"I sure am," John replies. "Come back later."
Nancy A. Ruhling may be reached at Nruhling@gmail.com, nruhling on Instagram.
Copyright 2015 by Nancy A. Ruhling
SUBSCRIBE AND FOLLOW
Get top stories and blog posts emailed to me each day. Newsletters may offer personalized content or advertisements.
Learn more