I'm feeling very spirited. That's on account of the Denver Broncos winning the AFC Championship with a 26-16 win against the New England Patriots. The Broncos are off the Super Bowl!
Please understand that I am not a football buff, nor even a "genuine" sports buff. That said, I like to keep current, and everyone, it seems, has Denver Broncos fever. The state is awash in a sea of orange and blue -- people, dogs, cars, roads, houses. Everyone is celebrating.
Nostalgia. It isn't so much football games of the past I remember as much as the times my family gathered together. My grandma Casey used to make the best party chicken wings, each bite perfectly crunchy. I was unable to find pictures of her in anyone's kitchen; she's the one in the mauve suit and glasses. My grandmother died a decade ago at the ripe age of 96. Here she is pictured with her late sister, my aunt Gert, and her sister-in-law, my aunt Bea, who is still swinging at 95!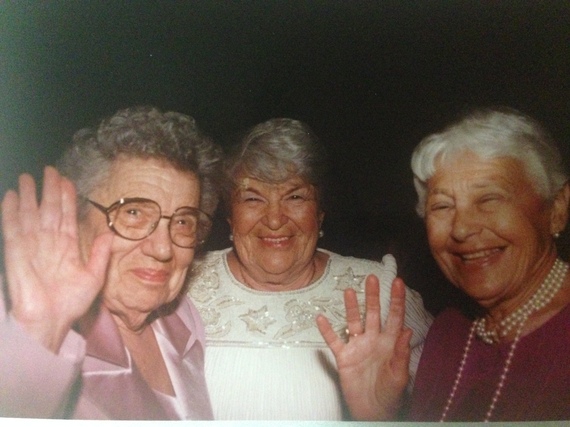 How I wish someone in the family had my grandmother's chicken wing recipe. I've tried to replicate it -- using a combination of corn flake crumbs, soy sauce and ketchup -- but it's not the same. Which makes me think that a memorable recipe is equal parts ingredients/preparation and equal parts the people we love.
Now, for her winning beef fajita recipe.
1 whole beef flank steak
1/2 cup olive oil
3 tablespoons Worcestershire sauce
1/3 cup lime juice (fresh-squeezed)
3 cloves garlic, minced
1 tablespoon cumin
1 tablespoon chili powder
1/2 teaspoon red pepper flakes
1 teaspoon salt
1/2 teaspoon black pepper
1 tablespoon sugar
2 whole medium onions, halved and sliced
1 whole red bell pepper, sliced
1 whole orange bell pepper, sliced
1 whole green bell pepper, sliced
1 whole yellow bell pepper, sliced
Oil, for frying
Flour tortillas, warmed
Cheese (grated cheddar/jack or crumbled queso fresco)
Salsa
Sour cream
Cilantro leaves
Everyone in my family voted to make these yummy beef fajitas again. And so I shall.
Photo courtesy of Nancy Sharp
This Blogger's Books and Other Items from...
SUBSCRIBE TO & FOLLOW THE MORNING EMAIL
The Morning Email helps you start your workday with everything you need to know: breaking news, entertainment and a dash of fun. Learn more