Weaving through the L.A. traffic on a recent morning, I spied a little transgression I witness almost every single day. The culprit, a brassy blond driving the car in front of mine, was talking hands-free, nursing a Starbucks coffee and applying mascara the color of her inky BMW 650 -- all as she navigated three lanes of traffic on Wilshire Boulevard. Far be it from me to ever admonish a woman for wanting her lashes to look enviably lush, or her pout to glisten with a fresh coat of gloss, but there is something quite frightening about conflating your beauty regime and your daily commute. Risking your life for a quick rearview mirror makeover just isn't worth it, and yet so many women around the country do precisely that.
Of course it didn't help the situation that the mascara bandit was veering dangerously into other lanes. It was, to be honest, a relief when she finally swerved, Dukes of Hazard-style, into a side street. Lately we've heard lots about the evils of dangerously distracting driver's seat tasks -- texting, talking and even listening to music -- but there have probably been few studies on the perils of tweezing while driving (another offender I noticed recently). Yet one only needs to be reminded of a tragic incident from last year, when an Illinois woman hit and killed a motorcyclist while painting her nails, to imagine the shocking consequences. Newscasters dubbed it the "Manicure Manslaughter."
The mobile makeover is symptomatic of our multi-tasking lives, in cities with high numbers of commuters. The average Angeleno spends 72 hours a year in their cars -- who knows the breakdown for driving under the influence of makeup? In a British survey almost a third of respondents confessed to touching up in their cars. Across the pond, getting caught red lipstick-handed warrants a careless driving fine, and up to two years in prison if the negligence causes death. I imagine it's only a matter of time before the FCC or Oprah release their warnings about the subject here. In the interest of saving lives, I've come up with some speedy makeovers that even the most time-strapped woman can do in the safety of her boudoir.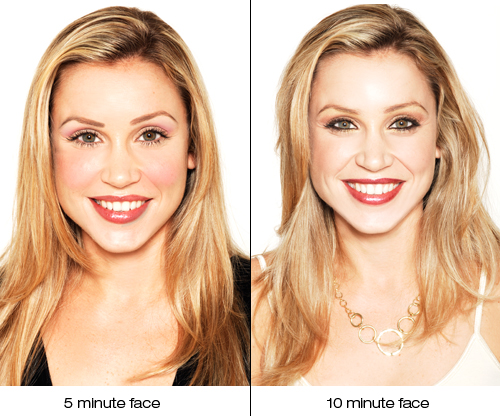 60 Seconds And Counting MacGruber: It's possible to create a look in a minute--just use a product with multiple applications. Try a creamy blush like my Barely Blushing in Rouge. Smooth over the entire eye, from lash line to brow, and then blend into cheeks for a natural flushed look, and dab it onto the lips.
Two Minute Dash: Start off with a coating of mascara, and then line the top lash with a liquid liner and wing out for a dramatic eye-opening look. Polish your look with a swipe of lip gloss. Instant vamp.
Red Hot In 3: Brush a taupe eye shadow over lids, stopping at the creases. Lightly dust a peach powder blush, like my Mosaic Powder in Gleamer over the apples of your cheeks. Finish with a creamy lipstick.
Foolproof In Five: Prime the face first, follow with mascara, and a tinted moisturizer. For the eyes, choose a foolproof peach or rouge hue to sweep through the eye socket. Then use the same shade across the apples of the cheek, tapering towards the temple area for an instant glow. Add a punch of color to the lips.
Ten Minute Face: Again, start your look with primer and foundation. Coat lashes with mascara, and then pat a gold loose dust onto the eyelids and blend into the brow bone. Line the eyes with a chocolate-hued pencil, and sweep a coral blush along the cheek. Complete it with a red lip shade like my NP Set Lipstick in Madrid. I also have a palette in my NP Set line at Target called Pretty Presto, containing two eye shades, a blush, a mini mascara and mini gloss. It's ideal for lightning-fast makeovers. Ladies, start your engines.
FOLLOW HUFFPOST