Whether you're happily committed or single and ready to mingle, your Valentine's Day makeup requires some careful thought. While I generally consider daring makeup statements a "do" on most days, they can instantly become a "don't" come February 14. Take the big lash trend of late; while exaggerated lashes have been having more than a moment, strap on an over-the-top set of false lashes and the average guy may think you've fast-forwarded to Halloween. I say: Save your fiercest style statements for the other 364 days of the year.
DON'T: Dial up your inner vamp
If your signature look is low key, then Valentine's Day may motivate you to unleash your inner vamp and overwork your assets. Subtle can be so much more sexy. Bold lips, overly tanned skin and false lashes translate as high maintenance -- and a little distracting. And just think about the inevitable upkeep; bright lipstick can easily migrate across the cheek or end up on your teeth and lashes can, quite literally, come unstuck. Keep any artificial intervention on the soft side -- it'll be easier on you both. And it's entirely on trend; both Chanel and Ralph Lauren chose super-pretty, ethereal looks for their Spring 2012 shows. From runway to real way: add a subtle highlight to the cheek and brow bones for some light-catching gleam.
DO: Keep it light
Romance-ready beauty requires a look that reads low maintenance yet says feminine and flattering. Don't overwhelm the atmos with obvious, heavy makeup. Instead of camouflaging any skin flaws with a heavy base, work a lightweight, light-reflecting foundation into the skin and blend it away to almost nothing with a brush. Define your eyes with mascara and exaggerate their natural shape with eye liner. Sculpt your face with a flesh-toned blush or contouring powder and swipe on a pretty, nearly nude gloss and you'll be hard to resist.
DON'T: Experiment with a new look
I'm all for expressing yourself with color, but a romantic night out isn't the time to be trialing a bold or bright new eye or lip statement that your man isn't used to seeing you wear. Instead opt for shades that enhance rather than overwhelm. As a makeup artist I love a punchy pout in a classic red, peppy orange, or a deep, high-gloss burgundy but as a man (and husband) I start to think about it winding up smeared all over my face. Keep lips kissable by going for a lipstick or gloss a shade or two stronger than your natural lip tone.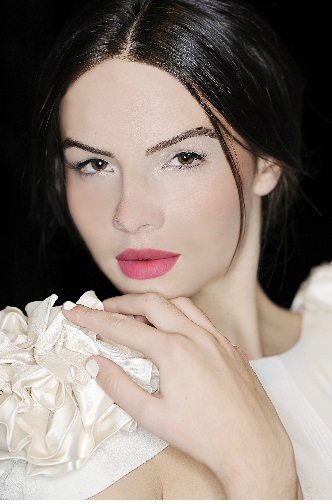 DO: Amp up the everyday
A few simple upgrades can take your everyday look from pretty to passion inducing. If you tend to focus on your eyes, take your liner up a notch by intensifying the shade and extending it just beyond the outer corner to create an alluring cat's eye. This look was all over the Spring 2012 runways and it's easily adapted to suit your eye shape and of course, your outfit. Extending the liner up from the lower lash line will ensure you achieve a flattering angle. Sweeping a crème shadow across your lids is another quick and easy way to play up the eyes. Soft metallic shades create a lit-from-within glow, with or without the aid of candlelight. If you like to put the spotlight on lips, keep the shade subtle, but play up the shape by applying a bit of highlight to the cupid's bow to give your pout some extra attention.