It's only the third day into fashion week for the fall/winter 2011 season and, well, it's been quite a whirlwind as I'm the makeup artist for a total of ten shows. The looks vary from minimal to dramatic, and I -- while assisted by my incredibly talented team of makeup artists from the U.S. and Australia -- have been churning out head-turning makeup looks one after the other.
The recurring nude lip is a fall show favorite, so to keep it fresh, I played with all spectrums of the buff shade by adding a peach or pink, or I changed the texture by adding powder for a matte look or gloss for shine. But I say it's time New York tried more color, so I'm pushing for shades of Bordeaux and red on those puckers. My first four shows were What Goes Around Comes Around, Nicholas K, Duckie Brown and Victor de Souza and I've spelled out how to achieve each look step by step. Stay tuned for more looks from shows like Elise Overland, Timo Weiland, Venexiana and more.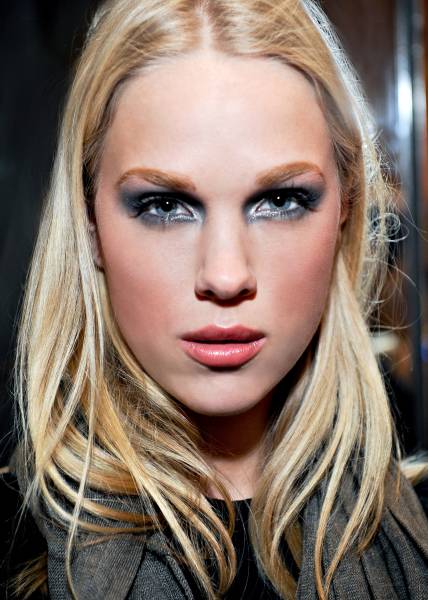 Photo by Kristen Somody Whalen
What Goes Around Comes Around: Designers Gerard Maione and Seth Weisser have a penchant for vintage pieces with a twist so it's only fitting that the makeup reflects that sixties Twiggy vibe meets Diane Keaton with oversized hats. But it wasn't so much period specific to that era, more about capturing that timeless glamour. The WGACA collection channeled David Bowie before the Ziggy Stardust era with a smoldering smoky eye and a nude lip with a pop of peach. For the eyes, gray is the new black. Recreate with a matte gray like my Color Disc in Clean Slate through the mobile lid. For that definition, sweep the matte black directly through the inner corner of the socket and blend a shimmering light bronze on the brow bone. Finish by lining the top and bottom lash line with Eye Pencil in Grey Matters, and smudge for a truly Space Oddity look.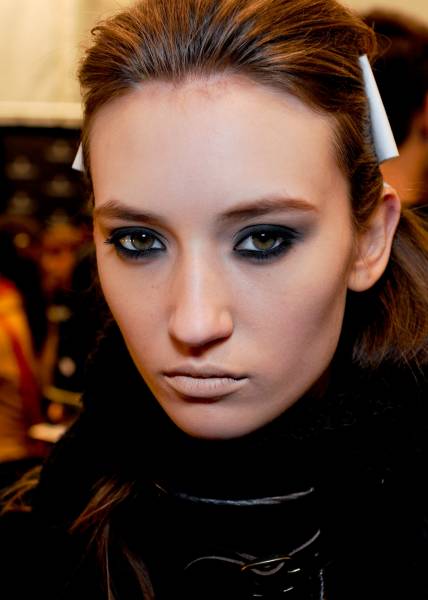 Photo by Kristen Somody Whalen
Nicholas K: As the debuting show at Lincoln Center on Thursday, the designer sibling duo and hot It people about town -- Christopher Kunz and Nicholas K -- desired a rocker chic look with a strong matte focus, defined brows and a creamy beige lip. To approximate the effortless-looking smoky eye, sweep a matte taupe through the socket and along the brow bone. Then line the top and bottom lash with a black gel eyeliner and lightly blend a matte grey on top. For the brows, groom using an angled brush and carefully fill in with a matte dark chocolate shadow like my Color Disc in Espresso to Go. Top it off with a peachy nude like my NP Set in San Francisco.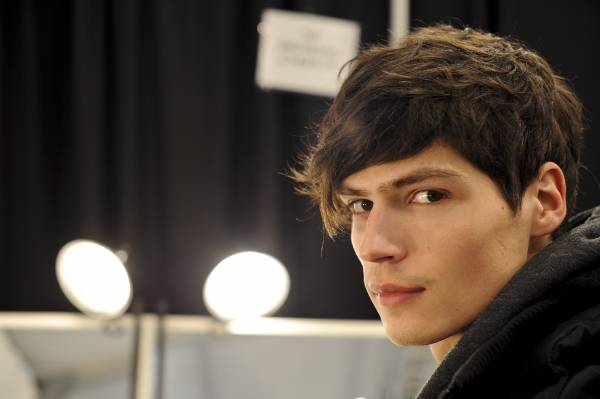 Photo by Kristen Somody Whalen

Duckie Brown: No one does men's fashion like Duckie Brown. Whenever I'm asked to do makeup for men at shows, I always focus on making all the models look natural, fresh and moisturized -- and Daniel Silver and Steven Cox of Duckie Brown wanted just that. Boys will be boys and the aim is to get that totally natural face. For this look, I used Napoleon Complex Skin Renewal Serum and Auto Pilot Pre-Foundation Primer to get that radiance. If the boys had dark circles or redness around the nose, I used my Pro-Palette Concealer to camouflage and Auto Pilot Lip Service for dry lips. For more tips on sensible makeup tricks for the guys, check out here.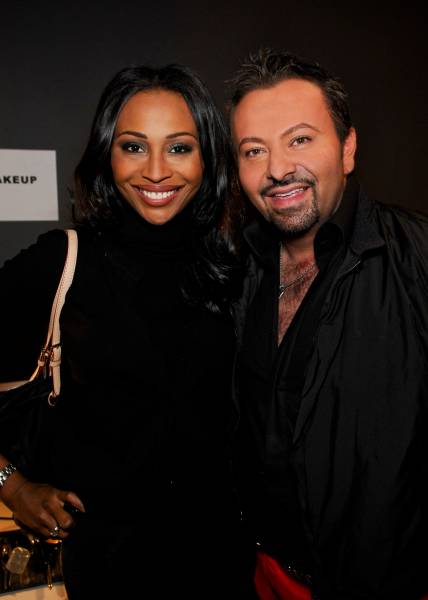 Photo by Kristen Somody Whalen
Victor de Souza: Victor wanted a dramatic eye look to complement his superbly tailored and elegant collection. The beautiful Cynthia Bailey from Real Housewives of Atlanta was also in attendance. During the makeup trial for the talented Portuguese designer, I played around with different approaches to covering up the eyebrows for completely bleached out brows. To get this futuristic effect I used a creamy full coverage foundation to conceal brow color and then flattened the brows with eyelash glue which also held stubborn brow hairs in place. I then finished with my Boudoir Mist Spray Foundation for that no-brow look. For the more toned down approach to the graphic lid, use Neo Noir Liquid Lineralong the inner corner of the lower lash line, and continue along the inner corner of the upper lash line.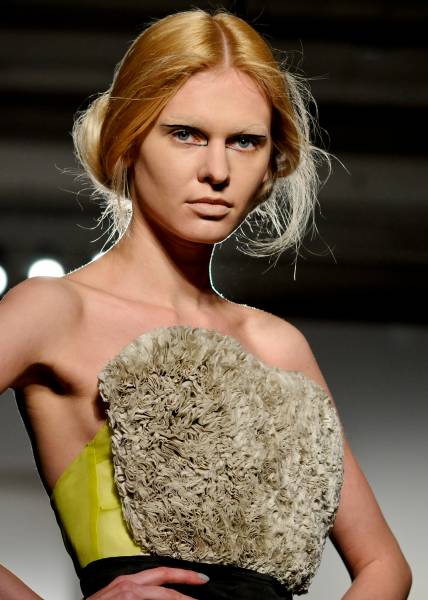 Photo by Kristen Somody Whalen
SUBSCRIBE TO & FOLLOW LIFESTYLE
HuffPost Lifestyle is a daily newsletter that will make you happier and healthier — one email at a time. Learn more